While stocks on the major American markets have risen nearly universally, as is always the case, certain sectors have underperformed. For dividend growth investors these sectors may be the key to identifying long-term investment opportunities for substantial capital gains and growth of income. Within these underperforming sectors, investors may be able to identify great companies trading at and below fair market value. In this article we will examine stocks within the Transport sector, which has significantly underperformed the market this year.
As you can see in the chart below, the Dow Jones Industrial Average has risen 8.5% year-to date, while the Dow Jones Transportation Average has decreased 3.0% so far, and in the past week alone dropped 4.4%.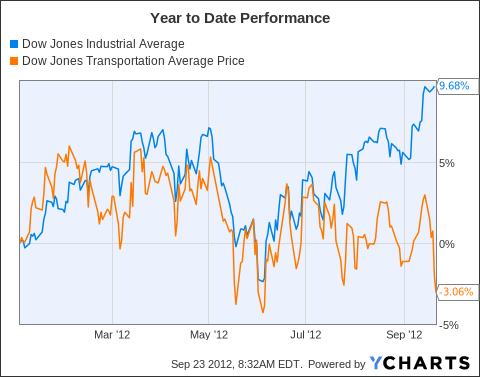 Dow Jones Industrial Average data by YCharts
Due to this significant underperformance within the Transport Sector, high quality dividend stocks may be trading at significant discounts to fair value. The high quality dividend stocks from the Dow Jones Transport Average include delivery service companies FedEx (NYSE:FDX) and United Parcel Services (NYSE:UPS) along with Railroad stocks CSX (NYSE:CSX) and Union Pacific (NYSE:UNP).
Delivery Services
Delivery service stocks like FedEx and UPS offer Domestic and International shipping. More recently there has been a push from these companies to expand offerings to include supply chain and freight management services. In addition to shipping and logistics support, both FedEx and UPS operate storefront retail outlets for shipping and business printing services.
FedEx
FedEx shares have dropped 1% year to date, and 5% over the past week. Recently, FedEx released earnings that beat analysts' expectations, but lowered its full-year guidance range. Sluggish economic growth has led FedEx to lower their guidance as domestic shipment volumes have fallen 5%. Even in the face of all this, things aren't all bad for FDX. While shipment volumes have fallen revenue per package has been increasing.
FedEx could represent a great play for any investor expecting economic recovery to begin to take hold. As the economy recovers shipment volumes will increase, and with increased revenue per unit, FDX would be poised to capitalize on this growth. Shares trade at a P/E ratio of 13.19, well off the company's 5-year average of 29.8. After slashing earnings guidance for this year, the stock has plummeted, but an opportunity exists for long-term growth. Although highly dependent on economic recovery taking hold, shares of FDX are expected to see EPS growth of 13% annually over the long term. While the economy may not bounce back quickly, patient investors will be rewarded with a low (0.66%) yielding dividend stock that has grown its dividend by 7% the last 5 years with a current streak of 11 annual dividend increases.
United Parcel Service
Year to date UPS has seen its share price drop 3%, and 3.1% in this most recent week. UPS has suffered in the wake of the negative guidance issued by FDX management, and will likely be subject to lower full year earnings as well.
UPS shares trade at a TTM P/E ratio of 18, roughly half what it traded for 3 years ago. UPS expects to grow earnings by 14% next year, and 11% over the next five. The company has margins among the best in the freight and logistics industry. With a payout ratio of 54%, and expected long-term growth in double digits, UPS should be able to maintain its 5-year dividend growth rate of 6.3%. Along the way, patient investors who are willing to wait on the economic recovery will be rewarded with $2.28 (3.17% yield) annual dividend.
Railroads
Recent news has driven railroad stock prices down as well. With Norfolk Southern Corp (NYSE:NSC) issuing lower Q3 guidance on the basis of lower coal shipments, prices across the railroad industry have been driven down.
CSX
CSX, along with NSC, operate rail lines across the eastern half of the U.S. The company serves 23 states, the District of Columbia, and two Canadian Provinces, with its network of 21,000 route miles. The company derives revenue from 4 primary areas: Merchandise (chemicals and consumer goods) which accounts for about 48% of revenue, Coal (30% of revenue), Automotive (6% of revenue), and Intermodal shipments (13%). The company also generates additional revenue from services provided to regional rail operators.
CSX currently trades with a TTM P/E ratio below 12, below the 5-year average of 14.3. Earnings per share are expected to grow 13.5% over the next five years. Shares of CSX currently sport a 2.65% yield which has grown at a 22.8% clip over the past five years. With the company's low payout ratio of just 28%, look for that growth to continue well into the future.
Union Pacific
UNP provides the western two-thirds of the U.S. with freight transport via the railway. UNP obtains roughly 20% of its revenue from coal shipments, industrial products (lumber and steel) account for 15%, agriculture provides another 20%, Intermodal brings in 15%, automotive about 10%, chemicals are approximately 15%, and the rest comes from services.
UNP shares trade with a P/E ratio of 15.4, on par with the 5-year average. UNP was able to grow TTM earnings 28.8% against the twelve months prior, and expects to grow EPS 14.3%. The company has margins among the best in the industry, and a relatively clean balance sheet. UNP shares pay a $2.40 annual dividend, which at its current price equates to a yield of 2.01%. The dividend has grown over the past 5 years at a 28% annual rate, and with a 29% payout ratio, should be able to continue growing quickly.
UNP is a premium stock, and investors looking to get in currently will have to pay a premium price. While UNP does offer a great long-term opportunity look for an additional pull back in shares prior to entering a position
Conclusion
While the market as a whole has performed quite well this year, as is always the case during a market rally certain stocks and sectors do not keep up. In the case of our current market rally, the transport sector, in the wake of some disappointing results, has been left behind. While these disappointing results may weigh on the share prices of these stocks in the short term, these all represent great companies, which will be poised to take advantage of any sign of economic recovery.
Much of the bad news that has been reported in the recent weeks should not have surprised investors, and was likely already reflected in the share prices of the stocks. Therefore, I believe the sell-offs we have seen in these high-quality stocks were overdone, and these companies will bounce back.
For additional analysis of the rail industry see here
Disclosure: I am long CSX. I wrote this article myself, and it expresses my own opinions. I am not receiving compensation for it (other than from Seeking Alpha). I have no business relationship with any company whose stock is mentioned in this article.