Two weeks ago, I posted an article to Seeking Alpha entitled, "Transocean Barred From Operating in Brazil: Looking at the Potential Impact." In this article, I stated that a Brazilian judge issued an injunction against Chevron (NYSE:CVX) and Transocean (NYSE:RIG) in response to a 3,600-barrel oil spill at the Frade field that bans either company from operating in Brazil. Chevron and Transocean appealed this injunction, assisted by none other than Chevron's Brazilian competitor Petrobras (NYSE:PBR) and the Brazilian petroleum regulator ANP. Despite this assistance, the injunction was upheld on appeal and both companies were ordered to cease all of their operations within the country.
A discussion broke out in the comments to the article suggesting that the legal actions that ensued following the spill may have significant negative effects on the Brazilian oil industry. ANP seems to believe the same thing. An article appeared in Reuters on Monday, September 17 stating that the regulatory agency itself is appealing the injunction against Transocean and Chevron. The agency stated that it is appealing the injunction specifically because the ban would have serious negative repercussions for the industry in Brazil. A Brazilian oil official told Reuters,
"The ban is totally ridiculous as are the amounts that the prosecutors are seeking; there was no ecological damage. If it is not overturned, this ban and lawsuit will have serious negative consequences for the industry."
ANP levied a fine on Chevron of about $17.3 million U.S. for its part in the spill. ANP concluded that Transocean was not to blame for the leak. A Brazilian prosecutor also brought a civil lawsuit against Chevron and Transocean for the spill. Reuters previously reported that the prosecutor was seeking $11 billion for the spill as stated in my previous article. The Reuters article from Monday provides a higher figure for this lawsuit, approximately $20 billion in damages. To put this in perspective, this $20 billion figure is roughly equivalent to the amount that BP (NYSE:BP) put into the fund that was established to compensate victims of 2010's Macondo disaster. That spill, the largest in history, was estimated to have released approximately 4.9 million barrels of oil into the Gulf of Mexico over a period of about three months. I have seen two figures for the size of the Frade spill in Brazil: 3,000 barrels and 3,600 barrels. Therefore, the total monetary cost for the Frade spill could be, at a minimum, 1,361 times more than the Macondo spill on a per barrel basis, should prosecutors have their way. Additionally, criminal charges have been brought against 17 employees and executives of the two companies by Brazilian prosecutors. The sheer magnitude of these charges has engendered ANP's concerns that oil exploration and production companies and offshore drilling companies may avoid Brazil.
In a previous article, I stated that the cornerstone of the massive expansion plan led by Petrobras is the region of pre-salt deposits located offshore Brazil. This region is believed to contain up to 100 billion barrels of oil equivalent which Petrobras hopes to develop. In order to do this, the company has embarked on the largest corporate spending plan in the world, totaling $237 billion over a five-year period. The oil and gas is located under a 2000m layer of salt which is underneath a 2000m deep layer of rock. These layers of rocks and salt are located on the floor of the Atlantic Ocean, about 2-3000m down. Petrobras and others require the use of ultra-deepwater drilling rigs in order to access the oil and gas deposits below. This is why Petrobras, which produces 90% of all oil and gas in Brazil, is expected to greatly increase its demand for rigs going forward.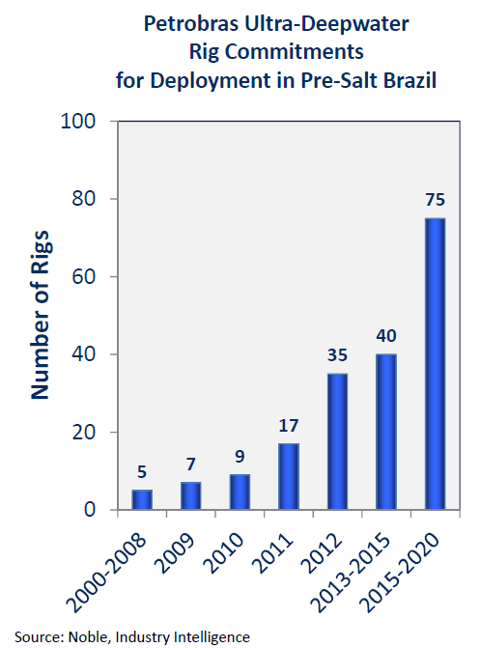 Click to enlarge
Long-time readers of my articles are likely already familiar with the extremely tight supply-demand situation that currently exists in the offshore drilling industry. This is making it difficult for Petrobras to achieve its development goals. The reason for this is simply that Petrobras cannot contract enough rigs in the current market. Aware of these problems, Petrobras and a group of banks and the four largest Brazilian pension funds set up Sete Brasil in December 2010 to operate and manage drillships and other assets that will be used in the development of the Brazilian pre-salt. Petrobras itself owns less than 10% of Sete. Sete has placed orders for thirty drillships in support of this goal and intends for much of the content to be locally sourced in Brazil. In fact, Sete's own website appears to state that its rigs will contain 62% local (Brazilian) content.
There are doubts among industry insiders regarding Sete's ability to achieve its ambitious goals. One reason for this is a lack of a skilled workforce in Brazil to actually construct these rigs. Additionally, a Reuters article from earlier this year hints at another possible roadblock for Sete: difficulty obtaining financing. Sete itself claims that it has more than sufficient financing, however. The Reuters article also states that locally-sourced content is likely to have higher costs, which could potentially make these rigs more expensive than what Sete estimates. The company has also been plagued with construction delays such as teething problems at EAS, a Brazilian company that was contracted to build seven of the drillships. This has resulted in a delayed construction start which will inevitably result in a later delivery date than what Sete's plan calls for.
Sete's planned business model could also present difficulty, particularly if the court's decision has frightened managers in the offshore drilling industry. Sete will offer rig operators and managers a 15% equity stake in the rigs that each manages on plus a fixed for operating a rig on behalf of Sete. According to the report by Upstream Online (linked above), several domestic and international rig operators have already signed on for this deal. However, this article was published in February which was before the recent court decisions against Transocean. It would be interesting to see if all the operators, particularly the international ones, are still interested in this deal.
In a previous article posted to Seeking Alpha (linked above), I provided a few indications that foreign (non-Brazilian) offshore drilling companies are getting very concerned about the regime risks inherent in doing business in Brazil. For example, earlier this year, managers of the major offshore drilling companies were enthusiastically discussing their firms' opportunities in Brazil. There are no such discussions today. While most companies still seem to mention Brazil, it is no longer given the attention that it once was. SeaDrill (NYSE:SDRL) has even taken another step, which I and many other people who follow the company think is at least partially motivated by a desire to limit liability risk. SeaDrill has been attempting to carve out its rigs that are operating in Brazil into another entity called Seabras. Seabras will be structured as an independent company that is partially- or majority-owned by SeaDrill. However, because it will be an independent company, SeaDrill should be able to limit its liability to the value of its stake in Seabras. Legally, this should protect SeaDrill against enormous legal penalties like the one that was brought against Transocean and Chevron.
Petrobras itself is expressing doubts about its ability to execute on the development of the pre-salt deposits should the injunction against Transocean be allowed to stand. Maria de Gracias Foster, CEO of Petrobras, stated that Petrobras would have to stop exploration and development at some of its most promising deepwater fields if Transocean is kicked out of the country. Foster stated at the Rio Oil and Gas Conference,
"We don't even want to think about what would happen if the ban took effect. The impact would be very bad."
Foster has directly stated in the past that Petrobras's inability to hire ultra-deepwater rigs, caused mostly by the worldwide shortage of these units, is a key reason why the company has been having difficulty meeting its own growth goals. Upholding the injunction against Transocean will exacerbate those difficulties. This is doubly true if other major ultra-deepwater drilling firms pull out of the Brazilian market due to litigation risk.
If Sete Brasil fails to achieve its ambitious construction goals, or if there is reluctance among operators to operate Sete's rigs, then this could further hamper development of Brazil's massive offshore pre-salt resources. If Petrobras and ANP fail in their collective appeal to the Brazilian courts, then Petrobras will almost certainly be hampered in its development efforts. Petrobras and/or Sete will likely be forced to pay more to rig managers and operators to compensate them for the higher risks of doing business in Brazil. This would result in higher costs for Petrobras and lower profits for shareholders.
Disclosure: I am long SDRL. I wrote this article myself, and it expresses my own opinions. I am not receiving compensation for it (other than from Seeking Alpha). I have no business relationship with any company whose stock is mentioned in this article.