Gold has game
Everyone seems to agree that quantitative easing to infinity is bound to have a negative effect on the U.S. dollar and a positive effect on commodity and stock prices as the Fed continues its efforts to reinflate the economy.
While there is plenty of debate and uncertainty regarding the eventual success of this plan, it certainly looks like central bankers around the world, including the Federal Reserve, European Central Bank and Bank of Japan, are pulling the levers of easy money as hard as they can in their attempts to stimulate global growth.
These actions almost certainly will be bullish for gold, and other bullish factors include central bank buying of the precious metal and ongoing retail demand, particularly in India and Asia.
For ETF investors, SPDR Gold Trust (NYSEARCA:GLD) seems to be the ETF of choice as it's the second largest ETF, second only to the SPDR S&P 500 ETF, (NYSEARCA:SPY) with approximately $70 billion in net assets and trading volume close to 9 million shares/day.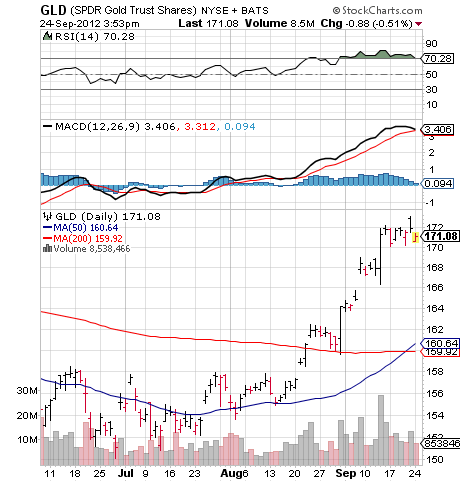 A quick glance shows that it's in a sharp uptrend and that its blue 50 day moving average has just crossed the red 200 day moving average which is a "golden cross" and a strong, longer term buying signal.
Over the shorter term, RSI of 70 shows the metal being overbought and so subject to a short term correction while MACD also shows weakening momentum. However, this short term weakness is within the context of a longer term bull market.
With the price of gold now hovering around $1767/oz, many analysts are forecasting $2,000 gold as a realistic target and some gold bulls are forecasting that price level being reached as early as the end of the year.
A move to $2000 would represent a 13% gain, and with major hedge funds, institutions and central banks lining up to buy, clearly gold could have game and so it's our ETF Tip of the Week for September 24th.
Disclosure: I have no positions in any stocks mentioned, and no plans to initiate any positions within the next 72 hours. I wrote this article myself, and it expresses my own opinions. I am not receiving compensation for it (other than from Seeking Alpha). I have no business relationship with any company whose stock is mentioned in this article.