US Airways (LCC) believes that it is well positioned for the remainder of 2012; however, investors are inclined to disagree. Despite an earnings beat in its latest release, the market is not positive about the company, given its open exposure to oil prices, which make LCC extremely vulnerable against rising jet fuel prices. This point of view has only strengthened after last week's QE3 announcement.
The only sign of hope comes from the potential merger with AMR's American Airlines (AAMRQ.PK.). The merger will not only give birth to the largest airlines in the U.S., but also help both parties secure higher margins.
Press Release

Higher fares and lower fuel costs helped LCC record a quarterly profit of $306 million, the highest since 2005, when US Airways and America West combined to form US Airways Group. Fares were higher 7.4% YoY, whereas fuel prices were down 3.5% YoY.
2012 Highlights and Future Outlook
RASM, CASM and Margins
LCC made the third-highest gain in revenue per seat mile (RASM) (6.8%) after American Airlines and Delta Airline (NYSE:DAL). The following chart shows the YoY changes in RASM:

LCC discloses information separately for its segments, which are namely mainline, express and cargo. Mainline comprises the airlines operated by LCC's main operating unit, whereas express, which is also called the regional unit, is operated either through owned regional affiliates or through secondary regional carriers. For example, PSA and Piedmont Airline are regional affiliates owned by LCC; however, Winair, another regional affiliate, is not owned by LCC. Similarly, Horizon Air is a non-owned secondary carrier affiliate for Delta Airlines.
Mainline, Express and Cargo

Mainline
The following table summarizes the performance of the mainline unit: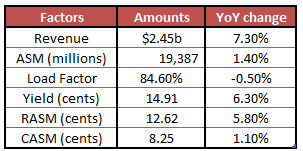 The increase in Available Seat Miles (ASM) led to a reduction in the load factor. Other positive movements were attributed to the strong revenue environment, resulting from the ongoing industry capacity discipline, and higher consumer demand for air travel.
In the CASM component, one thing worth noting was fuel cost per ASM, which decreased by 5.7% due to an almost 4% decline in fuel cost. Fuel efficiency also improved, as LCC replaced its old Boeing 737 planes with the new fuel-efficient Airbus320 family. As compared to the industry, LCC was the third-most successful company to keep its CASM down, as the following chart shows the YoY rise in CASM:

Express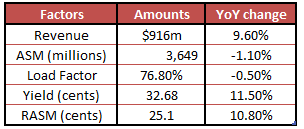 The results for RASM and Yield were favorable because of similar reasons mentioned for the mainline business. Additionally, demand was up because of the installation of first class seating on certain express regional jets.
Despite the stats showing growth, the actions of competitors tell us that regional markets are on a decline. For example, DAL has significantly reduced its presence at the Cincinnati Airport, as it only has 120 flights, as compared to the 600 flights it once used to have some six years back. The maintenance upkeep for aging planes and rising overheads have made it difficult for regional affiliates (non-owned) to partner with mainline carriers like DAL and LCC.
Cargo
Cargo revenues were the most adversely-hit due to the weak European economy, as revenues tumbled by 10.7% YoY. The decrease in international freight volumes led to the decline. The trend for revenues is expected to remain the same until Europe comes out of its debt crisis.
Oil Prices and LCC
LCC does not hedge its fuel consumption, which is why the stock moves in negative correlation to oil prices, as shown by the graph below: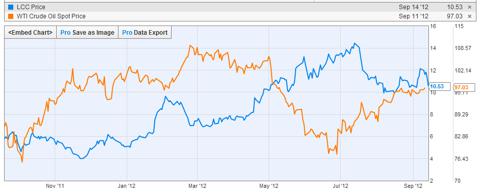 The following graph taken from slides of the Dahlman Rose & Co. Global Transportation Conference shows that without hedging, the company is able to cover for fuel expenses through a rise in revenues.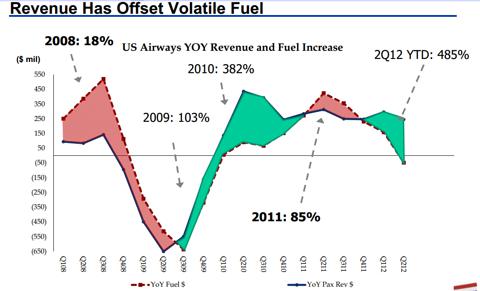 The company estimates fuel consumption for 2012 to be 1.45 billion gallons. 550 million gallons have already been consumed.

*Qineqt's estimates
Given a single cent rise in fuel prices, the company will face a rise of $9 million in fuel costs. Therefore, the company faces a significant commodity price risk. Since oil prices are expected to rise in future due to an expected improvement in the global GDP, and tensions in the Middle East, LCC will be a big loser.
Merger with AMR
For some time now, there have been talks of a merger between American Airlines and LCC. American Airlines cannot merge with big players like DAL and United Continental Holdings (NYSE:UAL), as regulators will not allow such a thing. However, American Airline's identified five small players, namely JetBlue Airways (NASDAQ:JBLU), Alaska Air Group (NYSE:ALK), Virgin American, Republic Airways Holdings (RJET) and LCC, for a possible merger.
JBLU, ALK and Virgin America have declared that they prefer to remain independent. However, LCC CEO Doug Parker has indicated:
"We are pleased to be working directly with American to study a potential merger."
However, till yet, nothing has been finalized in this regard, as a lot depends on whether AMR's employees and creditors are in favor of the merger or not. Most importantly, Tom Horton, the CEO of American, is not in favor of the deal, as the merger will cost him his position as CEO, since Parker is expected to head the new combination.
Conclusion
LCC is improving on its margins. The following chart shows the margin improvements this quarter (in bps):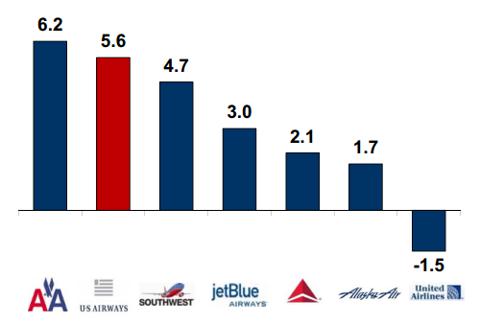 It is important to note that much of the margin improvement came from the decline in fuel prices. The company is building on cash reserves; cash increased by $370 million this quarter, meaning that cash reserves now total $2.91 billion, which is the highest quarter ending total since the fourth quarter of 2007.

The company has an enormous debt-to-equity ratio of 877%. However, the company does not plan to use its excess cash to pay off the debt. Rather, CAPEX is on the rise, as the company plans to spend $308 million in CAPEX for 2012.
The short ratio for LCC is quite high (18%). This is, of course, in anticipation of the rising fuel prices, and their impact on the stock. The U.S. economy is showing signs of a recovery. Tensions in the Middle East are also rising, resulting in restriction of oil supply from the region. If this persists, oil prices will shoot up, bringing down the price of LCC.
Therefore, LCC is recommended as a short till the formal announcement of the AMR-LCC merger.
Disclosure: I have no positions in any stocks mentioned, and no plans to initiate any positions within the next 72 hours.
Business relationship disclosure: The article has been written by Qineqt's Tansportation Analyst. Qineqt is not receiving compensation for it (other than from Seeking Alpha). Qineqt has no business relationship with any company whose stock is mentioned in this article.