Dry conditions in many global crop producing regions have decimated wheat crops, supporting the elevated prices in the wheat futures market and pushing a wheat exchange traded fund up about 21% in the past three months.
Teucrium Wheat Fund (NYSEARCA:WEAT), the only pure-play wheat ETF available, surged 20.9% over the last three months. It's one of the top ETF performers in the third quarter.
In the U.S., the worst drought in half a century has destroyed crop yields. Dan Manternach, agriculture director for Doane Advisory Services, believes that the winter crop in the U.S. Plains requires wetter conditions to establish itself, reports Rod Nickel for Reuters.
It isn't just U.S. crops that are under duress. Drier conditions in Australian wheat-producing areas are also negatively affecting production. Russia, the world's third largest wheat exporter last season, will cut down its wheat exports to 8 million tons this season, compared to 21.6 million tons last year, reports Marina Sysoyeva for Bloomberg.
"The bullish unknowns about the 2013 (wheat) crop are still there," Manternach said in the Reuters article.
According to Rabobank International, wheat will trade at $8.8 per bushel in the fourth quarter, $9 per bushel in the first quarter and $9.2 in the second, reports Whitney McFerron for Bloomberg. Wheat for December delivery is currently trading around $8.8 per bushel.
Teucrium Wheat Fund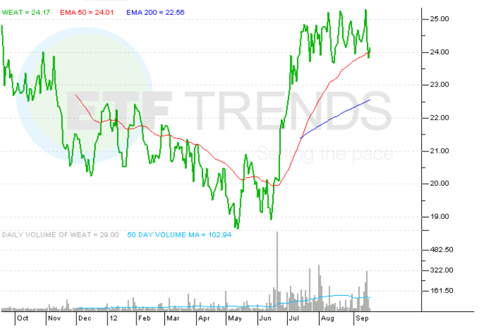 Click to enlarge
Max Chen contributed to this article.
Disclosure: I have no positions in any stocks mentioned, and no plans to initiate any positions within the next 72 hours. I wrote this article myself, and it expresses my own opinions. I am not receiving compensation for it. I have no business relationship with any company whose stock is mentioned in this article.