Three weeks ago when the stock was in the low $27s, I asked Has Embraer Hit Bottom?

...got me thinking about the one Brazilian stock that has been in freefall - Embraer (NYSE:ERJ). This is actually one of the older Brazilian stocks out there - it was trading publicly before Brazil was the place all the cool kids hung out. They make (mostly) commercial and executive jets - if they ONLY did executive jets I'd actually be all about the stock as the top 1% in the world are doing just fine thank you. [Some Parts of the Economy are Booming - Like Yacht Building]

Now with oil in the $140s, all things aircraft have been in free fall, but if you believe (like I do) this is a parabolic move in crude that is due for a correction (in a much longer path upward) you might be interested in such a stock.

So those were in the days of crude oil $140 (ah, seems like a lifetime ago) and with everyone convinced oil is now heading for $20... er, $10... er, $1, the stock has shown a lot of life. Now many of the gamblers in this market run to the airline stocks because instead of losing $2000 on every flight, those companies will only lose $800 on every flight ... and that's a MUCH better business, but perhaps this is a safer way to play the same "cheap oil is back" play.

As I wrote in that piece, the stock is dirt cheap...

ERJ now trades at 10x forward earnings for 2008 for solid 20-25% growth. Again, I am all about investing in anything catering to the ultra rich in the new Gilded Age (people like Blue Dog) - they could care less about gas $4 or gas $10 for that matter. This is why I wish they only did executive jets.

The stock has since rallied and is now above $30, up nearly 20% in the three weeks since I pointed it out. Unfortunately like almost every stock in my watch list or in the portfolio it is a broken stock that has only rebounded to hit a resistance level. My standard operating procedure (which I've been executing over and over the past 7 or so days) is to (if I own such stocks in charts like this) sell down a position when it approaches such resistance and then wait - if it pulls back we can rebuy lower OR if it breaks through we can buy back higher, confident that the market is favoring that stock again. But right at resistance the stock is simply in no man's land and it's best to sell.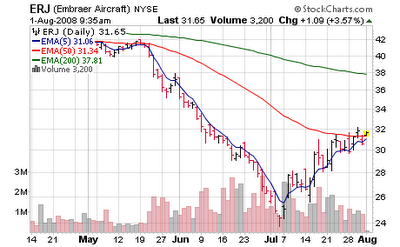 So in theory, I should have bought a few weeks ago, and I should be booking my near 20% gain this morning. But at that point the same people shrilly calling for oil $70 were yelling for oil $200. Lesson - never listen to people who scream at you through TV.
Here is Embraer's full earnings report - summary below. I like how executive jets are more and more of the backlog ... as flying becomes more of a thing for the upper class, or those in countries whose middle class are not being decimated, the demand for executive jets should continue unabated while the demand for commerical jets (at least in the "West") might hit some potholes the next few years. Uhh .. unless the "1st half 2009" recovery is just around the corner.
Brazilian aircraft manufacturer Embraer said Thursday that profits more than doubled in the second quarter, driven by strong sales of midsize commercial jets and the company's new, popular executive jets.
Empresa Brasileira Aeronatica SA, the world's fourth-largest plane maker, reported second- quarter profits of 176 million reals ($110 million), up 120 percent from 80 million reals ($50 million) in the same period a year ago.
Profits hit 0.24 reals ($0.15) per share, compared with 0.11 reals ($0.07) per share in the same quarter of 2007. Diluted earnings per ADS of US$ 0.74 (vs analysts $0.59)
Net revenues for 2Q08 totaled US$ 1,635.0 million, a 47.3% increase over the US$ 1,110.0 million in net revenues for 2Q07, basically due to the increase in deliveries.
Embraer said its backlog hit a record $20.7 billion as of June 30, including $6 billion in orders for executive jets
Embraer delivered 52 aircraft during the quarter, up from 36 in the year-earlier period. The company also reaffirmed its estimate that it will deliver 195 to 200 jets this year, including 10 to 15 of its hot new Phenom executive aircraft.
Embraer said the acquisition of new clients such as ETA Star group of Dubai and Brazil's TRIP Linhas Aereas had led to an increase in firm orders. (yes, we want customers who have unlimited petrodollars - welcome, Dubai)
Embraer said in June that it is in preliminary negotiations to sell the U.S. government eight 314-B1 Super Tucano light attack and training planes for use in Iraq (war is a growth industry in the United States).
The company also confirmed that it sold one of the propeller-driven planes to a subsidiary of Blackwater Worldwide, the world's largest security contractor and the target of harsh criticism for its conduct in Iraq. (

if you ever want some good weekend reading, I suggest doing some Google searches on Blackwater - your eyes will really open to the "behind the scenes" action in America

)
So I'm looking strongly at this name as an offshoot to our normal fare - so as oil devolves to $5 again we have something that will benefit. Or wait, will the global depression mean no one will buy jets and hence this is not a good buy either? Frankly it's hard to find anything to buy in the global depression scenario...
Disclosure: No position (yet)