The company continues to grow via acquisitions. It acquired a 51% stake in Smith Barney from Citigroup Inc. in May 2009 and combined this with its own wealth management unit to form Morgan Stanley Smith Barney (MSSB). In June 2012, it announced its intent to purchase an additional 14% stake from Citigroup.
Management is focusing on diversifying its revenue base by investing in countries that have not been seriously affected by the financial crisis and Euro debt crisis. In this regard, it has opened up its bond trading desk and with plans to further expand operations in Canada. Canada has experienced fewer problems when compared to the U.S. and Europe and is fiscally in a stronger position
The company has taken initiatives to restructure its operations to reduce risk and focus on less capital incentive businesses. It is doing this by selling off its non-core operations so that it can focus on its profitable units. For example, it exited the mortgage servicing business by completing the sale of Saxon Mortgage services in April 2012, to Owen Financial Corp. Asset wealth management and the Global Wealth management group should help stabilize its earnings going forward.
Additional Reasons to be bullish on Morgan Stanley
It is trading roughly $14 below book value.
Net income has increased from $1.3 billion in 2009 to $4.11 billion in 2011.
A very strong operating cash flow of $27.3 billion.
Cash flow per share has risen from $1.75 in 2009 to $2.89 in 2011.
Annual EPS before NRI has increased from $0.93 in 2009 to $1.26 in 2011.
It has a very low payout ratio of 17%.
A 3-5 year EPS estimated growth rate of 16% according to Zack's.
Net income for the 2nd quarter improved significantly to $591 million versus -$94 million in the first quarter.
Dailyfinance.com has a projected growth rate of 116% for 2013.
According to

Zacks

.com earnings per share will increase from an estimated $0.90 for 2012 to $1.97 in 2013. This represents an increase of over 100%.
It has strong institutional support. Institutions have a 75% stake in the company.
It passed the latest round of stress tests conducted by the Federal Reserve (March 2012). As a result its plan to purchase an additional 14% stake in Morgan Stanley Smith Barney joint venture was approved.
Charts and Tables of Interest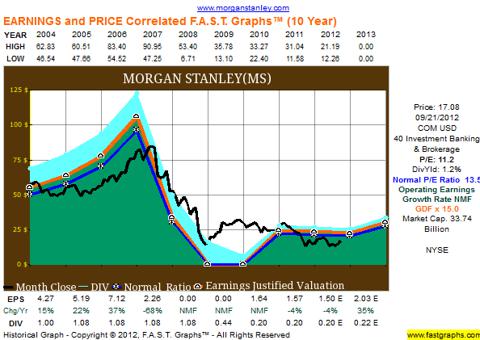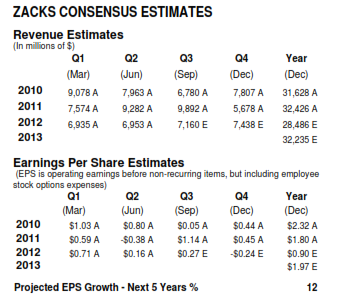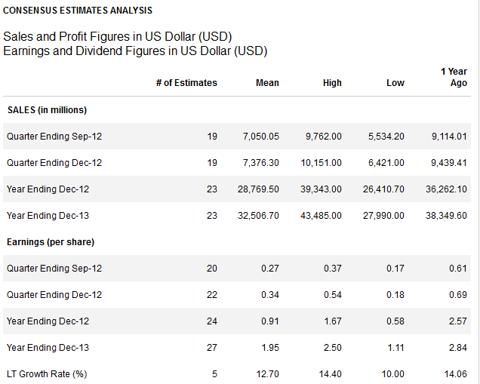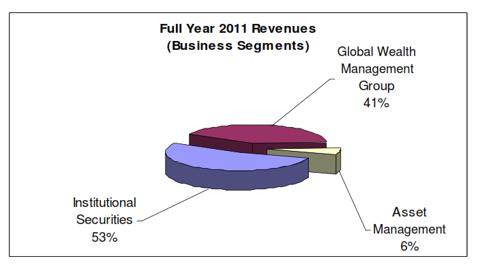 The Competition
The table below shows you how Morgan Stanley stacks up against competitors such as Goldman Sachs (NYSE:GS) and Bank of America (NYSE:BAC).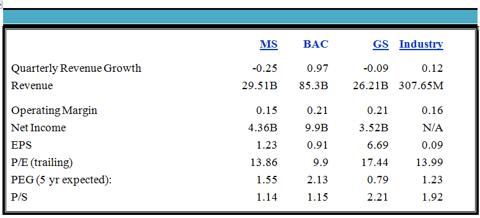 The chart below illustrates the 5 year performance of Morgan Stanley relative to Citigroup (NYSE:C), Bank of America and Goldman Sachs.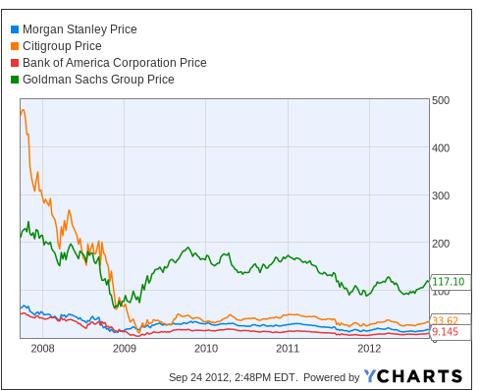 Company: Morgan Stanley (NYSE:MS)
Growth
Net Income ($mil) 12/2011 = 4110
Net Income ($mil) 12/2010 = 4703
Net Income ($mil) 12/2009 = 1346
Net Income Reported Quarterly ($mil) = 591
EBITDA ($mil) 12/2011 = 14425
EBITDA ($mil) 12/2010 = 14064
EBITDA ($mil) 12/2009 = 9041
Cash Flow ($/share) 12/2011 = 2.89
Cash Flow ($/share) 12/2010 = 3.89
Cash Flow ($/share) 12/2009 = 1.75
Sales ($mil) 12/2011 = 32403
Sales ($mil) 12/2010 = 31622
Sales ($mil) 12/2009 = 23358
Annual EPS before NRI 12/2007 = 2.37
Annual EPS before NRI 12/2008 = 1.54
Annual EPS before NRI 12/2009 = -0.93
Annual EPS before NRI 12/2010 = 2.44
Annual EPS before NRI 12/2011 = 1.26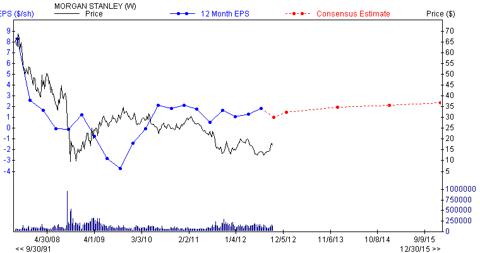 Dividend history
Dividend Yield = 1.2
Dividend Yield 5 Year Average = 2.4
Dividend 5 year Growth 03/2012 = -37.24
Dividend sustainability
Payout Ratio = 0.17
Payout Ratio 5 Year Average = 0.27
Performance
Next 3-5 Year Estimate EPS Growth rate = 16.13
ROE 5 Year Average 03/2012 = 5.6
Debt/Total Cap 5 Year Average 03/2012 = 79.56
Current Ratio = 0.82
Current Ratio 5 Year Average = 0.98
Quick Ratio = 0.83
Cash Ratio = 0.7
Interest Coverage Quarterly = 1.13
Retention rate = 59%
Conclusion
The stock has rallied strongly after trading as low as $12.29 on the 23rd of July to its recent high of $18.50 set on the 14th of September. The trend is still strong but as the stock is overbought we would wait for a pullback to the $14.50-$15.50 ranges before committing new money to this play. It would be advisable to place a stop at $12.29. A break below this recent low will signal that it is ready to put in a series of 52 week lows. However, at this point in time, the outlook calls for higher prices as the trend is still strong. A weekly close above $18.50 should enable it to put in a series of new 52 week highs. Another alternative would be to sell puts at strikes you would not mind owning the stock at. The benefit of this is two-fold. You have the chance of getting in at a price of your choosing and secondly if the shares are not assigned to your account, you get paid for your efforts via the premium.
Consensus estimate analysis sourced from reuters.com. Full year 2011 revenues chart sourced from zacks.com. Data on competitors sourced from yahoofinance.com. EPS and Price Vs industry charts obtained from zacks.com. A major portion of the historical data used in this article was obtained from zacks.com.
Disclaimer
It is imperative that you do your due diligence and then determine if the above play meets with your risk tolerance levels. The Latin maxim caveat emptor applies - let the buyer beware.
Disclosure: I have no positions in any stocks mentioned, and no plans to initiate any positions within the next 72 hours.
Business relationship disclosure: This article was prepared for Tactical Investor by one of our analysts. We have not received any compensation for expressing the recommendations in this article. We have no business relationships with any of the companies mentioned in this article.