Coral Gables, Florida.-based Capital Bank Financial Corp. (NASDAQ:CBF) and Greenwood Village, Colorado.-based National Bank Holdings Corp. (NBHC) went public last Thursday and did well, meaning they did better than the stock was priced. Look for more bank IPOs this year as fewer banks closing also means more opportunity for larger community banks and regional banks to expand.
According to SNL Financial data, the last U.S. bank or thrift to go public was EverBank Financial Corp.(NYSE:EVER). The Jacksonville, Florida.-based company completed its IPO in May. Before that, no bank or thrift had completed an IPO since Seattle-based HomeStreet Inc. in February. Shares at both EverBank and HomeStreet (NASDAQ: HMST) have fared well since their IPOs, returning 26.12% and 67.55%, respectively.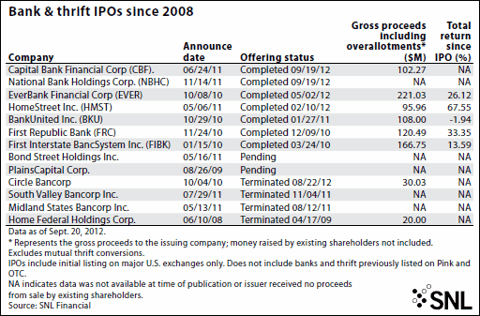 The National Bank Holding Company, based out of Charlottesville, Virginia, in 2010, acquired Bank Midwest, in Kansas and Missouri, Hillcrest Bank in Texas, and then added Bank of Choice in Greeley, Colorado. In October 2011, National Bank Holdings announced that it had reached a deal to buy 16 branches of Greenwood Village-based Community Banks of Colorado, as well as the Community Banks of Colorado name, for an undisclosed price. Although Community Banks was considered troubled, it was reported that the transaction did not involve federal regulators. The holding company reportedly operates a network of 101 full service banking Facilities.
About the Holding Company: here
SNL Financial reports "(CEO G. Timothy Laney), a Bank of America Corp. and Regions Financial Corp. veteran, said National Bank Holdings is on an industrious growth path, one to be defined in large part by acquisitions. The company envisions doing a series of deals, specifically targeting Colorado and the Kansas City, Mo., metropolitan area. Laney said those two markets met the bank's three foundational criteria: They are poised to recover faster than the national average; there are numerous troubled banks that make for potentially attractive targets; and, once the markets are consolidated, there is an expectation that, based on historical practices, National Bank Holdings will be competing against "very rational" lenders in terms of deposit pricing and credit structure.
"Eventually, Laney said, National Bank Holdings could nearly triple in size from its current $5.8 billion in assets. Data as of June 30 show that the company had 45 full-service branches in Missouri and Kansas and 50 in Colorado. Laney said targets likely will range in size from roughly $1 billion to $2.5 billion, and he said the would-be consolidator is "well prepared" to do FDIC-assisted and open-bank deals. Laney also said the company could push beyond its core markets into states near Colorado and Missouri, with one likely market for the company to expand into being Des Moines, Iowa, given its close proximity to Kansas City."
The holding company is not receiving proceeds from the IPO, according to SNL Financial, but with the offering announced it gains a currency to help it pursue acquisitions. A potential target list is dotted with more than struggling banks, they note.
Based on those criteria, an SNL Financial analysis found a long list of potential targets.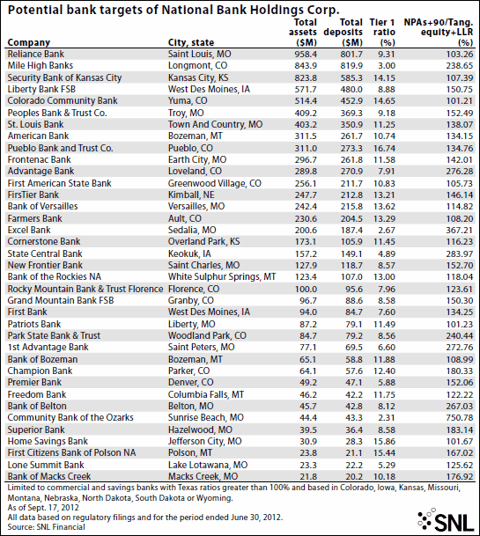 Competition may also come from investor groups, as both Capital Bank and National Bank have built their respective franchises through opportunistic acquisitions, and their strategies as public companies are based on additional purchases of undercapitalized or underperforming depository institutions.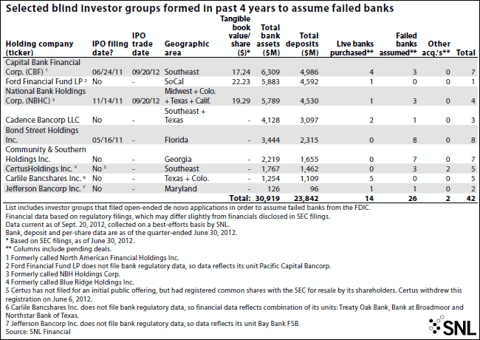 As the big five banks fight rules and regulations, as well as more competition from regional and community banks, look for more bank IPOs to bring them more competition as the economy recovers.
Disclosure: I have no positions in any stocks mentioned, and no plans to initiate any positions within the next 72 hours. I wrote this article myself, and it expresses my own opinions. I am not receiving compensation for it. I have no business relationship with any company whose stock is mentioned in this article.