Before the open today, Lennar Corp. (NYSE:LEN) announced Q3 earnings that easily surpassed analyst estimates. The earnings also nearly quadrupled the numbers from last year.
The interesting part, though, was that the stock sold off following an initial move higher. Lennar ended down 1.5% for the day. After a strong rally this year, it appears that the good news is already priced into the stock.
The company is one of the nation's leading builders of quality homes for all generations in the U.S. under the Lennar brand name. Lennar's Rialto Investments segment is focused on distressed real estate asset investments, asset management and workout strategies.
Q3 Earnings Highlights
The reported numbers for Q3 show a dramatically improving homebuilding sector. Demand for new orders is outstripping deliveries and the price of new orders continues to rise.
Below are the highlights:
Net earnings of $87.1 million, or $0.40 per diluted share, compared to net earnings of $20.7 million, or $0.11 per diluted share
Deliveries of 3,655 homes - up 28%
New orders of 4,198 homes - up 44%; cancellation rate of 17%
Backlog of 4,513 homes - up 79%; backlog dollar value of $1.3 billion - up 95%
Revenues of $1.1 billion - up 34%
Gross margin on home sales of 23.2% - improved 210 basis points
Valuation
The biggest concern with the homebuilding stocks is that the valuations have soared while the revenue base is just now starting to rebound. As the below chart shows, outside the spike in 2005, the stock valuations already match the highest levels. Toll Brothers (NYSE:TOL) has seen similar moves as well, confirming that the move isn't just Lennar related.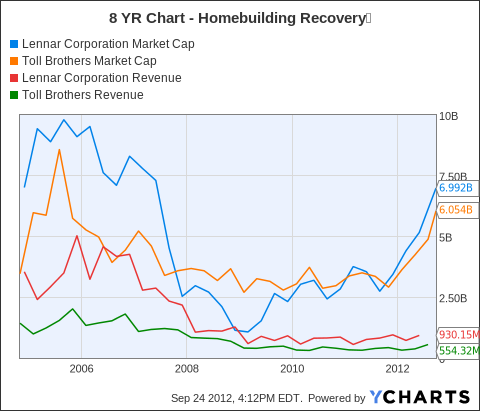 LEN Market Cap data by YCharts
The biggest concern with the homebuilders, and Lennar specifically, is the huge stock gains in the last 12 months. This stock is up roughly 200% since bottoming out around $12 at the start of October 2011.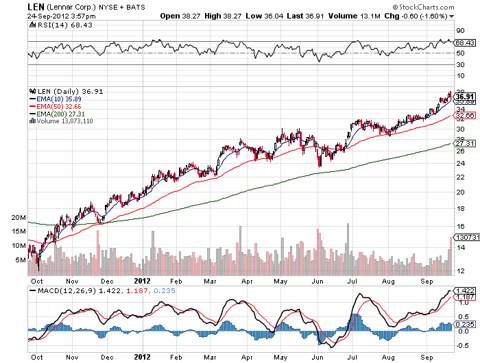 Conclusion
The homebuilding recovery is under way, but the stocks are already ahead of the order book. New orders for Lennar are up 44% while the stock price is up 200%. Not to mention, valuations are already reaching the peaks at the housing top in all but 2005. At this point, the stocks have greatly outpaced the housing recovery and can't be bought.
Disclosure: I have no positions in any stocks mentioned, and no plans to initiate any positions within the next 72 hours. I wrote this article myself, and it expresses my own opinions. I am not receiving compensation for it (other than from Seeking Alpha). I have no business relationship with any company whose stock is mentioned in this article.
Additional disclosure: Please consult your financial analyst before making any investment decisions.