Click here to read my exclusive interview with Sodastream CEO Daniel Birnbaum.
SodaStream International's (NASDAQ:SODA) claim to fame is a disruptive "Home Carbonation System" that's slowly threatening the dominance of US beverage titans The Coca-Cola Company (NYSE:KO) and PepsiCo Inc. (NYSE:PEP). Not only does SodaStream offer consumers an eco-friendly, convenient way to enjoy soda, but it's healthier and cheaper.
The current distribution system of carbonated beverages is both harmful to consumer's health, and polluting the planet. SodaStream's products solve both of these problems.
Overview
From the Sodastream website:
Click to enlarge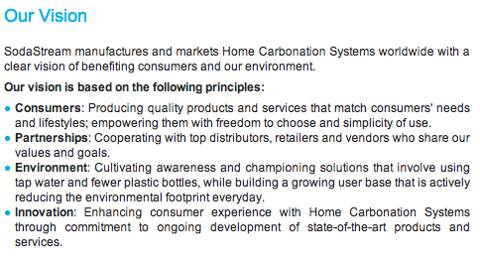 US Growth
SodaStream only made its US retail launch "a few years ago," and still has a household penetration rate of "under 1%." In more mature markets such as Sweden, household penetration is around 25%.
CEO Daniel Birnbaum expects the US to become "over 50% of (SodaStream's) sales," eventually. US soda-maker sales, which are a leading revenue indicator (leads to higher flavor/CO2 sales), rose 63% in Q2. Sales were aided by SodaStream's new rollout across Wal-Mart's (NYSE:WMT) stores, which represents a significant achievement.
As SodaStream expands its retail presence, its US household penetration will continue to increase. Mr. Birnbaum sees the potential to open "thousands" more US "doors" where kitchen appliances are sold. "Grocery, drug and convenience" store channels are being tested in 2013, and will be expanded through 2014 "and beyond." Direct TV sales is also a potential channel. Several weeks ago approximately 20,000 soda makers were sold in one day when SodaStream was featured on HSN.
US growth has accelerated throughout 2012, and should continue this momentum in 2013. US revenues grew 93% YoY (year over year) in Q1, and accelerated to 109% YoY in Q2. QoQ growth was 20%, and is on track to maintain a triple-digit annual growth rate through 2013.
Other International Growth
Besides US expansion, SodaStream has seen success in its Asia-Pacific region as well. Revenue climbed 234% YoY in Q2 and now represents ~10% of total sales. Japan, the newest market for SodaStream in this region, is doing very well, and even older markets like Australia and South Korea have contributed positively.
India, and later China, have been targeted as major potential markets in this region, and clearly adoption of SodaStream is accelerating (though in its very early stages).
South America also presents a significant growth opportunity for SodaStream. Brazil, which could turn out to be a huge growth driver, was added last quarter. Mr. Birnbaum also mentioned that several other South American markets are "pending," inferring the addition of Brazil could be the start of a bigger trend.
Product Innovation/Expansion
Sodacaps - This is a new way to flavor SodaStream beverages that will be offered along with the traditional syrup method. One of the very few complaints about SodaStream's products was the uneven/imperfect distribution of syrup in its beverages as experienced by rookie users. Because Sodacaps will have a pre-measured amount of flavoring, the quality of each drink will now be far more consistent.
Night Spirits - Gives SodaStream customers the ability to make mixed drink "mocktails" such as Mojitos and Cosmopolitans, to which alcohol can then be added. This is an excellent example of how SodaStream can further its offerings (and thus increase revenue), in both maturing and expanding markets. The upcoming release of the Night Spirit flavor line in late 2012 could be a huge addition to its beverage offerings. If adopted by consumers, SodaStream will be entering a market that is far bigger than just soda.
Energy Drinks - SodaStream has recently implemented energy drinks to its consumable offerings. While competitors such as Red Bull and Monster Beverage Corp. (NASDAQ:MNST) charge $3-$5 per can, a SodaStream energy drink can be made for just $0.20. Because SodaStream is offering energy drinks at such a lower price point than anything else on the market, it may start to gain traction.
Wal-Mart Rollout - Analysts have been expecting this huge positive catalyst for a while, and in Q2 it happened. SodaStream started rolling out its products in May to over2,900 Wal-Mart stores and has seen positive results so far. This was a very important step towards setting up a wider distribution network in the US, especially for the CO2 exchange program, available at all of the Wal-Mart stores.
Revolution - This is the first automatic soda maker powered by electricity with several significant new features. The "snap and lock" system allows the bottle to be inserted and removed quickly, without the need to screw/unscrew it. There are four one-touch buttons, each offering a different level of carbonation, low, medium, high and turbo. An LED screen informs the user as to the amount of CO2 remaining in the cylinder.
Source - This soda maker was created for SodaStream by world renowned designer Yves Behar. Like the Revolution, it also features the "snap and lock" system for easier bottle insertion and removal. It also has a series of three LED lights on the front that provide feedback as you carbonate, indicating the strength level of carbonation in the drink.
Valuation
SodaStream has actually accelerated its growth rate this year (39% in 2011 vs. 49% in Q2). Current EPS projections for 2012 stand at $2.25 per share, implying a P/E of 17.3x, very cheap for ~50% top-line growth. Another thing to keep in mind is that SodaStream's margins only climb as its markets become more mature. Sales of consumables are much higher margin than soda-makers, and occur on a much more frequent basis.

SodaStream has exceeded analysts' estimates in the past four quarters, and continues to set the bar higher. In Q2, management upped its full year revenue guidance by over $20 million, and now anticipates revenue of $405 million.
Revenue growth for 2013 is only projected by the analysts to be 19% higher than in 2012, an increase of ~$80 million. To put that in perspective, SodaStream is going to increase revenue by $115 million in 2012. Oddly enough, all indicators are pointing towards accelerating growth in the back half of 2012, which should continue into 2013. Analysts are clearly low-balling projections once again.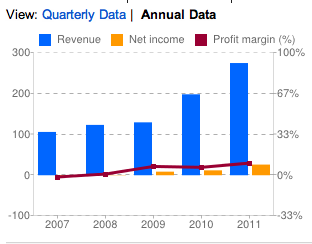 Even though SodaStream is going through a growth phase, earnings will be expanding faster than revenue. This is because of the natural shift towards sales of consumables in more mature markets.
Estimates for 2013 earnings are at $2.84 right now (up from $2.71 90 days ago). This implies (because of revenue estimates) that in 2013, 45% of SodaStream's EPS increase will come from expanding margins, and 55% will come from rising sales. If SodaStream grows revenue by just 25% in 2013 (half of growth rate in Q2), which seems highly plausible, EPS would be closer to ~$3 per share.
If shares retain a multiple of 17.3x on earnings, shares would be well over $50. Although that seems like a fair amount of upside from current levels, raised 2014 estimates might provide an even bigger boost.
Analysts are projecting that SodaStream's growth is expected to top-off in 2012 and incrementally decline through 2015 (longest analyst projections). Ironically, SodaStream has accelerated growth this year, and is nowhere near saturating its biggest markets. Growth seems poised to defy future estimates.
In short, SodaStream's street expectations are very low, and its 'average' P/E ratio doesn't do its top-line growth justice.
Conclusion
SodaStream has the potential to revolutionize the beverage sector. An eco-friendly image combined with much cheaper price points gives SodaStream a huge competitive advantage. If the adoption of its products continues in new markets (like the US and Asia-Pacific), then shares will be clearly undervalued.
Low expectations, and a management team that has shown an initiative to perform and drive growth, makes SodaStream a strong buy at $39 per share.
Disclosure: I have no positions in any stocks mentioned, and no plans to initiate any positions within the next 72 hours. I wrote this article myself, and it expresses my own opinions. I am not receiving compensation for it (other than from Seeking Alpha). I have no business relationship with any company whose stock is mentioned in this article.