Market Recap
The market dropped on Monday as Europe's "risk-off" trading from Friday turned into "risk-on" on Monday. Fear over the debacle between Germany and France's banking union created strength in the dollar and weakness in the Euro. When the dollar rises, it hurts commodity prices and equity prices. For the week, the news coming out of Europe will be pretty crucial to the market as QE3 cannot be waved anymore as a rally chip. Additionally, Apple (NASDAQ:AAPL) was hurting the Nasdaq and general markets. The company announced 5M iPhone 5 sales over the weekend, but that level was not enough for some as the stock suffered. Further, a riot at a Foxconn, a supplier for Apple, plant was hurting the company as well. Monday is a typically down day as shorts reposition themselves, and that was also creating weakness.
Here are some stocks we like moving through the week and beyond:
Stocks To Trade
Today, we are looking at an earnings trade in Under Armour (NYSE:UA), longs in Direxion Daily Financial Bull 3x Shares (NYSEARCA:FAS) and Baidu (NASDAQ:BIDU), shorts in Lockheed Martin (NYSE:LMT) and Netflix (NASDAQ:NFLX).
For an earnings trade, we like the looks of playing Under Armour to the downside. We have a $53 price target on the stock for 2012, and we believe the stock's upside is probably limited for the rest of the year. Going into the next quarterly report, we believe UA should start to see some contraction. First off, the stock is currently trading with a 35+ future PE, which means the stock has overly priced in all growth. We know that due to high growth the PE will be naturally higher, but UA's valuation is much too high. At some point, the growth of UA is not going to match the expectations of investors/traders. Don't believe me? Look at what happened this year to Green Mountain Coffee (NASDAQ:GMCR), Lululemon (NASDAQ:LULU), and Buffalo Wild Wings (NASDAQ:BWLD) on the first sign of weakness. Is this the quarter UA shows weakness? It's hard to know exactly, but one thing is true...UA has to grow earnings 66% to hit the 35 future PE. We just do not believe that is possible with competition growing. We will continue to put bear call spreads on the stock that expire before earnings are released as until valuations come down, traders will remain cautious.
Trade: UA, Oct20, 60/62.50 Bear Call Spread
Max Gain: 16%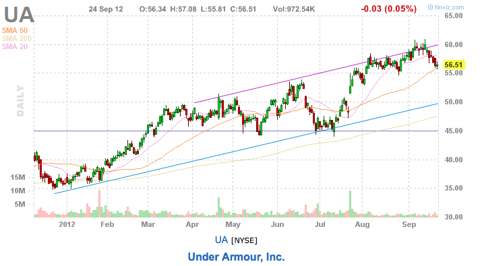 Click to enlarge
For longs, we like the looks of Baidu and Direxion Daily Financial ETF. We have been bearish on BIDU for some time, but we just released an annual update on Chinese Internet companies that delves into deep fundamentals. The story at BIDU is still compelling to us, and we believe the stock is still worth around $120. Long-term, we do not see a ton of upside, but we believe that the company has some value right now, and the stock is showing a very strong bottom at $110. The stock broke the 20-day MA to the upside today as well, which is a great sign. We believe that if the stock gets back over $115, you should buy for a trade to $120. Oppenheimer's comments that BIDU is regaining market share has helped give some relief, and they should benefit if China gets some more firm footing. With QE3 announced, "free money" is out there once again. Yet, one of the more enticing aspects of the Fed's latest action is the low borrowing rates that banks are going to continue to get for years now. With that much free money, banks cannot fail. We like a bull put spread on FAS to take advantage of what the Fed most affects...banks. FAS broke out to $120, recovered to $110, and looks to have formed a nice bull flag. We like the bull put spread at the 97/95 level as it sits with the 50-day MA as support that has not failed since May.
Stock Trade: Long, BIDU
Breakout Point: $115
Options Trade: FAS, Oct20, 97/95 Bull Put Spread
Max Gain: 16%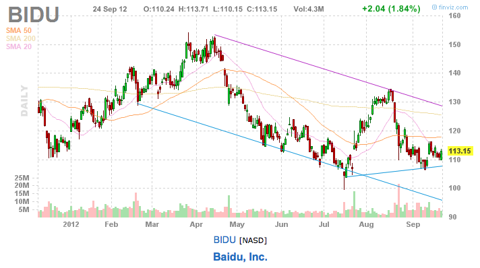 Click to enlarge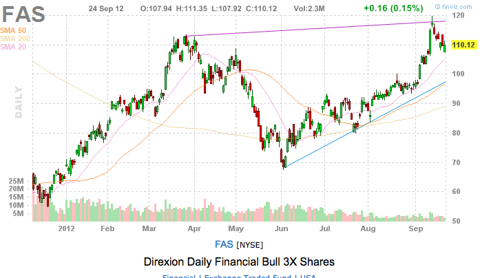 Click to enlarge
For shorts, we like the looks of Lockheed Martin and Netflix. LMT broke a key support level today at $91, traded down today, caught support at $90.50, but is showing signs that it could be on the verge of a strong breakdown. LMT has not performed well this month despite a good market condition and fairly good earnings in July. The reason most likely is that investors are not satisfied with contracts acquired in Q3. The company is looking at about 8% drop in revenue and earnings YoY this quarter, and that seems to have put a top in the stock at $95. Right now, the only thing holding LMT back from a very strong drop is the 50-day MA at 90.20. If 90 breaks, LMT has no support below it, and we would short on that break. We continue to dislike NFLX, and since our last call of bearishness, the stock has continued to decline. NFLX continues to look quite weak. Competition is rising, and the latest news out that Verizon and Redbox are working on online streaming is another threat to NFLX. We continue to believe aggressive bear call spreads are an easy way to make money on this company that has literally zero economic moat but a great idea. For conservative traders, the 62.50/65 bear call spread offers 18%, and that level has not been penetrated since Amazon's comments on ramping up service.
Stock Trade: LMT, Short
Breakout point: Failure of 90
Options Trade: NFLX, Oct20, 62.50/65 Bear Call Spread
Max Gain: 18%
Click to enlarge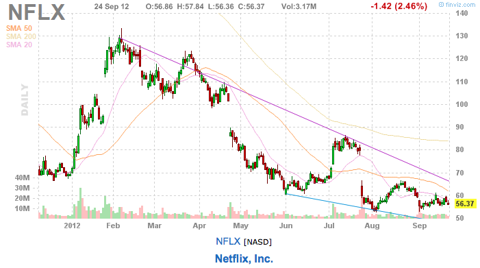 Click to enlarge
Today's Outlook:
The market gets a healthy slate of data to react to today. That starts with the German Consumer Confidence index. Yesterday's business climate index in Germany was weak, and another weak report today could diminish some of the brewing hope that Europe is starting to bottom. At home, we have some key reports due out about housing with the Case Shiller Index and Housing Price Index. Further, we get a very key Consumer Confidence report that will be the big number for today. A good print there could help reverse yesterday's trend, but we can definitely drift lower with a flat read there. Overall, look for data and the feeling in Europe at the open to direct today's movement.
Our Moves/Holdings:
We had a nice day in the market as we were able to lock in the rest of puts we had on OpenTable (NASDAQ:OPEN) for a 21%+ gain. At the same time, we closed a pair trade in Watson Pharma (WPI) and Cardinal Health (NYSE:CAH) at neutral for the second half. We added a short in LMT, bull put spread in FAS, and bear call spread in Texas Instruments (NYSE:TXN).
We have the following positions:
In our Short-Term Equity Portfolio we are long Williams-Sonoma (NYSE:WSM), Potash (NYSE:POT), and Yum! (NYSE:YUM). We are short Lockheed Martin and US Bancorp (NYSE:USB).
In our Options Portfolio, we are long Williams-Sonoma, Direxion Daily Financial, Apple. We are short OpenTable .
In our Earnings Alpha Portfolio, we are long Target (NYSE:TGT), Alexion (NASDAQ:ALXN), Costco (NASDAQ:COST), Polaris (NYSE:PII), Crocs (NASDAQ:CROX), Discover Financial (NYSE:DFS). We are short Texas Instruments.
In our Goldman Sachs Up/Down Paper Portfolio, we are long American Water Works (NYSE:AWK), Apple, Manitowoc (NYSE:MTW).
Chart courtesy of finviz.com.
Disclosure: I have no positions in any stocks mentioned, and no plans to initiate any positions within the next 72 hours.
Business relationship disclosure: The Oxen Group is a team of analysts. This article was written by David Ristau, one of our writers. We did not receive compensation for this article (other than from Seeking Alpha), and we have no business relationship with any company whose stock is mentioned in this article.