Panera Bread Co. (NASDAQ:PNRA) has been cooking up a storm in the market, boasting gains approaching 30% YTD '12 and near 60% in the past 12 months. Compared to relative competitors in the space, such as Chipotle Mexican Grill Inc. (NYSE:CMG) and McDonald's Corp. (NYSE:MCD), shares of this fast growing national bakery-cafe concept company have impressed.
click to enlarge images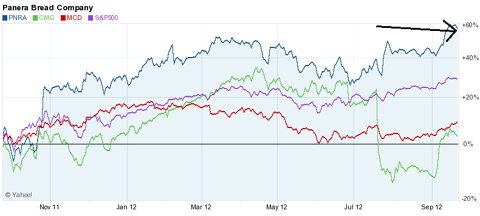 Click to enlarge
With over 1,591 company-owned and franchise-operated bakery-cafe locations in 42 states, the District of Columbia, and Ontario, Canada, PNRA is based in North America and it was somewhat immune to troubles overseas. Panera operates under the Panera Bread, Saint Louis Bread Co. and Paradise Bakery & Cafe trademark names. Its bakery-cafes are located in urban, suburban, strip mall, and regional mall locations, providing a diverse mix of opportunity.
Expansion:
PNRA is expected to open approximately 110 new stores through 2012, which is nearly a 7% expansion rate based on current locations. Considering PNRA only has 1600 or so locations spanning 42 states and Canada, it seems this trend could continue well into the future, especially since existing stores have been performing tremendously well.
Growth:
As per the 2nd quarter earnings report on July 24 2012, PNRA boasted 18% revenue growth and raised its FY target to 26% growth versus FY 2011 numbers. The future seems bright and if the past is any indication, PNRA seems like a winner. Let's compare PNRA to CMG, a similar company in terms of growth, size, and location exposure, along with a bellwether like MCD, which is much larger and has international growth:
| | | | |
| --- | --- | --- | --- |
| Company: | CMG | PNRA | MCD |
| Market Cap: | 10.6 B | 5.1 B | 94.5 B |
| 3 Year CAGR*: | 21.12% | 17.06% | 6.99% |
| 3 Year Average EPS Growth*: | 32.52% | 32.15% | 10.44% |
| P/E Ratio ttm: | 40.87x | 32.86x | 17.6x |
| P/Sales ttm: | 4.23x | 2.55x | 3.44x |
*Figures are from 2Q 2009 - 2Q 2012
PNRA is most appropriately comparable to CMG, due to its similar growth rate over the last several years. Both have averaged over 20% compound annual revenue growth and are primarily based in the US. However, we can see that PNRA looks a bit more attractive due to a more reasonable P/E ratio and P/Sales metric. Also, considering PNRA is only half the market cap of CMG, it appears to have more room to run. In addition, PNRA raised its 2012 FY guidance in 2Q, while CMG didn't. MCD is a great company and is attractively valued, however its recent growth rate is not even comparable to PNRA's.
Summary:
There is no denying that PNRA has been a top performer in the restaurant space. Its niche business, which is somewhere between a healthy fast food alternative and restaurant chain, seems to be hitting consumers where it counts - their stomachs. PNRA's diverse location mix of suburban, strip mall, and regional mall locations concentrated in the North American market has provided ample growth for this fledging company. With only 1,591 locations as of July 2012, it seems PNRA's delicious growth is poised to continue.
Disclosure: I have no positions in any stocks mentioned, and no plans to initiate any positions within the next 72 hours. I wrote this article myself, and it expresses my own opinions. I am not receiving compensation for it (other than from Seeking Alpha). I have no business relationship with any company whose stock is mentioned in this article.