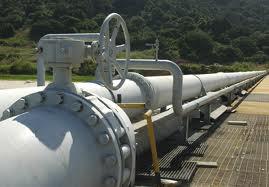 Recently, a client of mine brought the Alerian MLP ETF (NYSEARCA:AMLP) to my attention. He was interested in owning some energy master limited partnerships (MLP's) and thought an exchange traded fund (ETF), basket approach might make more sense. My curiosity piqued, I offered to do some analysis on AMLP. I was surprised and my findings.
1. 68% of all the fund's holdings trade at what I would consider an attractive discount to their 52 week high (high single digits to 10% or better)
2. 24% of all the names trade at a what I would consider a slight discount to their 52 week highs (5% or less)
3. 8% of the MLP's in the portfolio trade right at their 52 week highs
With over two thirds of the entire portfolio trading at an attractive discount, owning the ETF might be a no brainer, right? Wrong. AMLP shares trade at a miserly 3.5% discount to their 52 week high. My takeaway: it makes more sense to cherry pick the healthier, deeply discounted individual names in the AMLP basket. The two names that intrigued me the most were Buckeye Partners, LP (NYSE: BPL) and Williams Partners Limited (NYSE: WPZ).
At a nearly 30% discount to its 52 week high, BPL trades at around $48 per unit and throws off a fat 8.64% distribution. The partnership owns and operates one of the nation's largest independent petroleum products pipeline networks delivering refined petroleum products (distillates) to commercial end users. The company recently acquired the Perth Amboy marine terminal facility in New York harbor from Chevron (NYSE: CVX). The move is expected to add approximately $30 million annually to the company's annual revenues of $1.07+ billion. Analysts are comfortable with BPL's ability to maintain the $4.15 per unit distribution.
Williams Partners units are a little better than 17% off of their 52 week high. Units fetch $53.85 each and pay a 5.88% distribution. WPZ is a decent natural gas play if natty gas is truly the clean, cheap fuel of the future. The partnership is using the weak price environment to acquire cheaply, picking up assets such as an olefins-production facility in Geismar, Louisiana (in my part of the world, we pronounce that "Loo-zee-annuh"). Management has guided 95% growth for the distribution going forward. That deserves a look.
There's nothing totally wrong with taking the basket approach and owning AMLP. Shares trade at around $16.50 and pay an ample 6.02% dividend. However, something is amiss with the discount discrepancy. Granted, over 9% of the ETF is weighted in Enterprise Products Partners (NYSE: EPD) which appears fairly valued. However, I can't believe this would skew the number this much when 68% of the holdings are a bargain. Until that mystery is solved, investors may be better rewarded by picking some of the better pups rather than buying the whole litter.
Disclosure: I have no positions in any stocks mentioned, and no plans to initiate any positions within the next 72 hours. I wrote this article myself, and it expresses my own opinions. I am not receiving compensation for it (other than from Seeking Alpha). I have no business relationship with any company whose stock is mentioned in this article.