Mining giant BHP Billiton (NYSE:BHP) has not been having a very good year; its annual net profit decreased by 34.8% since this time last year. The company has been doing so badly that it has frozen the pay of its top executives, including CEO Marius Kloppers, and shelved ambitious expansion plans. Among other things, it has scrapped its $30 billion Olympic Dam mega uranium and copper mine project in Australia. The miner is also shutting down some money losing assets, such as Australian coal mines.
These austerity measures were necessitated by the company's $3.3 billion loss in the U.S. shale gas business. Interestingly enough, Mr. Kloppers, the genius behind the shale debacle, is still on the job. He will have to take a pay cut this year.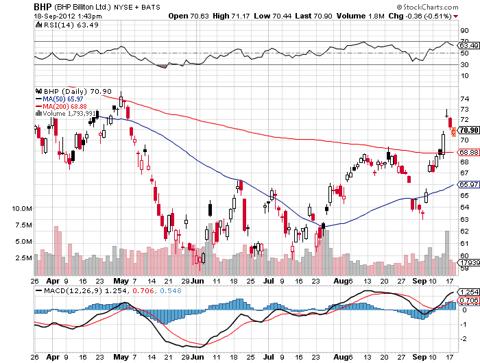 Click to enlarge
The interesting thing though, as you can see from the chart, is that BHP Billiton has recovered most of the share value it lost over the summer. Despite the losses and the questionable management, the market seems to think that BHP Billiton might be worthwhile. Is the market right?
Well, the company did register sales growth of .7% and a net profit margin of 21.5% for the last year. At the same time it also showed a debt to equity ratio of .43% and registered an earnings-per-share ratio of $2.85. In other words, BHP Billiton's numbers look pretty good despite the shale gas loss. Its core business of mining seems to be doing well despite the bungling going on in the board room.
A Company Even an Idiot Can Run
Value investors might be wondering if BHP Billiton meets Warren Buffett's investment criteria of a company that even an idiot could run. After all, the company is still showing some numbers even after some very stupid moves by its so called management team.
Yet, how does BHP Billiton compare to other mining giants, such as Rio Tinto (NYSE:RIO), Xstrata PLC (XTA), Freeport-McMoRan (NYSE:FCX), and Newmont Mining (NYSE:NEM)? The charts indicate that the company is still doing very well despite its losses. As you can see, Rio Tinto was trading for $51.47 on September 18th, 2012.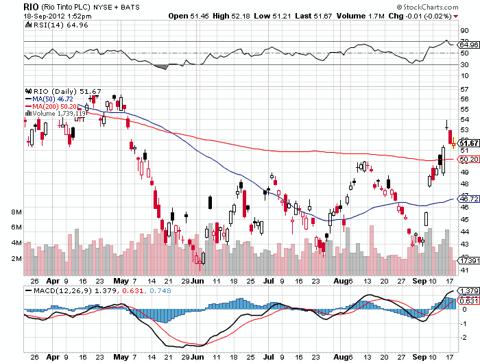 Click to enlarge
The reason why Rio's share price is lower than BHP Billiton's is easier to see. Rio's drop in income growth is much bigger than BHP Billiton's. Rio Tinto's annual net profit decreased by 59.3% over the past year, even as its sales growth climbed by 9.7%. This translated to a net profit margin of 8.45%; so in spite of all of its troubles, BHP Billiton is actually doing better than Rio Tinto is. Rio offered a debt to equity ratio of .38% and a profit margin of 8.45%. Like BHP Billiton, Rio saw rising sales and falling income-a trend that seems to be common across the mining sector.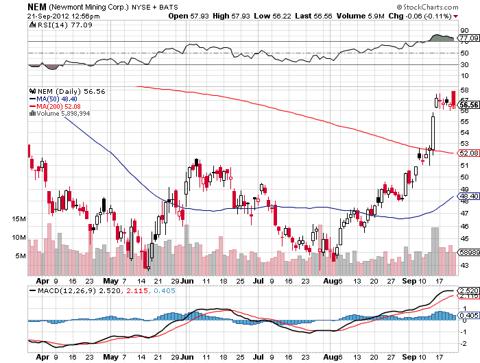 Click to enlarge
Gold specialist, Newmont Mining, is actually a little better than Rio but not doing as well as BHP Billiton. On Friday, September 21, 2012, Newmont was trading at $56.95 a share. Newmont Mining saw its revenue fall 6.5% in the second quarter year-on-year, while EPS fell 27.3%. The company delivered a debt to equity ratio of .47% and a net profit margin of 8.1%.
The challenge for miners will be to translate the growth in sales to increased income. Large miners in particular seem to be having a hard time transforming increased sales into increased revenue. The most likely cause of this is higher operating costs, particularly fuel costs.
Copper Prices and Stockpiles Up
Unlike Newmont, but like Rio Tinto, BHP Billiton is heavily dependent upon the Chinese market for basic commodities like copper and iron. Copper prices are going up in the markets but apparently not on the ground in China where the demand is. The Wall Street Journal reported that Journal also reported are high. Stockpiles have not fallen despite anticipated increased demand that might be created by China's stimulus efforts.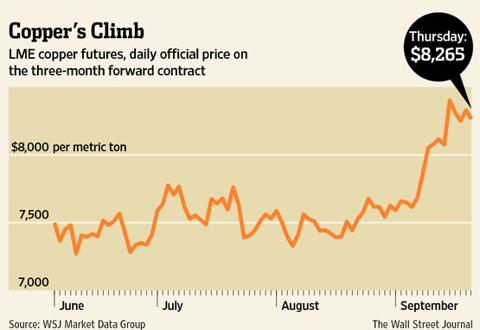 Click to enlarge
Interestingly enough, the Journal also reported that speculation in copper is increasing largely because it is being used as financing tool in China. The higher prices for copper will only affect stocks like BHP Billiton and Freeport if they reflect demand. The problem is that they don't seem to reflect increased demand.
I expect BHP Billiton to register increased sales and lower income growth for the foreseeable future. This may not affect the stock value, because the underlying business is fundamentally good. The problem is that the commodities market BHP Billiton depends upon is unstable and will remain so for the foreseeable future.
Disclosure: I have no positions in any stocks mentioned, and no plans to initiate any positions within the next 72 hours. I wrote this article myself, and it expresses my own opinions. I am not receiving compensation for it (other than from Seeking Alpha). I have no business relationship with any company whose stock is mentioned in this article.