LRR Energy LP (NYSE:LRE) is an oil and gas E & P company in North America. It is a small/micro cap of $404.32 million market capitalization. Its average production in Q2 2012 was 6,462 Boe/d. It had total revenues of $40.4 million, net income of $13.4 million, adjusted EBITDA of $17.7 million, distributable cash flow of $11.3 million, and a Distributable Coverage Ratio of 1.06x. It declared a cash distribution of $0.4750 per outstanding unit for Q2 or $1.90 annualized.
As a result of all of this it raised its production guidance for 2H 2012 from 5,900-6,300 boe/d to 6,100-6,400 boe/d. To me this seems ultra-conservative. LRE averaged 6,462 boe/d in Q2 2012, and it did not close its recent $67 million acquisition from Lime Rock Resources until June 1, 2012. This means it was not able to include that production in Q2 results until the last month of the quarter. Total production from this acquisition was 765 boe/d with proved reserves of 1,728 Mboe as of March 1, 2012. One third of this is only 255 boe/d. This means that LRE should average approximately 510 boe/d more in 2H 2012 due to the new acquisition. 83% of this new production is liquids.
Further LRE increased its capital expenditures for development for 2H 2012. Much of the increase was for maintenance, but an extra $4.1 million was added to the expenditures for growth for a total of $10 million for growth in 2H 2012. This should add extra production too. The other $21 million is the amount needed to keep current fields producing at their current levels. In sum an extra 510 boe/d from the recent acquisition and conservatively an extra 250 boe/d should put production in 2H significantly above current guidance -- barring any major disruptions. On top of this oil and gas prices have recovered from their lows of Q2 2012. Even though total production is well hedged at 90% in 2012 and 88% in 2013, LRE should benefit slightly by higher oil and gas prices on average in Q3.
Looking long term, LRE is almost completely hedged in 2012 and 2013, but it is still well hedged in 2014 and 2015. It looks like it should be able to maintain good distributions for some time into the future. It will probably have to make more acquisitions to grow appreciably. However, it is well positioned to do this. Its sponsor, Lime Rock Resources, has significant proved reserves that it may drop down to LRE in the near future. LRE in its turn should be able to get the financing necessary. It has the right fundamental numbers with a TTM ROE of 22.62%, a TTM gross profit margin of 91.54%, a TTM operating profit margin of 33.89%, and a TTM net profit margin of 31.67%. Not many companies can boast those numbers.
In addition, natural gas prices are likely to rise from their current lows over the longer term. An el Nino winter (colder than normal) is forecast for the winter of 2012-2013 for North America. More utility companies are moving to natural gas from coal and even nuclear fuel sources for power generation. Companies such as General Electric (NYSE:GE), Clean Energy Fuels Corp. (NASDAQ:CLNE), Westport Innovations Inc. (NASDAQ:WPRT), and Chesapeake Energy (NYSE:CHK) are pushing the use of natural gas as a fuel for transportation. They are making slow and steady headway so far. Many cities are trying to move to natural gas as a cheaper and cleaner source of energy for bus systems. The trucking industry wants to move to natural gas as cheaper and cleaner, but it needs the infrastructure and the new vehicles. The US Congress may greatly increase the speed of such transitions with a NatGas For Transportation Bill. It has tried recently, but the divisiveness of the current Congress has prevented this. This could easily change after the upcoming elections. Further many companies such as Cheniere Energy Inc. (NYSEMKT:LNG) and Enterprise Products Partners (NYSE:EPD) are planning/building plants to increase the export of NGLs and of natural gas as LNG. The earliest of these to come online will be a propane export plant in Q4 2012, but there should be a steady progression of these plants coming online in future years. Plus more companies are moving to crackers that will use NGLs as feedstocks. These too will tend to increase NGLs and natural gas prices, since NGLs are often fractionated out of "wet" natural gas. Natural gas prices seem destined to rise over the long term. This should help LRE and other companies like it. For now the hedging of these companies is of paramount importance.
LRE compares well with many of its peer companies with regard to hedging. LRE has 90% of production hedged in 2012 and 88% in 2013. BreitBurn Energy Partners (BBEP) has only 75%-80% hedged. QR energy (NYSE:QRE) has about 92% hedged in 2012; and it is substantially hedged in subsequent years. Linn Energy (LINE) is about 100% hedged. Vanguard natural Resources (NYSE:VNR) is 80%-85% hedged. In other words LRE compares well with its peers in its strategy. It is showing good management, which is a good thing in a young company that only came public in 2011. LRE appears to be very competitive with its peers with a 10.55% dividend/distribution (K-1) and an FPE of 15.66. This young, good income producing company looks like a buy. It has an average analysts' recommendation of 2.3 (a buy) and a CAPS rating of five starts. Many analysts agree with me.
The lifetime chart of LRE may lend technical direction to this trade.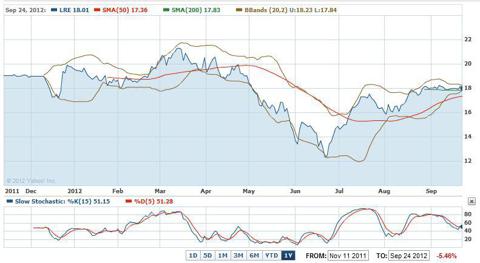 Click to enlarge
The slow stochastic sub chart shows that LRE is neither overbought, nor oversold. The main chart shows that LRE appears about to see its 50-day SMA cross its 200-day SMA on the way up. This is a buy signal. The likely beat on production figures for Q3 2012 (described above) makes one think that this will be both a technical and a fundamental buy signal. LRE looks like a buy. However, one should remember that the fiscal cliff is approaching. The overall market is overbought. We may soon see a significant retracement in the overall market. Such an event would lead to most stocks falling, including LRE. You probably want to average in around the fiscal cliff.
Note: Some of the above fundamental fiscal data is from Yahoo Finance and TD Ameritrade.
Good Luck Trading.
Disclosure: I have no positions in any stocks mentioned, but may initiate a long position in LRE over the next 72 hours. I wrote this article myself, and it expresses my own opinions. I am not receiving compensation for it (other than from Seeking Alpha). I have no business relationship with any company whose stock is mentioned in this article.