The E-Mini S&P 500 was buoyed late in the session Monday by transport stocks after Citi upgraded the sector to overweight from market weight. They touted a seasonal trend for the transport stocks to trend between October and April sending stocks such as Norfolk Southern Corp. (NYSE:NSC) up 1.97% to $66.28 and Union Pacific Corp. (NYSE:UNP) up 1.46% to $121.11 just to name a couple.
Economic news was light here in the US. Apple Inc. (NASDAQ:AAPL) had a warm reception for the iPhone 5 smartphone as five million were sold in the first three days, but then the stock was down 2.1% to $685.67 as investors worried that the company may not be able to meet the demand in production. Caterpillar Inc. (NYSE:CAT) cut their 2015 earnings forecast Monday with emphasis on the slack growth in the mining sector. China has cut their growth targets and mining has pricing for iron and coal declining 20% this year alone. Chinese exports had been big business for the Asian markets but now they may be focusing on a consumption based existence. US Consumer Confidence is forecast at 63.0 while the previous reading had been 60.6.
The Federal Reserve continues to support their decision on a buy program of mortgage debt worth about $40 billion per month. They will continue this program until the labor market shows substantial improvements. In addition, they intend to keep interest rates low until at least mid-2015. This is all on top of the two prior QE programs that purchased about $2.3 trillion in US government and housing debt. The Fed sees confidence returning to the market at a slow rate, perhaps initially in the housing market.
The German (IFO Institute) Business sentiment index was down Monday decreasing to 101.4 from 102.3 in August. Germany has been regarded as the strength within the Euro Zone making the potential sluggish growth in the strongest economy so vital. The International Monetary Fund (IMF) is to report its forecast on global growth next month. The IMF July report cut global growth projection for 2013 to 3.9% leaving 2012 at 3.5%. The Euro Zone crisis is a major factor but so is the "fiscal cliff"! The IMF supported the idea of giving countries such as Spain more time to implement their reforms.
The IMF also spoke of a banking union to prevent the crisis banks from taking down the nations. The IMF also recognizes the 20% increase in food prices and has concerns about global inflation. Some analysts simply think that it will take time for the bond-buying to sink in. The market responded most positively to European Central Bank (ECB) President Mario Draghi's pledge to purchase bonds and support the euro FX. The program is null and void until an indebted country requests a bailout.
Monday, sentiment spread that Spain was working on structural reforms to potentially ask for a bailout. Spain is expected to announce its 2013 budget plan later this week along with potential reforms. It is hoped that they may request a full-blown bailout to activate the bond buying program. In the meantime, allocations flocked back into the US dollar.
On the stock side: JP Morgan Chase and Co. (NYSE:JPM) was up 1.08 % to $41.32. Citigroup Inc. (NYSE:C) was down 0.62 % to $33.46. Bank of America (NYSE:BAC) was up 0.11 % to $9.12. Alcoa Inc. (NYSE:AA) was down 0.66 % to $9.07. Boeing Co. (NYSE:BA) was down 0.07 % to $69.92. Caterpillar Inc. (CAT) was down 3.24 % to $88.75. General Electric Co. (NYSE:GE) was down 0.75 % to $22.36. Halliburton Co. (NYSE:HAL) was down 0.36 % to $35.71. Hewlett Packard Co. (NYSE:HPQ) was down 2.05 % to $17.23. SPDR Select Sector Fund - Financial (NYSEARCA:XLF) was up 0.13 % to $15.85.
E-Mini S&P 500 Chart.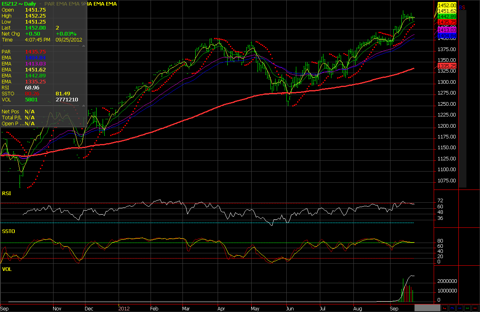 Tuesday, what to expect - We maintain a bullish bias unless the (December) E-Mini S&P 500 penetrates $1432.25. Today, we anticipate an inside to higher day. Monday's range was $1454.50 - $1444.75. The market settled at $1451.50. Our comfort zone or point of control for this market is $1449.50. Our anticipated range for Tuesday's trading is $1459.50 - $1447.50.
Disclosure: I have no positions in any stocks mentioned, and no plans to initiate any positions within the next 72 hours. I wrote this article myself, and it expresses my own opinions. I am not receiving compensation for it. I have no business relationship with any company whose stock is mentioned in this article.