After being dormant for several weeks, the Liberty Media (NASDAQ:LMCA)/Sirius XM Radio (NASDAQ:SIRI) soap opera is heating up again. On September 20th, Liberty's Chief Executive, Greg Maffei, told attendees at a Goldman Sachs (NYSE:GS) conference in New York that Sirius's CEO, Mel Karmazin, is replaceable.
This statement indicates a change in the party line at Liberty. In the past both Maffei and his boss, John Malone, have said they'd like Karmazin to stay on the job. At the Sachs conference, Maffei noted that Karmazin's contract ends later this year. Karmazin has repeatedly said that he will not work for anybody else. Maffei did not say who will replace Karmazin if Liberty gets full control of Sirius. Liberty only needs approval from the Federal Communications Commission (FCC) and a few more shares to get control of Sirius. Reuters reported that Liberty now owns 49.6% of Sirius; it will need 50% to take control.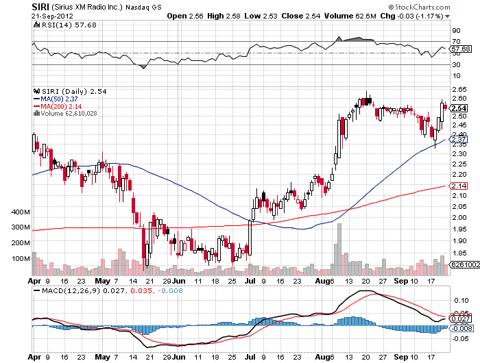 Karmazin's Big Selloff Has Begun
What this statement means for Sirius shareholders is pretty obvious. The share value will plunge because Karmazin will probably sell off the Sirius stock options he owns before he leaves. Since his current employment contract will end on December 31, that will be soon.
Karmazin has apparently started the selloff. SEC paperwork shows that he sold 20,362,700 shares on September 17th, 18th, and 19th. What this effectively does is put a lot more Sirius shares on the market.
That's good news for John Malone, who needs more Sirius shares to complete his takeover. That's bad news for Sirius bulls who think this stock is some sort of a value play. The interesting thing, as you can see from the chart above, is that the effects of this selloff are not being felt in the market yet. Since Karmazin is expected to continue his sales into next month, the effect may not be felt for some time.
The practical effects of Karmazin's departure on Sirius's day to day operations are harder to gauge. The company has been doing extremely well lately, posting a sales growth rate of 7% and an incredible income growth rate of 891.7%. This translated into a gross profit margin of 64.9% and earnings per share of around 53¢.
The interesting thing is that this performance has not translated into higher share prices yet. The reason for the low share price is probably all the uncertainty about Sirius's future. Malone has said he wants to convert Sirius into a publicly owned company controlled by his Liberty Media holding company. Yet media reports indicate that he might use a tax dodge, called a Reverse Morris Trust, to water down Liberty's value before he spins it off. A Reverse Morris will cut Malone's tax bill, but it might send Sirius's share value to new lows.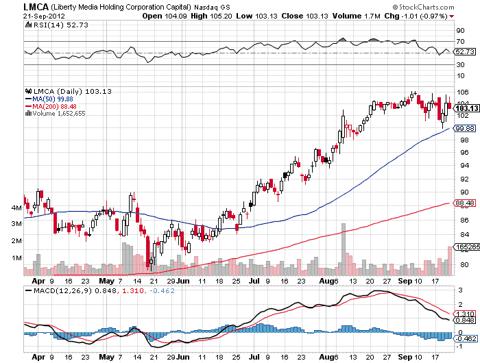 What this means is that Sirius might not be a good value play until John Malone gets done with it. Since that will probably be sometime next year, it might be a good idea to stay away from Sirius until then. It is in the interest of both Malone and Karmazin to knock this stock's value down. Malone wants to avoid a big tax bill, and Karmazin wants to rake in a big pile of cash by selling shares.
Interestingly enough, Greg Maffei seems to think that Sirius is a good long-term investment. Maffei told Reuters that Liberty might hold onto Sirius for a long time and not pursue a spinoff. Maffei also said Sirius might be the core of Liberty. Maffei also noted that Liberty wants to push Sirius to use technology it has developed internally. He did not identify this technology.
Liberty will have to get FCC permission to take complete control of Sirius. It does not have that permission yet.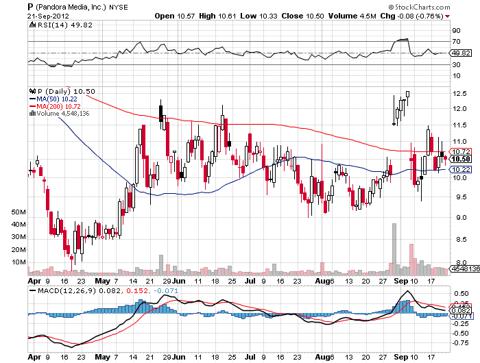 Apple Talking About Entering Internet Music Business
Sirius and the company usually identified as its main competitor, Internet music service Pandora (NYSE:P), may get some interesting competition. Media reports indicate that Apple (NASDAQ:AAPL) is planning its own online music service to compete with Pandora. Pandora has had some success in getting its app installed in cars, such as BMW, Cadillac, Ford (NYSE:F), Honda (NYSE:HMC), and Toyota (NYSE:TM). This competes directly with Sirius, which is now in about 70% of new cars sold in the U.S.
Yet it is hard to see how an Apple music service can threaten Sirius, which offers a wider variety of programming. Instead the service will be a threat to Pandora, which currently dominates online music.
One thing is for certain though: John Malone views Sirius as a good long-term investment. That indicates it might have some real value for those investors that are willing to stay for the long haul. Unfortunately the haul just got a lot longer because of the continuing takeover drama. Investors looking for solid value should strongly consider Liberty Media.
Disclosure: I have no positions in any stocks mentioned, and no plans to initiate any positions within the next 72 hours. I wrote this article myself, and it expresses my own opinions. I am not receiving compensation for it (other than from Seeking Alpha). I have no business relationship with any company whose stock is mentioned in this article.