With the Chinese economy slowing down, resource producers around the world have been suffering. In particular, iron ore producers globally have announced layoffs and other plans to slash expenses to adjust to the new economic realities. (Iron ore is a key component in steel production.)
According to mining executive Alberto Calderon, "The pace of demand of iron ore from China has slowed down by more than half."
As a result, iron ore prices have declined steeply over the past year (down about 40%). This is a major reversal from the secular bull market that began over a decade ago, and some argue that demand won't return to the level it was in the past.
1 Year Iron Ore Chart (Source: Indexmundi.com):
Long Term Iron Ore Chart (Source: Indexmundi.com):
While this may sound bearish, I think there may be scope for opportunity sometime in the future.
Question: What's the cure for low prices?
Answer: Low prices.
When the price of a commodity persistently falls, profit margins decline and the incentive for miners to produce less rises. Low prices effectively force the reduction of production capacity and future supply.
At some point demand for the commodity bottoms out and begins to grow, draining supply and inventories. However, by this point miners have scrapped investment, fired staff and potentially shrunk industry production capacity. Capacity can sometimes take years to bring online, depending on the complexity of the mining operation. So, higher demand can't be met with higher supply, and prices rise as a consequence.
While some mining executives suggest Chinese demand won't come roaring back, at some point it will bottom out and restocking will begin. Some believe this may have already started with the announcement of Chinese infrastructure stimulus earlier this month.
Others, however, are not so optimistic. China is the largest producer of iron ore, and analysts report it has subsidized its iron ore industry. Consequently, Chinese producers have less incentive to shut down production due to low prices, therefore global supply can't rebalance with demand. Moreover, with coal prices down by double-digits over the past year (coal is also a major component in the production of steel), a stabilization in iron ore prices doesn't seem to be in the cards.
The truth is that nobody knows when iron ore prices will bottom, but for investors looking to speculate, now or in the future, three of the largest iron ore producers are as follows. (Note: I have screened some of the key characteristics for the three largest iron ore producers. As with any screen, this is a preliminary assessment to help investors decide whether further in-depth research is required. This is not a solicitation to buy any securities.)
| | | |
| --- | --- | --- |
| Ticker | Company | Country |
| (NYSE:BHP) | BHP Billiton Ltd. | Australia |
| (NYSE:RIO) | Rio Tinto plc | United Kingdom |
| (NYSE:VALE) | Vale S.A. | Brazil |
As you can see in the chart below, relative to the S&P 500, these stocks have performed comparatively poorly over the past year: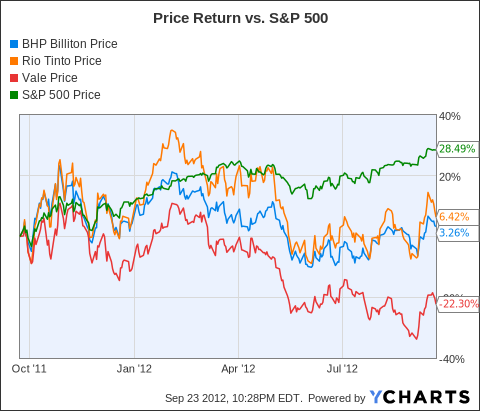 Based on valuations, on a forward P/E basis RIO and VALE are starting to look appealing. Unfortunately, these forward projections align with optimistic EPS growth projections, given the current pressure on margins. Part of me wonders if growth is overestimated and these stocks are a 'value trap'.
| | | | | | | |
| --- | --- | --- | --- | --- | --- | --- |
| Ticker | P/E | Forward P/E | EPS growth next year | P/S | P/B | P/Cash |
| BHP | 12 | 11.54 | -16.30% | 2.58 | 1.71 | 36.78 |
| RIO | 22 | 6.39 | 18.38% | 1.61 | 1.64 | 11.75 |
| VALE | 6.1 | 6.21 | 12.36% | 1.79 | 1.2 | 23.51 |
All three stocks pay a nice dividend above 3% and have reasonable payout ratios. Dividend yields have remained positive over time and companies have grown their dividends over time. However, dollar-payouts are not consistent and should be considered risky, particularly given the iron ore cycle.
Despite this, even if these stocks are value traps, it may be possible to squeeze out some kind of income since the payout ratios potentially leave a buffer against earnings declines.
| | | |
| --- | --- | --- |
| Ticker | Dividend Yield | Payout Ratio |
| BHP | 3.20% | 38.90% |
| RIO | 3.35% | 73.42% |
| VALE | 3.16% | 55.66% |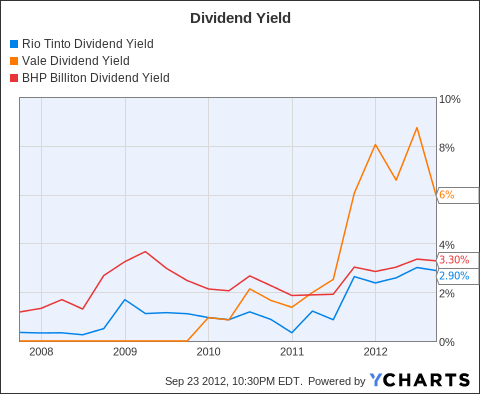 RIO Dividend Yield data by YCharts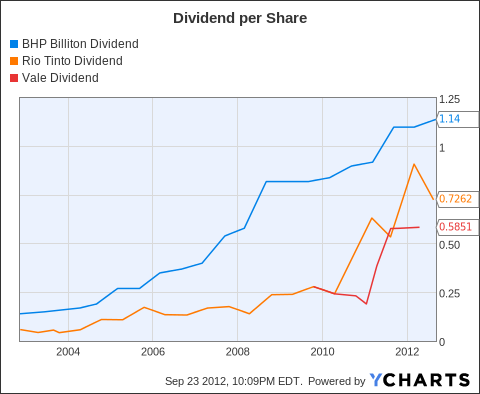 BHP Dividend data by YCharts
Note that profitability has yet to be significantly impacted, as illustrated by the table below. Regardless, I am more concerned with forward profitability, given what many of these mining companies are indicating. While eventually production shut-downs and layoffs will enhance margins, the current worry within the industry seems to be demand destruction and oversupply. This type of environment does not generate confidence for future profitability.
| | | | |
| --- | --- | --- | --- |
| Ticker | Return on Assets | Return on Equity | Operating Margin |
| BHP | 13.38% | 25.14% | 32.89% |
| RIO | 3.94% | 6.99% | 15.76% |
| VALE | 11.00% | 19.27% | 41.26% |
If profits are expected to decline, the highly levered players will probably be hit hardest. Interestingly, all three companies appear to have a reasonable use of debt on their balance sheets. This will probably help them weather the volatility in the iron ore market.
| | |
| --- | --- |
| Ticker | LT Debt/Equity |
| BHP | 0.38 |
| RIO | 0.35 |
| VALE | 0.31 |
Overall, I think all three companies are a pretty risky play and, for many investors, it might be too early to start bottom fishing. Iron ore prices could decline further putting continued pressure on margins. I also wonder if the market is fully pricing in the existing pressures faced by these companies. While the stock prices have fallen, they haven't cratered.
With that said, the dividends paid by these stocks are intriguing. I might dollar-cost average a small amount into these stocks, but I won't bet any more than I can afford to lose.
Disclosure: I have no positions in any stocks mentioned, but may initiate a long position in BHP, RIO, VALE over the next 72 hours. I wrote this article myself, and it expresses my own opinions. I am not receiving compensation for it (other than from Seeking Alpha). I have no business relationship with any company whose stock is mentioned in this article.
Additional disclosure: Data Source: Finviz, Indexmundi, Ycharts. This is not advice. While the author makes every effort to provide high quality information, the information is not guaranteed to be accurate and should not be relied on. Investing involves risk and you could lose all your money. Consult a professional advisor before making any investing decisions.