The gold holdings at the popular SPDR Gold Shares ETF (NYSEARCA:GLD) reached a new all-time high yesterday at an impressive 1,327 tonnes, surpassing the previous record high set way back on June 29, 2010.
As shown below, this follows steady additions to the "tonnes in the trust" beginning back in early-August, when investors began to price in another round of money printing from the Federal Reserve, more politely known as "QE3," and, during that time, the gold price has surged nearly $200 an ounce.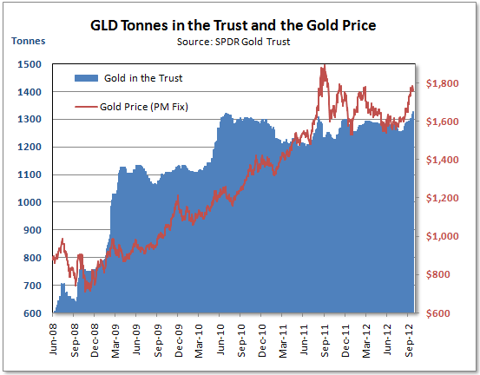 Click to enlarge
Perhaps more importantly, the new high for GLD holdings comes at a time when worldwide gold ETF holdings have also reached a record high at 2,542 tonnes according to a data compiled by Barclays Capital and Union Bank of Switzerland with month-to-date inflows now standing at over 60 tonnes.
As is clear to see above, GLD holdings and the gold price have not been highly correlated in recent years as the previous high for the former occurred when the spot gold price was just over $1,200 an ounce. However, the recent surge in GLD holdings could signal a major new wave of buying by U.S. investors in the wake of recent Fed action.
This move may still be in its infancy as financial giants such as Bill Gross at Pimco and Ray Dalio at Bridgewater Associates join a growing list of advisors and money managers in recommending U.S. investors reserve a sizeable portion of their investment portfolio for the yellow metal.
While the ascent of the gold price over the last decade or so has been impressive, it has still lacked a key ingredient - broad participation by U.S. investors - and what we've seen over the last two months may just be the beginning of this important sea-change.
Anyone contemplating making an asset allocation change by adding 5, 10 percent or more of gold bullion to their investment portfolio will probably be better off doing so sooner, rather than later.
Disclosure: I am long GLD. I wrote this article myself, and it expresses my own opinions. I am not receiving compensation for it (other than from Seeking Alpha). I have no business relationship with any company whose stock is mentioned in this article. I also own gold coins