Genentech (Private:DNA) saw active trading Thursday. About two weeks ago, Roche (OTCQX:RHHBY) announced controversial plans to acquire the company for $89 a share. Genentech is resisting the offer. Some speculate that, although a deal is still likely, it will probably be at a higher price than the original $89 per share offer. Investors seem convinced because, at $95.25, DNA shares are already trading 7 percent above the original offer.
The question is, what price might the stock fetch? RBC analysts said on July 25th that Genentech's opposition to the merger increases the odds that the deal will fall apart or be delayed, but also increases the chances that Roche will raise its offer. The firm subsequently raised its price target on DNA to $100 a share.
Some analysts expect talks to continue for several months, but others think things could happen faster than that. On July 22nd, the Wall Street Journal pointed out that it makes sense for Roche to act fast to take advantage of recent dollar weakness against the Swiss franc. Then, on the 28th, FT Mergermarket reported that, according to sources familiar with the matter, the deal could move faster than the three to eight months some analysts expect because there is only one potential buyer that already has control of the company. Roche already owns 56 percent of DNA.
Indeed, in the options market, some investors seem to be playing DNA for a period of quiet trading followed by a move higher with calendar spreads. On Thursday, for example, an increase in volume was notable in the September and December calls with the 95 strike price. Shortly after noon Eastern time, an order for 3,500 December 95 calls traded on the offer for $6.10 and two orders of 1,750 September 95 calls trading on the bid for an average of $3.35. The trade was repeated several times and open interest in both contracts rose by more than 11,000 contracts on the day.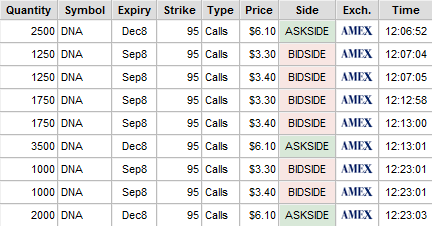 Thursday's volume in the September and December 95 calls has all of the characteristics of opening calendar spreads. If so, the strategist is probably taking the view that, while the stock could remain rangebound from now until September options expiration (49 days), it could get a lift in the two months that follow. That, in turn, would be consistent with the idea that Roche could raise its offer before the yearend, but probably not before September 20, or when the September options will expire.
Stock position: None.