Optimal Group Inc.'s (NASDAQ:OPMR) conference call is scheduled for Tuesday, August 5, 2008 at 4:30 p.m. [EDT]. OPMR should know what WowWee revenue for 2008 will be from distributor orders already placed. Last conference call the company stated that WowWee orders (as of 4/30) were 25% ahead of 2007 orders (but did not say what 2007 orders were).
Bladestar, Cubs, Chatterbots, Tribot, Fairyfly and Butterfly are already in stores. FemiSapien should be in stores soon. That leaves Rovio, Wrex the Dawg, Bug-Bots and Mr. Personality.
The WowWee website and online store (outsourced though esend.com) have significantly improved.

Government tends to slow down in summer, so DOJ news at CC is unlikely.
(click to enlarge)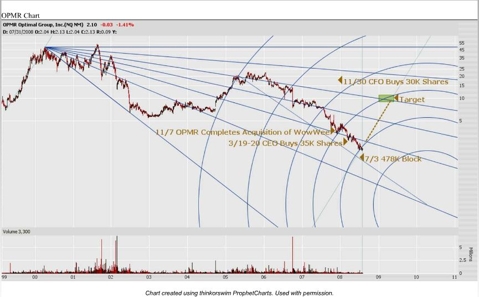 Disclosure: Long OPMR.