As an individual investor, it's impossible to scour the entire investment universe for the best bargains. One way to uncover compelling investment ideas is to review the 13F filings required by institutional investment managers each quarter which highlights all the securities held under the SEC's jurisdiction. Each quarter I review the holdings of the Baupost Group to get a glimpse into the investment ideas of one of the most renowned investment institutions, one known to be an absolute return, deep-value oriented fund with particular attention on securities that contain catalysts. Baupost has been increasing its position in ViaSat (VSAT) since first initiating it in the quarter ended June 30, 2008, which prompted me to dig deeper into the filings to understand the value proposition at hand. Here is what I found.
Business:
ViaSat, Inc. provides fixed and mobile broadband services, and satellite and wireless networks, as well as secure networking systems, products, and services for government and commercial customers worldwide. (source Yahoo! Finance)
Key Business Developments:
In addition to ViaSat's robust communications business model, it also recently disclosed a number of promising business opportunities, including:
Closing of a $240 million contract (initial value) with NBN in July 2012 to build out a satellite internet system in Australia which is expected to reach up to 200,000 Australian businesses and households. Management believes this contract will illustrate to other countries the possibilities of expanding communications bandwidth across large, rural geographic landscapes. Satellite service providers stand to benefit from this realization as traditional terrestrial services can not reach rural consumers, considering the cost/benefit of building out such networks. ViaSat is also signing up US subscribers in underserved markets for its new Exede broadband service thanks to funding from the American Recovery and Reinvestment Act (ARRA).
Launched ViaSat-1 in October 2011, the highest capacity Ka-band satellite in the world. Management indicated it is currently negotiating a contract for ViaSat-2, and it is hoping to make an announcement in Q2 FY 2013 (business case has been established for ViaSat-2, but price and terms for the satellite construction is being negotiated). Profitability was down in Q1 FY 2013, but it should only be considered a blip because the quarter consumed non-continuing costs necessary to get ViaSat-1 in orbit and to raise consumer awareness.
Launch of Exede, ViaSat's new satellite internet service (an upgrade from the Wild Blue service), which grew installations 40% sequentially, to 66,000 installations at the end of Q1 FY 2013. The economics of Exede business model is such that future subscriber growth will lead to significant free cash flow as the service achieves scale. Stated differently, ViaSat incurred higher operating costs in Q1 FY 2013 ($23.8 million) in launching ViaSat-1 (higher depreciation and connectivity charges to ViaSat-1 gateways) and developing its Exede service (higher commissions, customer acquisition costs, marketing expenses, etc). ViaSat stands to benefit from economies of scale as subscriber counts grow, compounded by the general trend of an increasing Average Revenue Per User (ARPU). To see management's expected cash flow contribution of the Exede service, see the graph below gleaned from the Q1 FY 2013 earnings call. Exede should be largely accretive to EBITDA in two years time.

Click to enlarge

Continued buil

d-o

ut of ViaSat's mobile broadband network, Yonder, which allows hig

h-spe

ed internet access in virtually any location, including commercial aircraft, seagoing vessels, trains, among others. Speaking of the commercial aircraft segment, ViaSat announced it will begin delivering Exede service in the air, at substantially higher speeds relative to competitors GoGo and Row 44. No more fighting for bandwidth with other passengers or restriction on hig

h-ba

ndwidth consumption activities (like Netflix (NASDAQ:NFLX)).
Record revenues, orders and backlog in the government business, $410 million of which is expected to be earned in the remaining

three

quarters in FY 2013. Management indicated that the budget pressures at government agencies (particularly the Department of Defense) may actually lead to revenue growth, as the government looks to streamline, improve and cut costs in its communications budgets through the use of ViaSat's communications solutions.
Baupost Positions:
It is interesting to see how the level of conviction has changed for Baupost over time. Since initiating the position in the quarter ending June 30, 2008, Baupost increased its position eight times, with 82% of the position initiated between June 30, 2009 and June 30, 2010. The stock had a range of $25.66 to $40.91 during that time frame (share counts have shifted over that time, so too has the market capitalization at the time of those purchases based on the price range stated). Most of the buying appears to be as a result of the Wildblue acquisition (predecessor to the Exede service), whereby ViaSat developed a direct to consumer model for a subscription based high speed broadband service with particular competitive advantage towards reaching underserved rural markets in the US and abroad. Interestingly, ViaSat is seeing high levels of penetration in areas already containing copious broadband service providers; a testament to the quality of the Exede service (see the Annual Shareholder Meeting presentation here).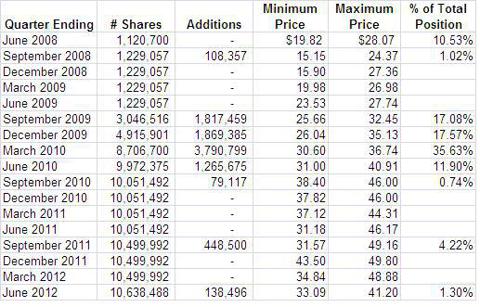 Click to enlarge
Conclusion:
ViaSat fits squarely into three investment theses I have been pondering recently to generate acceptable risk adjusted returns: (1) scalable and vertically integrated content and distribution businesses containing economic moats (2) subscription-based services throwing off recurring and high margin cash flow (could a ViaSat Pay TV service be in the works?) and (3) businesses levered to the secular growth trend in communication bandwidth to satisfy the world's insatiable appetite for data consumption, especially in rural areas where other forms of communication technology are not able to address demand due to the high cost of building out cable infrastructure. However, with Baupost holding about a 25% stake in the company, investors should do their own assessment of business value and be vigilant. At a valuation of $1.7 billion, including ViaSat's vertically integrated model and horizontally cultivated customer base (commercial / government), and with Baupost's high conviction level evident from the equity stake increases over time, ViaSat appears to be a compelling investment opportunity considering the economic moat it is developing around the satellite communication sector, the insatiable appetite for data consumption and competitive advantage in providing scalable and high speed communication solutions to unaddressed markets.
Disclosure: I have no positions in any stocks mentioned, but may initiate a long position in VSAT over the next 72 hours. I wrote this article myself, and it expresses my own opinions. I am not receiving compensation for it (other than from Seeking Alpha). I have no business relationship with any company whose stock is mentioned in this article.