The wait is finally over and the highly anticipated iPhone 5 is here. Once again Apple, Inc. (NASDAQ:AAPL) appears to have a hit on its hands as consumers around the world lined up to buy the iPhone 5. It promises to deliver the Internet at even faster speeds as it now comes equipped with LTE capability. LTE is the name of the next cellular network, (previously known as 4G) and it is 10 times faster than 3G. The iPhone 5 signals the arrival of the LTE network. For carriers the benefits of LTE are that by moving data faster, they can move it more efficiently and thereby get more out of the spectrum they own. The problem is that none of the carriers are ready for LTE. In order for the carriers to provide complete LTE coverage they will need to build out their networks. With spectrum bandwidth limited they will need to incorporate small cell wireless base stations into their networks.
I have identified one company in the small cell wireless base station market that stands to gain by this network build out. The company is Mindspeed Technologies, Inc. (NASDAQ:MSPD) which is a fabless chip design company headquartered in Newport Beach, California. With its roots as part of Rockwell's Semiconductor division, it was spun off as a wholly owned subsidiary of Conexant in 1999 and later launched as a standalone public company in 2003, listed on NASDAQ as MSPD.
The company designs and sells a wide range of silicon chips for network infrastructure of the wired and wireless communications industry.
Small cell wireless LTE is no longer a niche technology as it is now being deployed and has become an integral part of the major carrier's network plans. There are currently 5 types of small cell base stations that Mindspeed provides SoC's for. The indoor base stations are about the size of a router and can be placed in any room. The outdoor base stations are small boxes that can be placed on the sides of buildings or on top of lamp posts.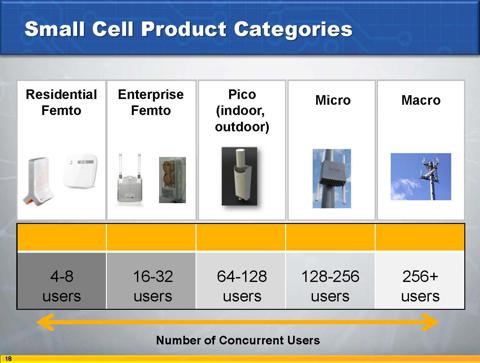 Mindspeed has deep relationships with the OEMs. Mindspeed now has 28 design wins for its systems-on-a-chip products. OEMs such as Nokia (NYSE:NOK), Ericsson (NASDAQ:ERIC) and Alcatel-Lucent (ALU) do not make it easy to win approval and each and every design win has been a two year series of excessive tests and hurdles. This challenging approval process creates a high barrier to entry product.
One of the reasons that I believe we will see the rapid introduction of these base stations is that the carrier's LTE networks have a problem with coverage and capacity. More customers want access inside their homes, lack of home coverage is the now the number one reason for customer churn. Indoor base stations will fix this coverage hole. Data loads are increasing exponentially and without anything being done, bandwidth capacity will be exceeded. Passing data from the wireless networks onto the base stations will remove pressure from the network.
On a side note, when AT&T introduced the first iPhone its networks could not handle the increase in data usage. With the iPhone 5 about to unleash another explosion in data usage, carriers want to avoid the embarrassment and damage to reputation that AT&T suffered on that occasion.
In light of these upcoming trends, here are 8 Reasons to own Mindspeed: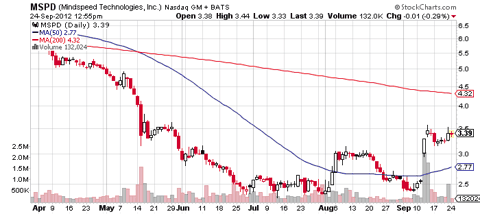 If we look at the daily chart we can see that MSPD appears to have put in a bottom at $2.30. It recently broke resistance at $3 and is now forming a bullish flag pattern. The resolution of this pattern should see MSPD break through the 200 day moving average at $4.32 on its way to $6.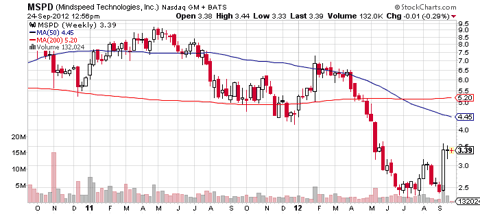 If we now take a look at the weekly chart for a longer term view, we can see that it has made a nice move off the bottom and appears to be in the beginning stages of a bullish flag pattern. Over the next year I would expect MSPD to continue trading higher and I think we will see $7 medium term and then a new high at $10.
Fundamentals:
Shares Outstanding: 48 million
Cash: $55 million
Revenue est FY13(Sept): $155 million
Revenue est FY14(Sept): $180 million
Book Value: $2.05 per share
Price to 2014 est revenue: 0.95
Price to Book Value: 1.68
I believe that Mindspeed sits in front of a strong 5 year secular growth trend for high speed wireless access. Mindspeed has a high barrier to entry System on a Chip (SoC) technology that will make it a pure play as we see an explosion of data usage on mobile devices demanding high speed wireless access. The company has a valuation metric of 0.95 times revenues due to poor macro conditions in Europe. However, the company just reported its first revenue increase in over 1 year. I see this as the start of a company that can trade at pure play metrics which means MSPD could be trading at two times its $155 million in sales by year end. It will be in the December quarter that we will see SK Telecom deploy small base stations. I think MSPD could see a 3-4 multiple of overall sales as the market for high speed data via small base stations ramps. A multiple of 3x 2014 estimate of 180 million equals $10 - $15 per share. The upside is too great here in relation to the downside as the iPhone5 sold 5 million units in its first weekend and networks race to build out their networks over the next 5 years to accommodate the consumer demand. I'm buying my Mindspeed as fast as consumers want their iPhone 5.
Disclosure: I am long MSPD. I wrote this article myself, and it expresses my own opinions. I am not receiving compensation for it. I have no business relationship with any company whose stock is mentioned in this article.