In our opinion, First Trust ISE-Revere Natural Gas Index Fund (NYSEARCA:FCG) will be able to generate positive returns for investors due to the decreased downward pressure on natural gas prices. The fund is highly exposed to natural gas. We expect the Fed's economic stimulus to boost natural gas demand in the U.S. The increased natural gas usage in transportation, power generation, crude oil extraction, and manufacturing units, will help FCG to trade higher. In our opinion, FCG has bottomed out, and the stocks in its portfolio have a considerable potential to make use of the upcoming increase in demand. Moreover, if the Republicans win the upcoming elections, the index will have bright prospects. FCG decided to maintain the expense ratio at 0.6% until 2013.
FCG Overview
FCG is an exchange traded index fund, which delivers returns through the yield and the price of the ISE-Revere Natural Gas Index. The index has 31 stocks in its portfolio. Equity securities generate revenues from the production and exploration of natural gas. The index is correlated with the level of production, and the prices of natural gas. The major proportion of the fund investment, around 90%, goes into common stock, which forms the index. Out of the common stock, 96% of the investment is exposed to the energy sector, as shown in the graph given below. The investments are primarily in U.S. equity securities, including large capitalization, mid capitalization, and small capitalization companies. Moreover, the fund also invests in U.S. government securities, money markets funds, short term investments, repurchase agreements, commercial papers, and fixed income securities with maturities of less than one year.

Source: ftportfolios.com
Shale Gas Boom
Due to the discovery of horizontal drilling and hydraulic fracturing, natural gas production has witnessed a significant boom. The abundant supply of natural gas in the U.S. has exerted a downward pressure on prices, which had fallen below $2/MMbtu. Currently, natural gas prices have recovered to $2.8/MMbtu. For the decline in natural gas prices primarily, the First Trust ISE-Revere Natural Gas Index Fund has generated negative returns of 2.4%, as compared to a 17.3% S&P composite 1500 Energy Index return and a 9.3% Russell 3000 Index return. The fund has bottomed out, and has significant potential to post greater returns given the increase in natural gas demand.

Source: ftportfolios.com
Natural Gas demand to increase
Due to its low price, natural gas will be used in the extraction of crude oil, production of electricity, and achieving cost efficiencies in transportation. The use of natural gas in trucks, coupled with the completion of the American National Highway, will considerably increase natural gas demand. Moreover, considerable demand is expected to come from the household and manufacturing sectors. Manufacturers are inclining towards machines that run on gas to bring operational efficiencies. Therefore, First Trust ISE-Revere Natural Gas Index Fund will benefit from the prospect of an increase in demand, and will, consequently, generate higher returns. Going forward, we believe that the economic stimulus will boost natural gas demand and eventually prices will go up.
Political Impact
If Romney wins the upcoming elections, drilling activities will increase in the oil and gas sector since the Republicans believe that a large number of high-paying jobs can be generated from the energy sector. Romney aims to cut down dependence on foreign fossil fuels by utilizing America's excessive natural gas resources. On the other hand, the focus of the Obama administration is on renewable sources of energy to protect the environment and create environment-friendly jobs in the future.
Top 10 Holdings
The fund's 10 major holdings are given in the chart below. Stocks included in FCG have strong future growth prospects. Ultra Petroleum (UPL) has a strong revenue base, good reserve replacement ratio, and efficient costing. The use of commodity hedging also bodes well for the company. The company has hedged around 70% of its total annual expected output at an average price of $4.42/MMbtu. Penn Viginia (PVA) has the second highest proportion in the fund. The stock has attractive valuations and can growth through organic channels. It is trading at P/S of 0.92x, at a discount when compared to Cabot Oil & Gas Corporation (NYSE:COG), Chesapeake Energy Corporation (NYSE:CHK) and EQT Corporation (NYSE:EQT), with P/S of 8.86x, 1x and 5.4x, respectively.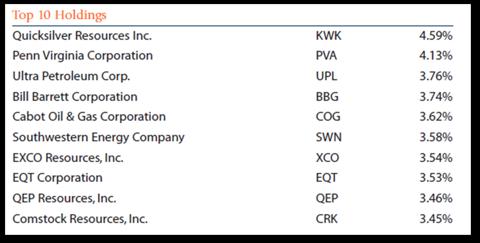 Source: ftportfolios.com
In our opinion, one of the fund's important holdings, Anadarko Petroleum Corporation (NYSE:APC), will increase its returns in the coming period. APC will soon do away with its potential liability to Tronox (NYSE:TROX), as their litigation concludes, which will reflect in the stock price. Investors are considering APC due to its high capital efficiency in comparison to its peers. The company's drilling activities and exploration plans for this calendar year make it a good stock for a portfolio. It has restarted four production operations in the Gulf of Mexico and expects to start the Neptune Production Platform to increase production volumes in 2H2012.
Price Appreciation
Due to recent increase in natural gas prices, the index fund has seen an upward trend. As shown in the graph below, the index fund price has shown an upside of 17.7% in the last three months. Going forward, we expect the increase in natural gas demand to enable the index to post a significant upside.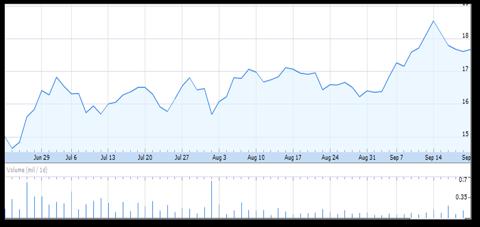 Valuation
The fund is trading at P/E of 12.7x, P/B of 1.2x, price-to-cash flow of 3.6x, and P/S of 1.7x.

Source: ftportfolios.com
Disclosure: I have no positions in any stocks mentioned, and no plans to initiate any positions within the next 72 hours.
Business relationship disclosure: The article has been written by Qineqt's Energy Analyst. Qineqt is not receiving compensation for it (other than from Seeking Alpha). Qineqt has no business relationship with any company whose stock is mentioned in this article.