Sprint's (NYSE:S) shares have performed exceptionally well since the start of the year, gaining almost 150%, despite posting losses for a number of years and consistently losing customers thanks to its legacy Nextel platform. However, past performance is not necessarily indicative of future results. The company's $5 billion network vision program, which is well on track, has sparked confidence amongst investors and the broad market, and we believe it is a huge step in the right direction, which will eventually pay dividends after the disastrous Nextel network is completely shut down.
Sprint's shares got a boost from the recent comments by its chief executive officer, Dan Hesse. In a statement, he predicted that after incurring losses for a number of years, the company was well on track to return to profitability very soon. The company's losses have piled on due to its Nextel platform, which has suffered at the hands of customers leaving for other networks; however, with Nextel out of the picture by the end of next year, one can expect better results from the company. And if the performance of the core Sprint platform is analyzed, it is visible that it has performed rather well in terms of consistently increasing its average revenues per customer, and improving churn QoQ; one can expect further improvements going forward, as it shuns the outdated network.
Moreover, the company has only recently started selling the iPhone, which is obviously going to put a financial burden on S in terms of subsidies. According to a report, the company has agreed to pay Apple (NASDAQ:AAPL) a sum of $16 billion over a period of four years for selling its products. That is a substantial amount, especially considering the transitory process that the company is going through. The company has already started to reap the benefits of having the iPhone in its portfolio, resulting in a lower churn in the most recent quarters and of course, over a longer period of time it will also benefit from increased data usage by its customers. Sprint started selling Apple products in the later part of 2011, and in this short period, it has sold more iPhones than it has Samsung (OTC:SSNLF) products. It seems like Sprint is gaining momentum with its iPhone sales, outperforming its peers Verizon (NYSE:VZ) and AT&T (NYSE:T), which saw sequential declines in their iPhone sales. In Q12012, Sprint sold 1.5 million iPhones, out of which 44% were to new customers, and in the quarter ended recently, it was able to again sell 1.5 million iPhones; this time, 40% of its sales were to new customers. Already sales of the iPhone 5 are going strong for the company, and it is sold out of the phone at many of its outlets. Going forward, iPhone sales, even though burdensome on the company, will eventually lead to growth.
Moreover, what sets Sprint apart from its bigger rivals is the fact that it is offering unlimited data to its customers, while other carriers are moving away from such offers, which will certainly help in attracting customers. In addition, it is the only telecom operator to be offering the new iPhone 5 on an unlimited data plan.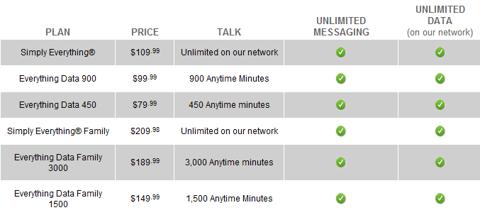 Click to enlarge
(Click to enlarge)
Source: www.sprint.com
The stock is trading at cheap valuations. In the absence of any meaningful comparison based on a P/E multiple, if we compare other multiples, the stock looks undervalued. S trades at 0.4 times its sales, at a 65% and 76% discount to Verizon and AT&T. The stock has further upside potential based on its current depressed valuations. As mentioned previously, the stock has done exceptionally well on a YTD basis, and we remain bullish on the company's prospects for a turnaround.
Disclosure: I have no positions in any stocks mentioned, and no plans to initiate any positions within the next 72 hours.
Business relationship disclosure: The article has been written by Qineqt's Telecom Analyst. Qineqt is not receiving compensation for it (other than from Seeking Alpha). Qineqt has no business relationship with any company whose stock is mentioned in this article