The demand for yield is stronger than ever, evidenced by investors searching every corner of the market for income. The relatively higher yield generated by real estate investment trusts (REITs) has been popular with retail investors piling into focused exchange traded funds.
"We believe continued growth in consumer spending will help drive positive retailer sentiment, which should result in greater store openings and expansions offsetting retailer bankruptcies and store closings -- i.e., greater absorption," S&P Capital IQ said in a research note.
The Vanguard REIT ETF (NYSEARCA:VNQ) is up 14.4% year-to-date, while the iShares Dow Jones U.S. Real Estate Index Fund (NYSEARCA:IYR) is up 15.6%. The popularity of focused ETFs is an example of the demand for income-generating investments in this low yield environment. VNQ yields 3.06% while IYR yields 3.29%. And the Federal Reserve recently announced that low rates will be around until 2015, so demand is not likely to wane anytime soon.
According to S&P Capital IQ, average second-quarter occupancy was up from 62.4% to 93.4%.
The research company suggests the iShares FTSE NAREIT Retail Capped Index Fund (NYSEARCA:RTL) to gain exposure to some of the highest rated retail REITs. The ETF devotes nearly 22% of its weight to Simon Property. Kimco, Macerich and Weingarten combined account for about 19% of the ETFs' weight. The fund yields 2.03%.
"We see funds from operations for the group advancing about 7.5% in 2012, and 6% in 2013; we are looking for particular strength at Weingarten, which should benefit from the absence of its industrial portfolio that had dragged down results, as well as Simon Property Group (+12 % expected in 2012) and Taubman Centers, Glimcher," S&P analysts said in the Capital IQ research note. "We expect that as earnings continue improving that management will continue boosting dividends, with typical payout ratios still considerably lower than before the financial crisis owing to a general desire among REITs to preserve liquidity."
iShares FTSE NAREIT Retail Capped Index Fund
(click image to enlarge)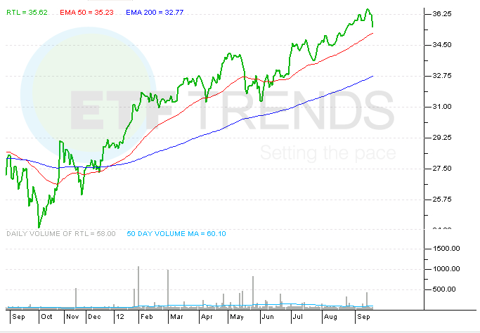 Click to enlarge
Tisha Guerrero contributed to this article.
Disclosure: I have no positions in any stocks mentioned, and no plans to initiate any positions within the next 72 hours. I wrote this article myself, and it expresses my own opinions. I am not receiving compensation for it. I have no business relationship with any company whose stock is mentioned in this article.