Big lots (NYSE:BIG), a discount general merchandise retailer, missed analyst estimates for earnings in the last two quarters. The stock is down 18% YTD. The drop after Q2 earnings marks second time this year that the stock has fallen big time; the first was when the company unexpectedly projected a decline in sales in late April, after guiding to a growth just a couple of months before. The company faces many investigations because of shareholder claims that the company breached its fiduciary duty by providing an erroneous guidance. Currently, the chain suffers from online and offline competition. We advise investors to initiate a long position once the same store sales start to rise and Canadian operations become profitable.
Financial Performance:
In Q22012, it posted EPS of $0.36, below analyst estimates of $0.41. Last year, EPS was $0.5/share. The revenue, though, met analyst estimates of $1.2 billion, which was approximately the same figure as that of Q22011.
Like many other retailers, Big Lots is also facing competition from online competitors and other discount retailers. Customers are also spending less on high margin products like furniture. Inventory has increased by $100 million to $881 million, which the company attributed to new stores in the U.S. and Canada.
Guidance:
Profit forecasts for the year have been cut. The company guided to EPS of $2.8-to-$2.95, down from $3.25-$3.4. Last year, EPS was $2.99, while analysts were expecting $2.86. The cash flow guidance is $125 million, down from $190 million. The EPS contribution from U.S. operations has been reduced by a 22-26 cents loss from Canadian operations.
For Q32012, analysts expect a loss of $0.24/share on the back of revenues of $1.1 billion. Last year, the company posted earnings of $0.06/share and revenues of $1.1 billion in the same period.
Other Performance Details
The company has one of the lowest profit margins amongst its peers. The profit margin (trailing twelve months) for BIG is 3.42%, while the profit margins for Target's (NYSE:TGT), Dollar Tree (NASDAQ:DLTR), Dollar General (NYSE:DG) and Fred's (NASDAQ:FRED) are 4.12%, 7.57%, 5.7% and 1.85%.
The company is remodeling some of its stores (over 16 stores) in the fall, in an attempt to make them more appealing to customers. The company has shifted some executives (to positions of COO and CFO) to get the optimum management mix to achieve its targets.
While BIG's shares slipped after Q2 results, the company was not alone. Peers FRED, DG and DLTR all fell after their Q2 misses as well. In the last 3 months, BIG is down 20% as compared to DLTR's decline of 10%, Fred's decline of 2%, and DG's decline of 1.3%.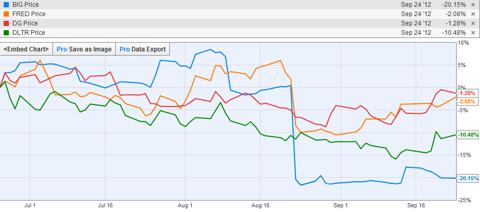 The company repurchased shares 6% of its outstanding shares, spending $149 million under its $200 million share repurchase program. The cash and cash equivalents increased by $4 million to $62 million. Borrowing from credit facility is four times the 2011 level, at $243 million, but is still only 35% of equity. The company has a high interest coverage ratio of 105x. The company does not pay dividends, but has a free cash flow yield of 8%.
The last week of August saw many ratings changes and reaffirmations from analysts for Big Lots. MKM Partners reduced its price target to $33 from $39, while maintaining a neutral rating. Benchmark Co. also lowered its price target to $33 with a hold rating (down from buy), citing 70% of products at Big Lots to be discretionary. The firm also pointed to the negative impact on profits being more due to economic uncertainty than due to merchandising problems. Wedbush, on the other hand, has a price target of $42 with an outperform rating, stating that the guidance is quite conservative and the stock is oversold. Wedbush expects the company to start benefiting from its Canadian acquisition, which was done in July 2011, from 2013 onwards. Barclays too has an overweight rating for BIG.
Valuations:
BIG has a forward P/E of 9.5x as compared to Target's 13x, DG's 15x, FRED's 13x and DLTR's 17x. At consensus EPS estimates for FY2014 ($3.23/share) and forward P/E of 9.5x, the price comes out to $31.
The company is trading near its 52-week low, which it set in late August, and has a short ratio of 3.5 days.
Although the shares are down a lot, we will only advise investing in BIG when we see some positive catalyst, such as Canadian operations doing better or same store sales rising in the U.S. The discretionary nature of the products at Big Lots is a cause for concern in the short run.
Disclosure: I have no positions in any stocks mentioned, and no plans to initiate any positions within the next 72 hours.
Business relationship disclosure: The article has been written by Qineqt's Retail Analyst. Qineqt is not receiving compensation for it (other than from Seeking Alpha). Qineqt has no business relationship with any company whose stock is mentioned in this article.