In a low-yield environment, stocks that offer high dividend yields are always attractive to buy. Along with high-dividend yields, companies' profitability and growth prospects are also important factors that need to be considered while evaluating stocks. We recommend buying Altria Group (NYSE:MO) and Lorillard (NYSE:LO) because of their high dividend yield of 5.3%, strong margins and revenue growth. We also like Reynolds American (NYSE:RAI), but Altria and Lorillard offer better opportunities for investors. Despite a higher dividend yield for Reynolds American, we recommend holding the stock due to the higher pay out, lower margins, and falling revenue in 2Q2012.
Altria Group Inc.
Altria is one of the leading cigarette companies, with almost a 50% share of the U.S. cigarette market. Altria has exposure to the U.S. and international markets, and is involved in manufacturing and sales of cigarettes, wine and smokeless products. Most of the company's revenue comes from the cigarettes division. Marlboro is one the most successful brands for Altria. It reported total revenue of $6.5 billion in 2Q2012, up 9.6% YoY. EPS for the recent quarter was 0.53 cents, up by 9.3%. Beside revenue and earnings growth in the recent quarter, the company is committed to improving upon its cost structure. In the last quarter 2011, Altria gave its cost reduction plan, and estimated annualized savings of $400 million, which are expected by the end of 2013. EPS guidance for 2012 was $2.19-$2.23, representing an increase of 7%-9% YoY.
The company has been sharing its success with its shareholders through dividends and a share repurchase program. Currently, the company offers an attractive dividend yield of 5.3%, and an annualized dividend of $1.76 per share. Last month, the company increased its quarterly dividend by 7.3% to 0.44 cent per share. In the last 43 years, the company has increased its dividends 46 times. The company repurchased 2 million shares in 2Q2012, under a $1 billion share repurchase program. The company has a free cash flow yield of more than 7%. The company has debt-to-equity of 320%; however, it has a strong interest coverage of 15x.
Along with the high-dividend yield, the company provides great growth opportunity; it has an expected growth rate of 6.2% per annum for the next five years.
Lorillard, Inc.
Lorillard Inc. is the third-largest cigarette manufacturer in the U.S. Menthol is Lorillard's flagship premium cigarette brand, along with being the second-largest selling cigarette in the U.S. The company offers 43 different products under its five brands. The company reported net sales of $1.73 billion in 2Q2012, up by 2.3% compared with the corresponding period last year. The company increased its retail market share by 0.1% in the quarter to 14.3%. It was able to deliver an EPS (GAAP) increase of 5.9% from last year; the figure is now $2.17. The company was able to maintain its gross profit margin of 35.4% in the recent second quarter, compared with 2Q2011.
The company has been paying dividends regularly, and has increased its quarterly dividends over the years from $0.92 in 2008 to $1.55 in 2012. It currently offers a dividend yield of 5.3%, along with a high growth rate of 9.15% per annum for the next five years. Recently, the company announced its share repurchase program up to $500 million. The timing of the repurchase will be dependent on market conditions. The company has an operating cash flow yield of ~6.3%.
Reynolds American Inc.
Reynolds America Inc. manufactures and distributes cigarettes and other tobacco products. It operates through three business divisions; American Snuff, RJ Reynolds Tobacco, and Santa Fe. The company reported total revenue of $2.18 billion for 2Q2012, down 4% YoY. EPS for the recent second quarter were $0.79, up ~11% YoY. The RJ Reynolds Tobacco division's revenue dropped by 6.4%. The company experienced a fall in the total cigarette market share from 27.6% to 26.2%. The company is expected to earn $0.80 per share in the third quarter, while the full year earnings guidance is $2.95 per share.
Despite the recent decline in its revenue, the company has been increasing its dividends over the years. Annual dividends have increased from $1.6 in 2007 to $2.36 in 2012. It has a dividend yield of 5.4%. The company has a free cash flow yield of ~5.9%. The company has debt-to-equity of 67%, and a decent interest coverage ratio of 11x.
Conclusion:
| | | | | | |
| --- | --- | --- | --- | --- | --- |
| | Dividend Yield | Payout Ratio | Operating Margin | Profit Margin | Forward P/E |
| MO | 5.3% | 76% | 42% | 25% | 14x |
| LO | 5.3% | 70% | 44% | 24% | 12.6x |
| RAI | 5.4% | 88.5% | 33% | 16% | 14x |
Source: Yahoo finance
We recommend buying Altria and Lorillard because they have high margins compared with Reynolds. Although Reynolds offers a slightly higher dividend yield of 5.4% compared with 5.3% for Altria and Lorillard, this is mainly due to a higher payout ratio for Reynolds (88.5%). Lower payout ratios for Altria and Lorillard reflect that the companies are sharing success, along with reinvesting earnings for growth opportunities.
In the second quarter, Altria and Lorillard have experienced increases in revenue of ~9% and 2.3% respectively compared with a fall in revenue of 4% YoY for Reynolds.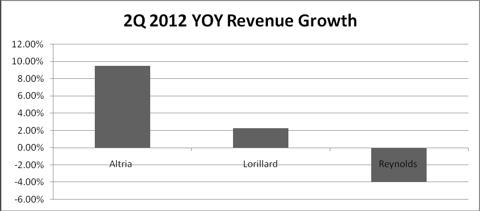 Click to enlarge
Source: Qineqt's Calculations.
Disclosure: I have no positions in any stocks mentioned, and no plans to initiate any positions within the next 72 hours.
Business relationship disclosure: The article has been written by Qineqt's Staples Analyst. Qineqt is not receiving compensation for it (other than from Seeking Alpha). Qineqt has no business relationship with any company whose stock is mentioned in this article.