We expect this article to get some backlash from Google (NASDAQ:GOOG) fans but nevertheless this article talks about a few reasons why it might be prudent to stay away from Google right now and even think about selling it if you have some profits on the table, especially if you do not view it as a very long term investment. Let us make it clear that we like Google generally but not right here right now.
Price run up: Google was at the $560 levels around June 25th. Exactly three months later on September 25th it's at $760. That's a $200 jump or 36% increase in 3 months, which is 4 times the increase in Dow Jones Industrial Average (Private:DJI) during the same period. Sure, Google is a market leader along with Apple (NASDAQ:AAPL) and a stock reaching new highs is not a good reason to sell. But Google is still a momentum stock and profit taking is inevitable.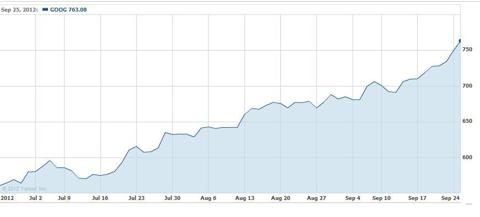 (Source: Finance.yahoo.com)
The "Lost" Apple: By now, everyone is aware that Apple's iOS 6 maps are "lost", at least according to a majority of the reports coming out. This is certainly a misstep in the short term for Apple but what is not seen by investors is that over the long term, Apple is trying to reduce is dependence on any third party, especially competing companies like Google and Samsung. This misstep from Apple is not reason enough for investors to pile onto Google right now. If anything, it should be seen as a negative as Apple has shown the inclination to move away from the trusted "partners" to be independent.
PE Trading Range: Apple and Google, though they are still the best growth stocks out there at reasonable valuations, have been range bound over the past few years. Apple, for example has its usual PE range of 14 to 18. Google is fast approaching what has been its "peak PE" over the past couple of years as shown in the chart below. This might act as the technical and psychological resistance. This could very well apply to a lot of other stocks, which have been on a high since the Fed inspired market rally.

Continuing Chinese Struggle: Any company striving for international growth looks at China and India, more so China because of higher spending power. Google is no stranger to China, having pulled out of the search business in 2010. Google just recently pulled out of a three year old music search service in China. While this particular news does not warrant any great attention, it goes to show how the so called "biggest growth market" can easily end up disappointing all the companies. Apple, so far seems to be bucking the trend, though one might never be sure about this protected market.
Pounding Analysts: Suddenly, Apple has lost the love on the street due to the "disappointing" iPhone 5 sales numbers and the maps fiasco. Again, that has resulted in investors and analysts joining the Google bandwagon in a matter of weeks. The respected Jim Cramer has joined the Google side recently, though his point that the expectations from Apple is sky-high is very valid. This report says the price target is increased to $910 all of a sudden. And the reason? Improving ad business through new products. We are not so sure that side of the business has all of a sudden changed in a matter of weeks. The decision making process seems to work like this.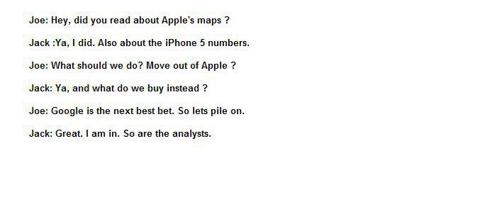 (The conversation is obviously an exaggeration but the point is to not confuse Apple's apparent "struggles" to be Google's gain. Apple in all likelihood is already working on sorting out the map issues.)
Conclusion: So, there you have a few reasons why we believe entering Google right here is not a good strategy, unless you really believe in the very long term prospects of Google, especially on the cloud side. SA Contributor Mr. Dana Blankenhorn captures that argument in this nice piece.
Disclosure: I am long AAPL. I wrote this article myself, and it expresses my own opinions. I am not receiving compensation for it (other than from Seeking Alpha). I have no business relationship with any company whose stock is mentioned in this article.