Dow component Caterpillar (NYSE:CAT) is bringing up the rear in trading Tuesday, down 3% as of this writing after lowering its guidance for 2015 from $15-$20 per share to $12-18 per share. With pullbacks in capital expenditures among struggling mining companies, and Caterpillar CEO Doug Oberhelman projecting "anemic" worldwide economic growth, the lowered forecast should have been no surprise.
Indeed, it's clear that the move wasn't a complete surprise; Caterpillar lowered its 2015 earnings target by 14.3% at the midpoint, yet the stock fell just four percent, counting a one percent dip in late-afternoon trading yesterday. Clearly, investors had been expecting some kind of cut in future expected earnings. But even the small drop in share price, to $88.14 as of 1 pm Eastern, has opened up a large buying opportunity in Caterpillar shares.
The math is very simple. Caterpillar is currently trading at about 9.2x forward earnings (the Bloomberg consensus estimate is for 2012 EPS of $9.55) and just under 10x trailing twelve-month earnings. This multiple already sits at the low end of CAT's historical range: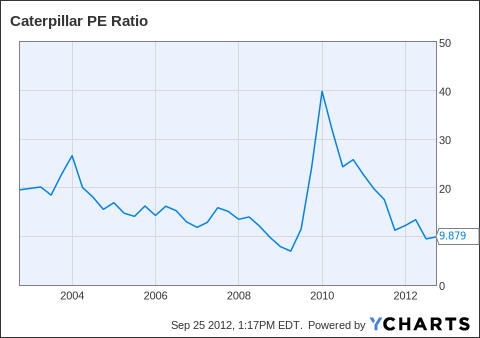 CAT PE Ratio data by YCharts
Should Caterpillar maintain its already rather low multiple around 10, and hit even the low end of 2015 guidance, the shares would trade at about $120 per share by Christmas 2015. Add in the company's 2.36% dividend yield and annualized return would be 13.4% over the 39-month holding period.
Realize, too, how conservative the projections are for that 13.4% return. It assumes CAT will hit the low end of guidance -- barely -- and thus grow earnings at a compound annual growth rate (OTCPK:CAGR) of just 8 percent over the next three years. It assumes that CAT's historically low earnings multiple will not improve. It doesn't take into account any potential dividend increases, even though Caterpillar has raised its dividend six times in the last seven years, including a hike heading into, and out of, the 2008-09 financial crisis. And it uses Caterpillar's own relatively pessimistic economic assumptions, which project a repeat of 2012's weak growth in 2013.
Meanwhile, the potential roads to upside are myriad. Caterpillar's multiple could see expansion if the price of mining shares finally begins to catch up with the price of mining outputs, boosting CapEx and earnings growth. The multiple would also rise if the current bull run in the broad market continues, or even if CAT returns closer to its historical valuation.
Caterpillar could outperform in its key industries -- or see economic strength that comes in above expectations -- moving 2015 EPS into the middle, or high range of guidance. At the midpoint of guidance -- $15 per share -- and a 10x P/E at the end of 2015, CAT would hit $150 -- with a total rate of return of 23.8 percent.
And, the company could -- and, most likely, will -- raise its dividend, adding income and increasing the total rate of return.
There is a downside, of course; any company that sells the massive, high-dollar equipment that Caterpillar does will face challenges in an uncertain environment. But in its presentation accompanying Monday's analyst meeting, the company noted that even in the case of a 2013 recession, the company still expected to earn "at least" $6 per share in 2015, and in the most severe case felt it could still keep EPS above $3.50. Granted, neither figure would be particularly appealing, and would likely result in a loss on a CAT purchase. But, of course, the economic conditions required for such a scenario would be dire, most likely leading to market losses across the board. In such a scenario, Caterpillar's profitability would likely still lead to relative outperformance of the market, if still an absolute loss for investors.
The possibility of a "double-dip" recession is a genuine fear for equity investors, but all stocks have that downside. Few have the potential upside of CAT at current levels. It is rare that a massive, respected, blue-chip Dow component offers such a simple road toward solid, attainable investment gains. Caterpillar does not need flawless execution, a booming economy, or a brilliant acquisition. It simply needs to do what it does well enough to hit even the bottom range of its 2015 earnings goal, and its shareholders will profit handsomely.
Indeed, Caterpillar has been here before. In August 2009, as the world economy still reeled and Caterpillar was preparing to report a massive decrease in earnings, then-CEO Jim Owens laid out the company's targets for 2012. According to Reuters, some analysts called the goals "a stretch" given the "continued weakness in key end markets." At the time, Caterpillar was looking for 2012 EPS of $8-$10 per share, on sales "approaching" $60 billion. Analysts now surveyed by the same news agency are expecting 2012 EPS of $9.61 per share -- near the high end of Owens' range -- on sales of over $68 billion. If Caterpillar can put up anywhere close to that performance over the next three years, its shareholders will be handsomely rewarded.
Disclosure: I have no positions in any stocks mentioned, but may initiate a long position in CAT over the next 72 hours. I wrote this article myself, and it expresses my own opinions. I am not receiving compensation for it (other than from Seeking Alpha). I have no business relationship with any company whose stock is mentioned in this article.
Additional disclosure: Over the next 72 hours, I may enter a bullish options position in CAT that may or may not entail purchase of the underlying stock.