Freeport-McMoRan (NYSE:FCX) is one miner that is hard to categorize. It is not a gold specialist like Newmont Mining (NYSE:NEM) and Goldcorp (NYSE:GG), but it is not a big diversified miner like BHP Billiton (NYSE:BHP) and Rio Tinto (NYSE:RIO) either. Like Newmont and Barrick Gold (NYSE:ABX), Freeport depends heavily on one metal, namely copper, but it has some gold and molybdenum production as well. Yet, like Billiton and Rio Tinto, Freeport is heavily dependent on China.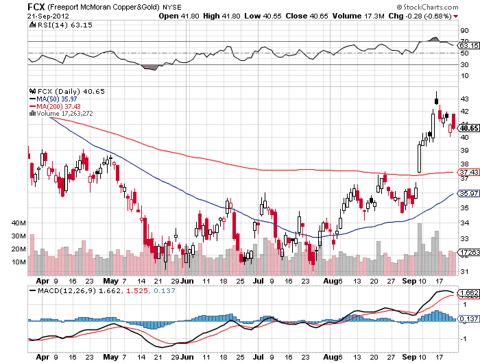 Click to enlarge
The dependence on China has not helped Freeport's share value that much this year as you can see from the chart. Freeport is still not doing as well as comparable companies such as Barrick and Newmont. Freeport closed at $40.65 per share on September 21st, while Barrick closed at $42.86 per share and Newmont at $56.31 per share. Goldcorp closed at $46.93 per share.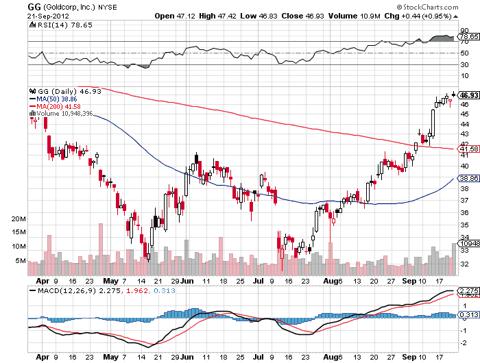 Click to enlarge
These charts indicate that gold specialists are benefiting from the higher gold prices over the summer. Gold actually hit a high price of $1,790 an ounce on September 21st because of rumors that Spain will be soon be begging for a bailout. The interesting thing is that all commodities seem to be benefiting from the increase in gold prices; copper prices were reportedly up by 3%. Yet Freeport's share prices were not helped by the higher commodity prices.
Indonesian Government wants a Bigger Cut of Freeport's Revenue
The reason Freeport is not benefiting from higher metals lies not in the commodities market, but in Indonesia, where its largest mine, the Grasberg, is located. The Indonesian government has decided to increase the royalties that Freeport and Vale SA (NYSE:VALE) pay to 10%. The companies are currently only paying mineral royalties of 1% on gold and 3.5% in copper in that country.
That means Freeport's expenses on gold mined at Grasberg will increase by 9%, and expenses on copper mined there will increase by 6.5% if and when the new royalty goes into effect. The Indonesia government is currently reviewing the royalties, but the review won't be concluded until December 2013. Freeport's revenues could take a big hit from the royalties increase because the Grasberg accounted for 19% of the company's revenues in 2011.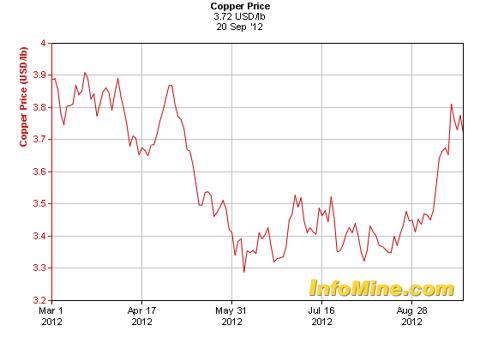 Click to enlarge
Freeport will be in even more trouble if copper prices take another tumble like the one they took this spring. As you can see, copper dropped by over 60¢ a pound between March and May and didn't rebound until August. If the same thing happens and the higher Indonesian royalties kick in, Freeport will be facing a big revenue loss.
This will reverse the trends at Freeport, because unlike Billiton and Rio Tinto, its percentage of income growth has actually been increasing. Freeport's income grew by 6.7% in the past year while its sales increased by 10%. At the same time, Billiton's income growth fell by 34.8% and Rio Tinto's income growth fell by 59.3%. That translated into a net profit margin of 21.98%. In other words, Freeport has actually been doing well despite an across-the-board downward trend among diversified miners. It boasts some other good figures, including a debt-to-equity ratio of .21% and an earnings per share ratio of $3.32.
Molybdenum Prices Low
So it is easy to see why so many value investors like Freeport. It has some very good numbers in a depressed mining industry, and part of the reason for this is that Freeport is not exposed to iron in the way that Billiton, Vale, and Rio Tinto are. Freeport is exposed to molybdenum, which is vital to steel production. Molybdenum prices have been falling for the past few years despite increased steel production in China and elsewhere.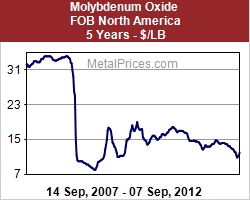 This calls Freeport's decision to restart its Climax Molybdenum mine near Leadville, Colorado into question. The Climax had been mothballed for several years, but Freeport restarted it this summer. Yet it does not look like the moly prices seem to justify its reopening.
Indonesia Risk Undermines Freeport's Value
So is Freeport a value buy or not? Most likely, and not because its shares seem to be accurately priced. Despite the rise in copper prices, Freeport is heavily exposed to the situation in Indonesia where the company has to worry about violence as well as increasing royalties.
Interestingly enough, Freeport's man in Indonesia is now claiming that the media is unfairly reporting on violence around the Grasberg mine. Rozik B. Soetipto, the president director of Freeport Indonesia, complained about news reports about gunmen firing on Freeport and Indonesian military vehicles near Grasberg. Mr. Soetipto griped that his company is being unfairly targeted by reporters.
A cynic will have to ask why is Mr. Soetipto so worried about bad publicity if the violence reports are overblown? A more likely scenario is that security at the Grasberg might be breaking down and Freeport executives don't want to admit it. Obviously, Freeport won't be able to get mining done if gunmen start taking potshots at its people.
This means Freeport is not a good value buy because of the risks it faces. The situation in Indonesia makes this stock just too unstable to be a classic value buy.
Disclosure: I have no positions in any stocks mentioned, and no plans to initiate any positions within the next 72 hours. I wrote this article myself, and it expresses my own opinions. I am not receiving compensation for it (other than from Seeking Alpha). I have no business relationship with any company whose stock is mentioned in this article.