So, there's a new global leader in stainless steel in the making. Yet all this seems to have gone unnoticed at Seeking Alpha. Outokumpu (OTC:OUTKF), the Finnish steel maker, employs around 8000 people with revenue of around €5B and €126M EBITDA (2011A). Today's market cap is €1.4B. However, the company is due to go into the red this year.
What is interesting, though, is that the company is about to purchase Inoxum from German ThyssenKrupp (OTCPK:TYEKF) to complement Outokumpu's own general stainless, speciality stainless and ferrochrome production. Inoxum employs around 11,500 people and is thought to be a great match with Outokumpu's product portfolio.
The deal is to provide cost savings of around €350-400M p.a. and one-off cash release items worth app. €414M. In addition, the deal naturally aims at future growth, target being €150M impact on EBIT. The total employees, if the merger goes through, would be around 20,000 employees.
The deal is to be financed by a rights issue worth €1B and shares issued to ThyssenKrupp. Combined with the loan note, pension liabilities and debt, the total price for Inoxum stands at €2.9B.
After the issue, gearing of Outokumpu alone is as low as 24.1%. Together with Inoxum the gearing would be 59%.
It is obvious, that there is over-capacity within the steel industry, especially in Europe. Outokumpu-Inoxum consortium needs to trim its operations in order to be competitive. However, it is going to be by far the world's biggest steel producer: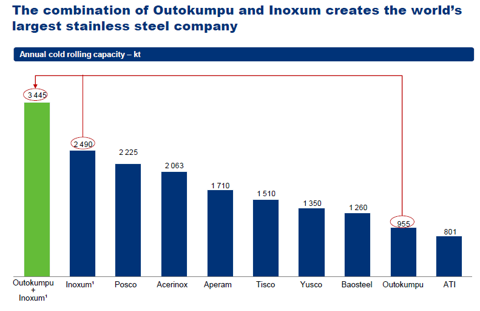 To add to the complication, Outokumpu, which has Finnish Solidium (government's investment company) as a major owner, has to possibly buy a 'forced stake' in Fennovoima, a power company that is building a nuclear power plant in Finland. For this, some few hundred million euros would need to be spent.
However, in my opinion, Solidium definitely is not the worst kind of government ownership a company can have. Solidium understands market logic.
In addition, EU officials are not permitting the Inoxum deal to go through, unless the combined company sells off some production capacity. The competitive landscape needs to remain in balance. That may be a problem, since getting even a fair price for assets may be hard in the current economic climate -- and the over capacity.
All in all, Outokumpu has an unhealthy business in its hands, due to overcapacity. The company's market cap is €1.4B, PB 0.45 and €1B in cash in its pocket. Gearing of 24.1%.
The Inoxum steel deal is not secured and is under further investigation by EU, as is not the forced buy into Fennovoima. If it all goes pear shaped, the current owners might still get a quick extra dividend / capital return. This is to be expected if the deal falls through.
Disclosure: I am long OTC:OUTKF. I wrote this article myself, and it expresses my own opinions. I am not receiving compensation for it (other than from Seeking Alpha). I have no business relationship with any company whose stock is mentioned in this article.