The rally is starting to feel more like it is running on fumes by the trading session. Given the unknowns that are rapidly approaching (Election, Fiscal Cliff, Slowing S&P profits, resolution in Europe, etc.), I think it is prudent to take some profits and build some more cash here, as there will be better entry points sometime early in 2013 after a significant selloff. For more aggressive investors that want to use short positions to offset some of their remaining long exposure, opportunities are becoming more available every day. One stock that is begging to be shorted is Zillow (NASDAQ:Z) and I pulled the trigger on this overvalued online real estate equity earlier today for myriad reasons.
"Zillow, Inc. engages in the operation of a real estate information marketplace in the United States." (Business description from Yahoo Finance)
6 reasons Zillow is overvalued at $42 a share:
Insiders have sold over 2mm shares in the last six months. There have been no insider purchases over that timeframe.
Unlike Facebook (NASDAQ:FB) or LinkedIn (NYSE:LNKD), it does not have a huge amount of net cash on its balance sheet. It does share the risk that will be challenged by a transition to a more mobile environment, however.
The stock started to sell off as it started to hit the median price target of $45 a share held by the seven analysts that hold the stock. No analyst firm has upgraded or positively initiated the shares since January.
After running up some 60% over the past 52 weeks, the stock trades for almost 60 times forward earnings and 15 times revenues.
Citron Research put out a great piece on Zillow today. It highlights how unsustainable the business model is and that will go the way of previous online real estate ventures. I believe this report could mark the apex of the stock price for quite some time.
After running up some 100% since the lows earlier in the year, the stock has run up way pas

t

growth in its fundamentals (revenue, earnings,

etc.

). I believe the Citron piece could trigger a 50% retracement at least, which would have the stock falling back to the $33 range (See Chart).
Click to enlarge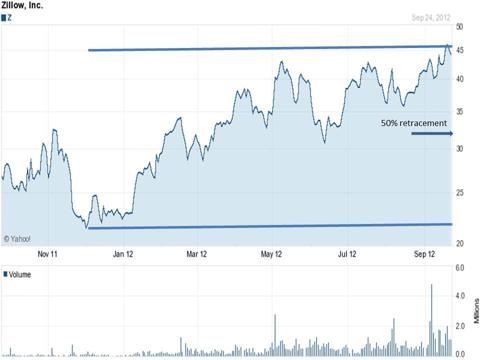 Disclosure: I am short LNKD, Z. I wrote this article myself, and it expresses my own opinions. I am not receiving compensation for it (other than from Seeking Alpha). I have no business relationship with any company whose stock is mentioned in this article.