If you have been paying attention to the stock analysts lately, you have probably noticed that their favorite mortgage real estate investment trust (merit) is Capstead Mortgage (NYSE:CMO). The Motely Fool has even claimed that Capstead is the perfect stock, which seems like a stretch of the imagination.
So does this stock live up to the hype or not? The answer is mixed: Capstead has registered some impressive gains in share value and racked up some impressive numbers lately, yet its performance has not been as good as some of the other mREITs. There are also some big risks here that analysts seem to be ignoring.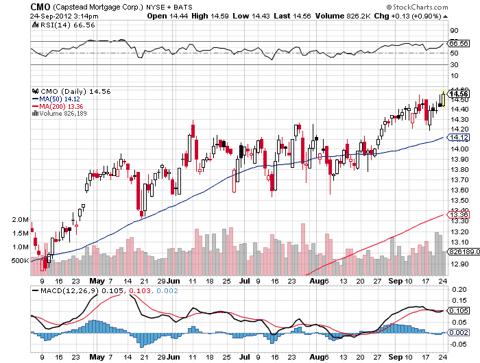 As you can see from the chart, Capstead has been climbing for most of the summer. It is one of the few stocks that actually gained share value over the summer. Like other mREITs, it was able to weather the economic turmoil quite well. Capstead's performance also mirrors that of the best known mREIT player, Annaly Capital Management (NYSE:NLY), as you can see below.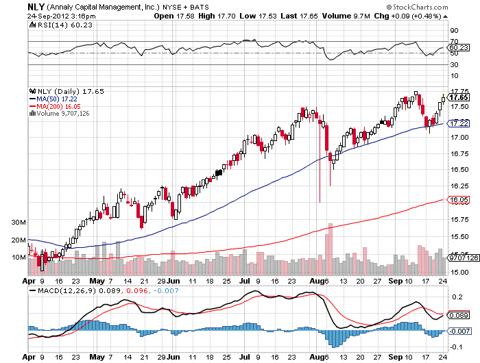 The best thing about Capstead is that it is showing income growth when some mREITs are not. Capstead saw its income grow by 31.3% in the last year and its sales grow by 21.8%. At the same time, Annaly saw a massive drop in income growth of 73.8%. That means Capstead has been able to keep creating mortgage securities despite low interest rates and the uncertainty of the mortgage market.
Yet Capstead's share price growth has not been as steep as another analyst favorite in the mREIT sector, Two Harbors Investment (NYSE:TWO). Two Harbors' share price has increased by a little over $2 since May, as you can see below. It's still below that of Annaly and Capstead, but it is moving up.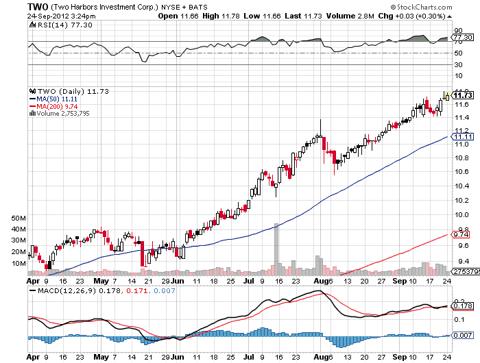 Annaly and Capstead have avoided some of the risky moves that Two Harbors has made. Neither company has tried making direct investments in single family homes like Two Harbors has. Instead, they are relying on the traditional mortgage market to keep humming away. That seems to be less risky, even though it leads to a high debt-to-equity ratio.
Incredible mREIT Numbers
Capstead has a debt-to-equity ratio of 8.58%, which is high by any standard. Yet the mREIT also offers a net profit margin of 66.26%, which is probably why it enjoys such a great reputation with investors. This makes it among the most profitable companies in America. In contrast, Annaly has a very modest net profit margin of 9.5% on a debt-to-equity ratio of 6.09%. That translates to an earnings per share ratio of .17%, but a yield of $11.39 a share, part of which is based on a $2 dividend. Capstead, in contrast, has a $1.44 dividend rate. These numbers make Capstead look like a bargain when compared to Annaly.
Even though its sales price is lower, Two Harbors is displaying some mind-boggling numbers. The company had a sales growth of 402.6% and an income growth of 256.4.%. Yes, folks, these numbers are real, and they translate into a profit margin of 54.72%, which is still below that of Capstead.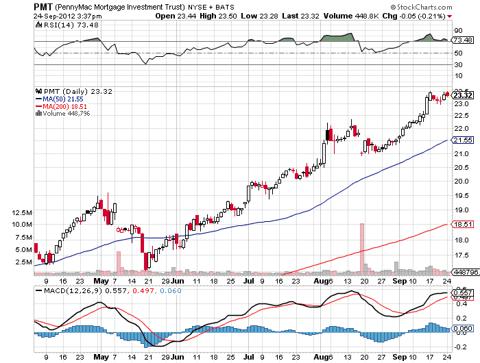 The odd thing is that the numbers for Capstead and Two Harbors don't appear to be aberrations. PennyMac Mortgage Investment Trust (NYSE:PMT), another analyst darling, displayed sales growth of 191.9% and income growth of 160.3%. This created a net profit margin of 46.21% and a juicy per share figure of $2.87. PennyMac also delivered a dividend of $2.20. As you can see from the chart, the market has also taken notice of PennyMac.
Blame Ben Bernanke
The big question is what is driving these astronomical numbers in the mREIT sector? Part of the answer might be in the Federal Reserve's policy of "quantitative easing," which means the mass buying of mortgage based securities by the central bank. The current plan calls for Mr. Bernanke and company to buy $40 billion worth of mortgage backed securities every month. The idea is that buying mortgage backed securities will fuel the housing market, which will boost the economy.
This policy may or may not boost the economy, but it is certainly boosting mREIT stocks. It's easy to make money when there's a guaranteed market for your product. The big problem is that the bottom might fall out if the Fed stops buying. Even all the money fleeing Europe might not be enough to keep mREIT share prices up if the Fed stops buying.
The point of all this is that no matter how well they perform, mREITs like Capstead and American Capital Agency (NASDAQ:AGNC) are still a speculative investment. A person who is investing in them is essentially speculating that conditions that create high prices for mortgage backed securities will stick around. If the underlying conditions change, the bottom falls out.
Only people with a high tolerance for risk will be happy with a stock like Capstead Mortgage. The very factors that make it so appealing also make it a far bigger risk than the analysts want to admit.
Disclosure: I have no positions in any stocks mentioned, and no plans to initiate any positions within the next 72 hours. I wrote this article myself, and it expresses my own opinions. I am not receiving compensation for it (other than from Seeking Alpha). I have no business relationship with any company whose stock is mentioned in this article.