Not long ago we heard gossip that and then anecdotal evidence that visitors and gamblers are not coming to Vegas like they used to.
People don't have gambling bucks and money to loose when all aspects of "the wealth effect (remember that one?)" have dried up. And folks from Los Angeles are finding the drive too expensive with $5-a-gallon gasoline.
Some have wondered how this has impacted real estate in the Las Vegas area, which was one of the fastest growing metropolitan areas in the US during the early years of this decade.
Apparently others are coming to that view as well, now that cash is tight… as casino revenue has dropped like a pair of loaded dice and the Las Vegas real estate market is being roughed up like a card counter taken into the back alley by casino security.
The chart below tells it all, and it isn't pretty, and it isn't over yet.
click to enlarge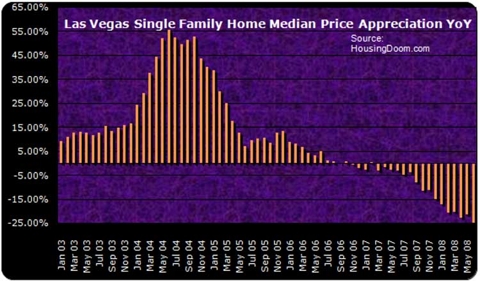 And the Las Vegas housing market is not alone in being thrown into a dumpster: this week. The latest tally shows that foreclosures in the U.S. have doubled over the same quarter last year. There are now almost 750,000 homes nationwide in some phase of the foreclosure process.
This is just one more big clue that the financial and housing meltdowns are far from over. Prepare for possible shock waves ahead and the continuation of the "penalty phase" of the age of easy money.
P.S. This doesn't bode well for the stocks like MGM Mirage (NYSE:MGM) and Boyd Gaming (NYSE:BYD) which have virtually collapsed over the past 12 months. Take a look below at the 1-year chart for MGM and you'll see what I mean.
Disclosure: None