Rumors are swirling in the Israeli press that Ormat Technologies (NYSE:
ORA
), a leader in geothermal energy, is about to close a large M&A. These rumors are based on an article in
Power, Finance and Risk
, which is reporting that:
Geothermal developer Ormat Technologies is on the hunt for strategic acquisitions and is working with Lehman Brothers to do so. The company has reportedly looked at a few targets but nothing has yet come to fruition.
The article continues:
Targets on the geothermal side are scant, but one Ormat is said to have chased is Salton Sea, an inland saline lake in Imperial Valley, Calif., with some 500-600 MW of geothermal potential.
The rumors are that the company will offer around $1.1 billion for the Salton Sea project, which will increase Ormat's output by about 80%.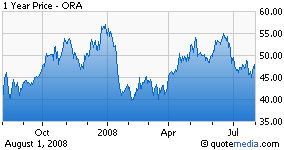 Funding the acquisition could be another problem. As of March 31, 2008, the company, had about $30.7 million in cash, and in May the company sold 3.1 million shares for about $149.6 million. This means that the company is going to have to take on a sizable amount of debt to complete an acquisition of this sort.
This move will help placate some large shareholders like Haim Katsman (no relation), who have been pushing for the company to get more aggressive in expanding.
I guess the question is whether taking on such large amounts of debt, is worth the expanded output? I guess only time will tell.
Disclosure: The author's fund has a position in ORA. He has no position in any other stock mentioned as of August 4, 2008.