I first introduced Costamare (NYSE:CMRE) back in July, with a highlight of its strong contracted cash flows. I conducted a full interview with the company's CFO, Mr. Gregory Zikos (transcript here), who promoted the strong balance sheet, a robust newbuilding program, and a hint at future dividend growth.
Recent Rally
Since July 15, CMRE has returned 10.8% vs. the S&P 500's 6.8%. CMRE peaked on September 12, with a price of $16.08, representing a 10.5% market outperformance (the S&P 500 returned 6.4%).
Chart Source: Google Finance

Click to enlarge
Search for Higher Yield?
September has provided a rally to the overall group of containership stocks in Costamare's peer group, including similarly-structured Seaspan (NYSE:SSW) and high-yielding medium-charters Diana Containerships (NASDAQ:DCIX), Box Ships (NYSE:TEU) and Euroseas (NASDAQ:ESEA). Throughout the month, these public dividend yielding pure-play containership stocks (pool of SSW, CMRE, DCIX, TEU, and ESEA) gained an average of 7.2%, while CMRE outperformed with 15.5%. I interpret CMRE's outperformance to two crucial factors: an intensifying global search for higher yet "relatively secure" yields and investor awareness/confidence inspired by CMRE's new purchase and re-chartering report on 27 August.
Key Strength: Bargain Bin Acquisitions
On 27 August, CMRE purchased a 1997-built 2448-teu vessel for $6.8M and secured an 18-month charter at $8,100/day. The vessel, according to current secondary market valuations, was "worth" close to $8.1M, so CMRE achieved a discount of 16% while also securing approximately $4.2M in revenue cash flows over the next 18 months.
CMRE recently sold two 1984-built 2922-teu vessels for approximately $6.1M each to a demolition yard. Assuming comparable scrapping rates hold up, CMRE essentially purchased 13 years of operating ability for $1.7M. If the market continues to sour, I expect these types of "bargain bin deals" to continue.
Key Strength: Long-term Contracted Revenues
In the first six months of 2012, Costamare has generated $84M in operating cash flows, and unlike most peers who are rapidly losing "legacy-rate" charters, CMRE is slated to increase operating cash flows in 2013 and 2014. Nine fixed-contract new buildings will come on line through 2013 (10th in 2014), and charter expiration makes up a tiny percentage of fixed revenues. The chart below shows the fixed revenue contracts as of Q2-12.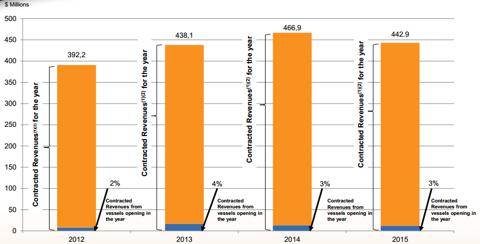 Click to enlarge
Stalling Demand
Containership stocks rallied in early September, but weak demand news struck mid-month. On September 18, Lloyd's List reported weak containership demand and the largest idling of capacity since last May, with 290 inactive vessels (420,000 teu or 2.6% of global fleet). The weak market is especially devastating to firms with large spot-market exposure; however, CMRE's fleet is almost entirely long-term, so this news should have little immediate bearing.
Long-Term Dividend Concerns
The largest threat to a long-term investor is the possibility of a decade-long slump in containership rates. Costamare has a system of staggered long-term charters, so near-term market volatility is actually a positive (cheap acquisitions); however, if the market does not improve by 2015-2016, earnings will dramatically decline. With a steady and aggressive amortization profile, future dividend payouts could be in jeopardy without an additional equity offering. (Source: CMRE's Q2-2012 Presentation).

Click to enlarge
In 2014, CMRE predicts $3.45 of cash flows per share if chartering achieves 60% of the current rate. If the rate is towards 50%, then cash flows will likely be around $3.30 in 2014. However, without additional equity, debt costs will reach $2.86. To cover the dividend, which I expect the company to raise by 2c (8c annualized), CMRE will need $4.02 of total cash flow. Current cash liquidity of $296M easily covers this shortfall, but if charter weakness continues into 2015 and beyond, the dividend could be at risk.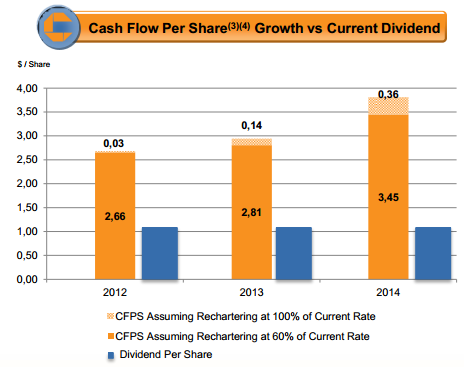 Short-Term Concerns
I believe if CMRE can attain a steady pricing of $16 or higher on the open market, an additional equity offering will be in the works. Costamare has significant liquidity, but in this attractive environment, management might pursue aggressive secondary purchases. Recent equity offerings from Euroseas, Diana Containerships, and Box Ships have devastated their respective stocks, and although CMRE's previous two offerings have been positive in the long-term, the short-term risk is obvious. Last March, when CMRE traded at $15.49, a secondary offering of 7.5M shares sold for $14.10 (9% drop). I believe a future offering will require a haircut of 10-12% ($14.52-$14.85 pricing vs. $16.50 market).
Investment Approach
I believe with Treasury Notes and Corporate Bonds yielding near all-time lows, and the S&P 500 posing enormous downside risk with a continuing slow recovery, high yielding but stable MLP-type investments are a good allocation segment for any long-term portfolio.
Due to the high yield and relative tax implications, I suggest opening a position in a tax-advantaged account such as an IRA.
I believe that CMRE's minimum yield, with inherent long-term risks, should be 6.5% (comparable to current corporate "high yield" (aka junk bonds) at 6.68%). At the current payout rate, this represents a target of $16.62. For full disclosure, I personally plan to sell my position (acquired Aug 22 @ 8.6% yield), if the stock passes $16.50 without an increase in cash flow growth projections (i.e. secondary offering, vessel acquisitions, or additional new building program).
Other High-Yielding Plays
Navios Maritime Partners (NYSE:NMM) offers a relatively secure 12% yield in the long-term drybulk environment. Nordic American Tankers (NYSE:NAT) yields 11.8% from the tanker spot market, but with recent market weakness, the dividend payout is greater than operating cash flow.
Disclosure: I am long CMRE, DCIX, ESEA, NMM, NAT. I wrote this article myself, and it expresses my own opinions. I am not receiving compensation for it (other than from Seeking Alpha). I have no business relationship with any company whose stock is mentioned in this article.