I had the chance to speak with Simos Pariaros, Chief Administrative Officer of Euroseas (NASDAQ:ESEA), last month to discuss future company aspirations in a challenging environment (full transcript here). Our conversation was in response to my article last July that questioned the company's decision to conduct a rights offering while share prices reflected close to 30% of market-adjusted book value. Insider ownership (through "Friends Investment Company") reached 45% of float, which I perceived as a conflict of interest.
ESEA is currently trading at approximately 55% of its market-adjusted valuation. I am cautious regarding insider ownership and future dilution possibilities, but given the current share prices and investment environment, I find ESEA attractive as part of a diversified approach to the shipping sector. Simos Pariaros defends the rights offering below and offers a glimpse at the company's growth aspirations, while I financially dissect the company.
Company Overview
Euroseas is a Greek-owned (Marshall Islands incorporated) drybulk and containership owner with just over five years of trading on the Nasdaq. Euroseas operates an aging fleet of 15 vessels (18yr avg) and has a 14.28% ownership in a containership joint venture that controls 10 vessels (2428 teu & 8.7yr avg). ESEA currently yields 6.8%, but with losses posted in 2012 (projected to get worse), the yield is not secure.
Rights Offering Concerns
Mintzmyer: I understand that you would like to begin by clarifying some issues you had with a recent report I released that suggested the Friends Investment Group took advantage of 'insider dealing' with the rights offering.
Pariaros: We pursued the rights offering because we thought that this procedure would directly benefit current shareholders while limiting dilution. All existing shareholders could participate in the rights issue on exactly the same terms as Friends.
Mintzmyer: Why use a rights offering instead of conducting a secondary offering?
Pariaros: We wanted to treat existing shareholders equitably and give them an advantage over potential new investors. We assumed, due to the weakness of the market, that the price would drop much lower if a secondary sale occurred. If the company was liquidated right now, we believe we could get well over $2 per share, but the market pricing is much lower.
Mintzmyer: It appears that there was limited publicity and participation for shareholders overall. Do you have any insight here?
Pariaros: Since going public we had several institutional investors involved with our company, and with what we viewed as a very attractive pricing, we expected them to participate in the offering as well. We have since discovered that the majority of US investor base appears to not be fond of the rights offering process, but in Europe, this method is a common way to raise equity.
Mintzmyer: Instead of suffering massive dilution during a period which the stock valuation is far below the tangible value of the company, why not pursue debt financing?
Pariaros: We are in full compliance with our current debt covenants; however, the cost of debt is extremely high in the current shipping markets.
Future Growth Aspirations
Mintzmyer: Was this cash infusion necessary to sustain operations?
Pariaros: We did not conduct the rights offering in a distress situation, but we are trying to plan for future growth of operations within the years ahead. In the current market, we see lots of attractive opportunities for future vessel acquisition, and are considering further joint ventures such as the Euromar venture. We plan to keep around $20m in cash as a cushion and invest the remainder in future growth.
Mintzmyer: With the Rights Offering completed, do you foresee any requirements for a future equity raise?
Pariaros: It depends a lot on the stock price, if the price reflects the value we might offer shares in order to pursue fleet growth; however, the share price is currently far below the tangible company value.
Mintzmyer: If the market is terrible and projected to stay sideways at best, why invest at this time?
Pariaros: There is a great window of opportunity to invest in new vessels at this time. The S&P market is reaching new lows and many companies are distressed and unable to secure financing. Rewards can be significant in the medium term.
Mintzmyer: Do you plan to increase your investment in Euromar?
Pariaros: We are in the process of investing in further joint ventures, which may include further Euromar investment. We enjoy a strong relationship in that venture, but obviously all parties must agree in order to pursue an increase in the investment.
Cash Flow Positive
Although ESEA has posted a loss of $10.35M for the first six months of 2012, $17.39M of this is noncash ($8.57M loss of sale of vessel and $8.82M depreciation). Net OCF has been approximately $7M or 15.6c per share (31c annualized), representing a current P/OCF of 3.75. While impressive, OCF has dropped 42% from the 2011 comparative run-rate of 53c, and will likely decrease in 2013.
Strong Balance Sheet
With proceeds from the rights offering, ESEA has $48.2M or roughly $1.07 per share in cash to cover $13M in current debt obligations and $54.1M in long-term debt through 2017 (amortization table shown below). Assuming continued dividend payouts of 8c annualized, and zero net OCF, ESEA has until late 2014 for charter rates to improve.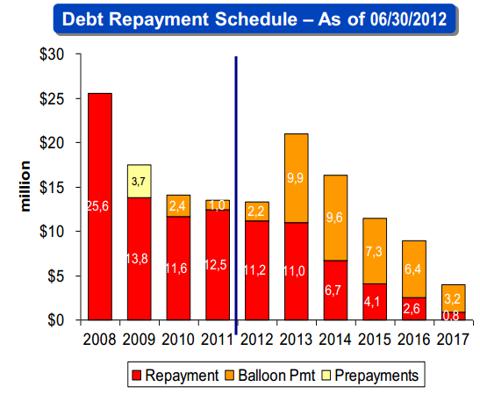 Unfortunately, ESEA has no immediate plans to cut the dividend, but I am hoping that they change their mind soon. The recent cut is a great sign in my opinion.
Mintzmyer: The dividend has recently plummeted as profits are also down. Do you have any long-term targets or plans with the dividend?
Pariaros: Our intention is to always pay a dividend with a yield of 5-10% when financially feasible. If the market gets extremely bad, a dividend cut might be on the table, and in fact, some shareholders have already called for a cancellation of the dividend to conserve cash. But this is currently not on the table. We like the fact that over 7 years we have always been rewarding our shareholders with significant dividends thus, to an extent, smoothing the volatile shipping cycle for them.
Valuation Disparity
Approaching ESEA from a cash flow neutral forecast and a market cap of under $53M with net debt of $19M, the market has valued ESEA's fleet and Euromar commitment at $72M. Breaking down the fleet valuation results in:
Panamax Drybulk (4 @ 12, 15, 19, & 24 yrs): 13.6 + 10.9 + 7.5 + 5.1 =37.1M
Handymax Drybulk (1 @ 14 yrs): 11.4M
Handysize Container (4 @ 18y avg): 14.4M
Intermediate Container (3 @ 16y avg): 21.6M
Feeder Container (3 @ 21y avg): 7.9M
Core Fleet Valuation: $92.4M (carried on book as $215.5M)
Intermediate Container (8 @ 9y avg): $122.4M
Handysize Container (2 @ 6y avg): $27.2M
Euromar Fleet Valuation: $21.4M (14.28% ownership)
With the fleet market-adjusted value at $113.8M-$19M net debt, ESEA is "worth" $2.11 per share. This incorporates a 57% write-down on the book fleet valuation and assumes a $0 valuation of future cash flows. ESEA closed on Tuesday at $1.17, or approximately 55% of its market-adjusted valuation.
When I brought up the issue of a massive write-down on fleet values, it was avoided. ESEA probably does not want to humiliate itself with a write-down roughly 200% the size of its market cap.
Mintzmyer: Do you plan to take additional write-offs on vessel value to reflect current market prices, since the book value is obviously inflated?
Pariaros: This is only an accounting method, and we currently have no need to take impairment charges or other book losses. We are confident that in time prices will rise again so we do not intend to take write-offs unless accounting policies dictate otherwise.
Investment Recommendation:
I am not happy with the rights offering and the continuation of dividend payments, which have diluted the "real" per-share value, but at the current pricing, ESEA makes an essential component of a diversified shipping portfolio. I own a tiny stake, and will increase my holdings if Q3-12 is stable (hoping for a dividend cut, which ironically will drive the stock lower) and share prices stay below 60% of market-adj value ($1.25).
I recommend a sale at 90% of market-adj value ($1.90) if charter rates do not improve. If you are looking for a containership play with a high yield and long-term charter stability, I recommend Costamare (NYSE:CMRE).
Disclosure: I am long ESEA, CMRE. I wrote this article myself, and it expresses my own opinions. I am not receiving compensation for it (other than from Seeking Alpha). I have no business relationship with any company whose stock is mentioned in this article.