I am a long-term Qualcomm (NASDAQ:QCOM) investor. I have owned shares for 13 years now. Code division multiple access (CDMA) was Qualcomm's calling card. The company is in the sweet spot of communications, technology, patent ownership, dividend growth, and increasing shareholder value. I will highlight the 6 reasons to own Qualcomm as we approach calendar year 2013.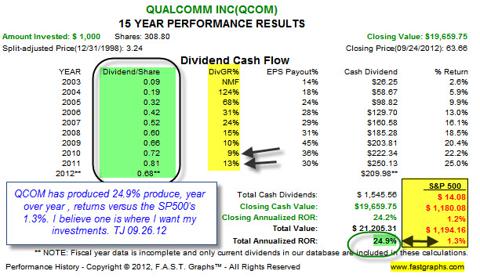 Click to enlarge
1) Revenue Growth
Qualcomm's revenue growth has been 28% year over year. This is a revenue growth indicative of a growth company. If the top line is growing, then the bottom line is sure to follow.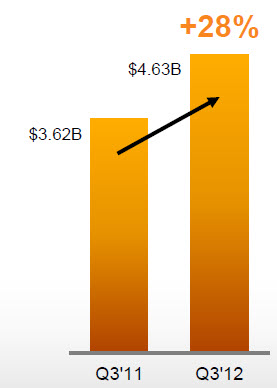 Qualcomm's business model is truly focused upon the sweet spot of the emerging technology advances.
2) Dividend Growth
Quarterly dividends have increased from 2.5 cents per share in 2003 to 25 cents per share in September 12, 2012. Successful investors have invested capital in the top performing stocks. Qualcomm, with close to a 25% average return over 15 years fits the bill of my definition of a "winning stock".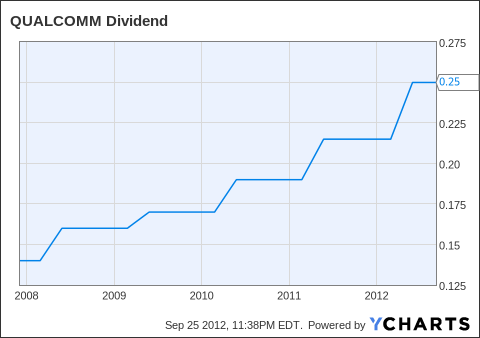 QCOM Dividend data by YCharts
3) Earnings per Share
The earnings per share growth is impressive. The 3rd quarter 2012 increased by 16% over 2011's results. This is an impressive growth in earnings.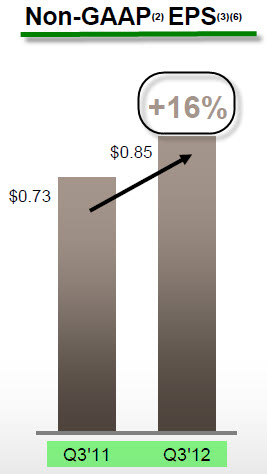 4) Competitors
The competitors have a true barrier to confront Qualcomm's patent portfolio. This is not Qualcomm's first rodeo. They have valuable patents developed years ago. The company still receives royalties based upon patents from a decade ago.
5) Balance Sheet
Qualcomm has zero debt on its balance sheet. The company has about $7 net cash per share. This provides ample opportunity to increase revenues, make acquisitions, develop new product lines, and establish new partner relationships.
6) Growth Strategies
Qualcomm is aggressively pursuing all growth markets. Qualcomm's Snapdragon S4 line of application processors, utilized in high end smartphones, will be a 1st quarter revenue growth segment.
The dividend continues to increase year over year. This ensures investors receive a pay raise each year.
Action
The only appropriate action, in technology, is to invest in the number one name. This assumes the number one name is trading at an attractive valuation. I firmly believe Qualcomm is valued at an excellent entry price.
I can observe, as a casual citizen, what products consumers are seeking. Smart phones, tablets, communication speed, and improved customer satisfaction is the end goal. A company that can provide such assistance will make money, increase revenues, and increase earnings per share. Qualcomm is first in line with a 24.9% average yearly return over 15 years. The dividend increases without hesitation and is backed by an ample balance sheet filled with cash.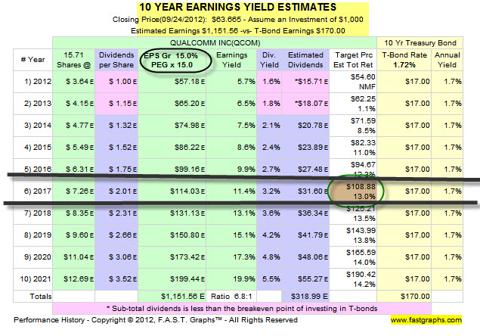 Click to enlarge
The stock should earn around $4.15 for 2013. This equates to a 15x price to earnings multiple.
The stock market never changes. Buy the winners and avoid the "get rich stocks'. Qualcomm has been a proven equity with an increasing dividend yield. I don't know what else to look for in the stock market.
Disclosure: I am long QCOM. I wrote this article myself, and it expresses my own opinions. I am not receiving compensation for it (other than from Seeking Alpha). I have no business relationship with any company whose stock is mentioned in this article.