On August 6, 2012, we wrote about American Capital Agency Corp. (NASDAQ:AGNC) and how we thought the dividend would be safe for a while. We looked at the net spread of the asset yield relative to the cost of funds and we also looked at the impact to its assets in the event of interest rate changes or an unexpected increase in prepayments. What we didn't cover in much detail is the impact of QE3 on mortgage backed securities (MBS) in general, and more specifically, how it would affect American Capital.
The simple intent of QE3 is to put more money into circulation through increases in bank lending, which should encourage capital spending, which should increase hiring, and eventually, lower the unemployment rate. Whether this strategy will work is up for debate and is not the topic of this article. Rather, how will this strategy affect an investor who currently holds or is interested in investing in AGNC?
Impact on Mortgage Backed Securities
The assumption is that QE3 will focus on lower coupon MBSs. This translates into expected price increases in the value of lower coupon mortgage backed securities. But investors looking for higher yields will then be forced to shift their focus to higher coupon MBSs, which should drive up the prices of those securities as well. In both cases, the prevailing yield to maturity of these securities will fall.
If the intent of an investor is to hold to maturity, neither the increase in price nor decrease in yield will matter. Coupons will remain the same and unless borrowers default or prepay, there is little risk to the expected return. And if you wonder why an investor wouldn't take profits and sell the MBSs at higher prices...it's because they would then face the challenge of reinvesting the proceeds at lower rates.
In the case of lower coupon securities, there is also a lower probability that they will be prepaid through refinancing. But that is not the case for higher coupon securities. In the case of higher coupon securities, as interest rates fall, the case for refinancing is made more attractive for borrowers currently paying higher rates/coupons.
Therefore, while investors holding the higher coupon securities may initially experience some price appreciation, the risk of prepayments will increase considerably. And while you could argue that some borrowers may still not qualify for new mortgages, credit scores continue to improve and negative credit events have become more seasoned, increasing the number of borrowers that will qualify for financing even with the stricter lending standards.
Impact on American Capital Agency Corp
In our opinion, QE3 will not have much of an impact on AGNC. As we have stated in earlier articles, AGNC holds approximately 70% of its assets in low coupon, lower balance mortgage backed securities in addition to higher LTV loans. All of which are less likely to be impacted by prepayments.
For low coupon loans, refinancing activity tends to be much lower because quite frankly, the rates on these loans can't get much lower. The benefit of refinancing from the perspective of a borrower is not worth the cost of refinancing. And the same could be said regarding lower balance loans. As a percentage of the loan, a lower balance loan would require a rate that is dramatically lower than the current rate on a mortgage in order for benefits to outweigh the costs of refinancing.
In regards to the higher LTV loans, they should also have relatively low prepayment rates because oftentimes the terms of refinancing limit the borrower to a certain LTV. If the LTV is already high and/or the price of the home has declined, there would not be enough equity in the home to complete a refinancing using today's stricter standards.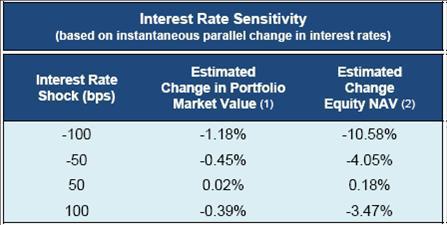 The date provided above makes the risk quite palatable in our view due to management taking steps to reduce the impact of interest rate changes and prepayments. While we do expect the dividend to decrease slightly in the short-term, for reasons stated here, we think the impact of QE3 will have very little short-term effect on AGNC in general.
Disclosure: I am long AGNC. I wrote this article myself, and it expresses my own opinions. I am not receiving compensation for it (other than from Seeking Alpha). I have no business relationship with any company whose stock is mentioned in this article.