Apple Insider Trading History (This is actually interesting, and not in an obvious way)
Since we've been reading a lot about Apple (NASDAQ:AAPL) and its new iPhone 5, we thought we would do a deep dive into insider trading at Apple and analyze the data for insights. We found only four insiders of Apple have ever purchased AAPL in the open market, while there were regular sales of shares by insiders. To get some perspective, we looked at Google (NASDAQ:GOOG) and Microsoft (NASDAQ:MSFT), and noticed a similar trend. We also saw the same trend at Facebook (NASDAQ:FB), but as we have written before (Facebook Insiders are Selling, what should you do?), since Facebook just IPO'd, a lot of the sales are driven by insiders who have been long for over 7 years. We then compared Apple to its class of Top 10 companies by market capitalization, and included some market data (see Table 1).
This is what we concluded: Apple insiders sell for cash, but not as much as other technology companies.
This conclusion is very interesting. Apple may appear over-hyped, but insiders are not cashing out at the levels of other technology companies - which may speak to their optimism for the company or to company culture. Nevertheless, it is a positive signal. The total dollar amount of shares sold year to date amounts to just 0.044% of its current market cap - compare that to 0.72% for Microsoft and 0.77% for Google . Note that the data may be slightly skewed for Microsoft, as Bill Gates sells about 80 million shares every year and is on track this year as well, having sold 20 million shares at the start of every quarter for a total of 60 million shares YTD. Add to this piece of insight we glean from insider transactions its attractive P/E ratio and EPS, and Apple still looks like an attractive buy.
Table 1: Insiders use stock sales as a form of compensation

Click to enlarge
Why buy when they'll just give it to you?
Of the four insiders who have ever purchased Apple shares in the open market, two are still insiders at the company - Robert Iger, President and CEO of Walt Disney Company (NYSE:DIS) and Bill Campbell, Chairman and former CEO of Intuit (NASDAQ:INTU) are both Directors. Robert Iger has not sold any shares to date. Eric Schmidt, a former director of Apple, is the Executive Chairman and former CEO of Google . These purchases don't amount to much and are not very interesting for directional guidance for an investor.
Table 2: Apple Open Market Purchases by Insiders - Transaction Detail
Apple Open Market Sales
In the table below, we looked at open market sales by all insiders over time. We have separated the current insiders from former insiders, who are towards the bottom of the table. Interestingly, Ron Johnson, who left Apple to run JC Penney (NYSE:JCP), made more selling his shares in AAPL ($405 million) than Tim Cook, current CEO of Apple, has made until today ($233 million). Note the absence of Steve Jobs from this list. Perhaps Tim's lack of interest in taking money off the table and believing in the Apple company is part of the reason he gets to run the company that Steve Jobs could not sell any shares of - at least in the open market as reported to the SEC.
Sales by Directors of the company
Andrea Jung, Executive Chairman and former CEO of Avon (NYSE:AVP), sold some shares in 2011 for $3.7 million. Arthur Levinson, the Chairman of the board at Apple, and Chairman and former CEO at Genentech (part of the Roche Group (ADR)), has transactions going back to 2004, but only 2010 onwards has started making significant sales - $24 million in 2010, $11 million in 2011 and $14 million YTD. Bill Campbell is the only director to show up both on the purchases and sales tables, and has sold $28 million from 2007 to YTD 2012. Millard Drexler, who is also Chairman and CEO of J. Crew (privately owned by TPG Capital, L.P. and Leonard Green & Partners, L.P.) has sold the most significant amount of all the directors this year at $41 million. Robert Iger, who showed up in our table about purchases, is a notable absentee on this list, along with former Vice President, Al Gore, and Ronald D. Sugar, Former Chairman and CEO of Northrop Grumman (NYSE:NOC).
Sales by Officers of the company
After a quiet year in 2011, officers of the company seem to be taking advantage of 52-week highs achieved recently by AAPL stock to sell significant amounts. Tim Cook, the CEO, has sold $75 million YTD, followed by his CFO, Peter Oppenheimer, with $48 million sold in stock, followed closely by two SVPs - Phillip Schiller and Scott Forstall at $39 million each. The most striking absence, of course, is as mentioned before: the lack of transactions from the late Steve Jobs, a man famously secretive and passionate about Apple.
Table 3: Apple Open Market Sales by Insiders - summary by insider name and year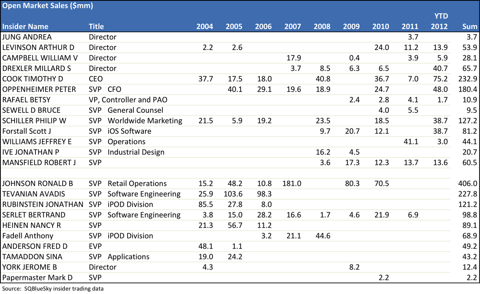 Click to enlarge
Bottom line
So, we reviewed the insider transactions at length and found it fairly interesting; at the end of the day, the best insight came not from digging into each transaction but from comparing what insiders were doing at Apple versus their peers. Insiders at Apple remain bullish about their company, they are selling far less than their counterparts in comparable companies.
Variant View
Remember the flip side of this argument is that insiders tend to be optimistic about their own company, so you may instead conclude that Apple employees are caught up in the iPhone 5 hype like the rest of the world.
Last Word
Are you sure, though, that you're willing to bet on that hypothesis?
Disclosure: We are long FB. We wrote this article ourselves, and it expresses our own opinions. We are not receiving compensation for it (other than from Seeking Alpha). We have no business relationship with any company whose stock is mentioned in this article.
Additional disclosure: SQBlueSky is a financial information and solutions provider. SQBlueSky is not a registered investment advisor and does not provide specific investment advice. The information contained herein is for informational and recreational purposes only, and is meant to serve as an example of the analysis that can be done with SQBlueSky data and tools. Nothing in this article should be taken as a solicitation to purchase or sell securities. Before buying or selling any stock you should do your own research and reach your own conclusion. It is up to investors to make the correct decision after necessary research. The information and data is provided as is and is believed to be accurate, but no guarantees or representations are made as to the accuracy or completeness of the data. The article has been written entirely by editors at SQBlueSky and the firm or its employees are not receiving compensation for it (other than any that may be received from Seeking Alpha). The company does not have any business relationship with any firm whose stock is mentioned in this article.