There are two traditions in America that a person can set his/her watch to during the month of September. The first tradition is the Back-To-School period, which we used to dread when we were kids. The second tradition isn't as well known, but it is something that we have been looking forward to since 1999. This tradition is the annual dividend increase from the Philip Morris Companies and its two tobacco successors Philip Morris International (NYSE:PM) and Altria Group (NYSE:MO). We have written about the long and proud tradition of dividend increases from the Philip Morris Companies, which takes into account adjustments for the Kraft (KFT) spin-off as well as the spin-off of Philip Morris International from Philip Morris USA (Altria).
Philip Morris/Altria has increased its adjusted annual per share dividend 46 times in the last 44 years. Philip Morris International has increased its dividends since its 2008 spin-off at a compounded annual growth rate of 13.1% while Altria has checked in with an 8.7% dividend increase. Kraft increased its quarterly per share dividend twice since its 2007 spin-off, by $.02 in September 2007 and $.02 in September 2008. While Kraft has not increased its dividend since 2008, Kraft has bolstered its cash position from $239M in 2006 (when the spin-off was announced) to $4.643B in H1 2012 (Kraft's last quarter before its spin-off of Kraft Foods Group and its impending name change to Mondelēz). Kraft Foods Group is targeting mid-single digit dividend growth once it is spun off from Mondelēz.
On September 12th, Philip Morris International increased its quarterly per-share dividend by $.08. When we go to the Investor Relations Website of PM's former parent Altria, it informs investors that Altria targets an 80% dividend payout ratio based on its adjusted EPS. Philip Morris does not explicitly target a specific dividend ratio but we can see that it is implicitly targeting a roughly 60% payout ratio, ± 2%. Philip Morris's consensus estimated EPS for 2012 is $5.17 and $5.74 and we expect Philip to increase its quarterly per-share dividend in line with its adjusted EPS growth in 2013. Considering that Altria Group generated a return on beginning period shareholders' equity well in excess of 200%, we can see that PM can certainly afford to pay 60% of its annual profits to shareholders and leave plenty of available cash for marketing, research and development, growth CapEx, acquisitions, debt reduction and share repurchases.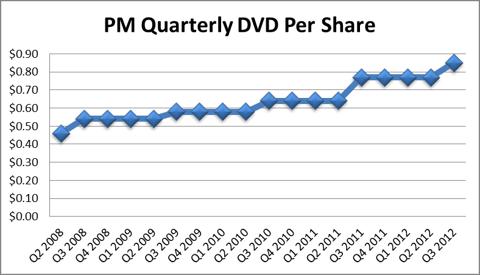 Sources: Philip Morris International Investor Relations
Altria also announced a 7.3% dividend increase on August 24th. Altria paid $1.64 per share in dividends to shareholders over the last 12 months and generated $2.14 in adjusted EPS during that time period. Altria's quarterly dividend is now $.44/share ($1.76 annual). That represented a payout rate of ~77% during the last 12 months and we are expecting it to remain somewhat constant based on MO's 2012 consensus adjusted EPS estimate of $2.21 and $2.38 for 2013.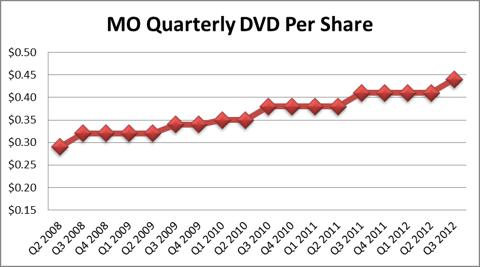 Sources: Altria Dividend History
In conclusion we are pleased with the performance from Altria Group. Philip Morris International and Philip Morris USA (Altria Group) has each shown itself to be a solid high-dividend yielding company and a dividend growth champion in terms of quantity (44 years of consecutive dividend increases) and quality (8.7% CAGR since 2008 for Altria Group and 13.1% for Philip Morris International). While tobacco investors might not see the outsized returns against the market that they have enjoyed since 2000, we expect these companies to continue serving as dividend and buyback stalwarts in raining down cash upon each firm's shareholders. Because of the fantastic business models of each firm, we see the twin towers of tobacco providing returns that are comparable to the S&P 500 over the long term time period. These business models allow the Philip Morris Companies and its successors Philip Morris International, Kraft Foods and Altria Group to certainly generate strong levels of free cash flow relative to the tangible equity bases of the firms and to use those mammoth cash flows to return cash to shareholders.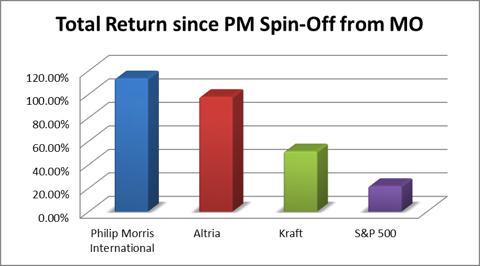 Source: Morningstar Direct
Disclosure: I am long MO, PM, KFT. I wrote this article myself, and it expresses my own opinions. I am not receiving compensation for it (other than from Seeking Alpha). I have no business relationship with any company whose stock is mentioned in this article.
Additional disclosure: This article was written by an analyst at Saibus Research. Saibus Research has not received compensation directly or indirectly for expressing the recommendation in this article. We have no business relationship with any company whose stock is mentioned in this article. Under no circumstances must this report be considered an offer to buy, sell, subscribe for or trade securities or other instruments.