Shares of Facebook (NASDAQ:FB) had been rallying nicely of late. The social media giant saw its shares hit a low of $17.55 three weeks ago, but since then the name has rebounded. Much of the rally was due to CEO Mark Zuckerberg telling employees to double down on Facebook, as he made comments that the company's mobile strategy is misunderstood.
Facebook hit a recent high last week at $23.37 and ended Friday about 50 cents lower than that mark, at $22.86. However, over the weekend, Barron's issued a report that stated Facebook was only worth $15. That sent Facebook shares down nearly 9% on Monday and another 2.5% on Tuesday, erasing a large chunk of the recent gains. It's time to look at Facebook again.
I've quoted a portion of the article above that describes the main point:
Though Facebook's stock has plunged since its May IPO, Andrew Bary at Barron's said the stock trades at 'high multiples of both sales and earnings, even as uncertainty about the outlook for its business grows.'

At issue is the shift of Facebook's massive user base to mobile devices. The company is still figuring out how to advertise to people who use their mobile phones and tablet computers to access the social network. Bary said success in the mobile space is 'no sure thing' for the company. Mobile ads must fit into much smaller screens, which doesn't give Facebook 'much room to configure ads without alienating users,' Bary said.
Bary stated that he believed Facebook was worth $15. That price represents 24 times current expectations for Facebook's 2013 earnings, and about 6 times expected sales for next year. For those that have read my Facebook articles, you know that I initially stated a fair valuation was 25 to 30 times 2013 estimates. However, I stated recently that if earnings estimates continue to come down, I would only be willing to pay roughly 24 to 28 times earnings (at $0.60 for a consensus estimate; current average estimate is $0.63).
It didn't help that last week research firm eMarketer said it expects Google (NASDAQ:GOOG) to pass Facebook in U.S. display advertising revenue this year. Facebook passed Google in 2011, and eMarketer believed back in February of this year that Facebook would stay ahead. However, the research firm believes Facebook has missed key targets, which opens the door for Google to pass it.
You might remember in my recent article titled "Should You double Down On Facebook?" that Zuckerberg stated the company might enter the search space, directly taking on Google. While it is not clear when that could happen, or how it would happen (would Facebook possibly make an acquisition?), you almost feel like Facebook will make a move like that at some point. The search business has been very profitable for Google and many other firms, and a Facebook entry into the space could be a game changer.
With shares dropping on Monday, Piper Jaffray analyst Gene Munster made an appearance on CNBC's "Halftime Report," stating he believed that Facebook was heading to $42. Munster said that Facebook could still deliver 35% year-over-year growth, and that the long-term potential of the name could not be discounted. Munster stated that Facebook "still had three major levers they can pull in terms of monetization." However, Munster did state that if Facebook did not deliver in September (meaning in the current quarter), he would have to rethink things.
When it comes to Facebook analyst estimates, there have not been any changes to the 2013 revenue or earnings forecast for three weeks. With 35 analysts covering the name, according to Yahoo, I find it rather odd that none of those estimates have changed recently. However, as I have noted in the past, the average estimates called for $6.48 billion in 2013 revenues and $0.65 in EPS on June 6. Three months later, on Sept. 6 (and still today), those estimates stand at $6.32 billion and $0.63, respectively.
The one place where the numbers have changed is the average price target. As you can see from the chart below, the average price target has come down more than $7 over the past three months.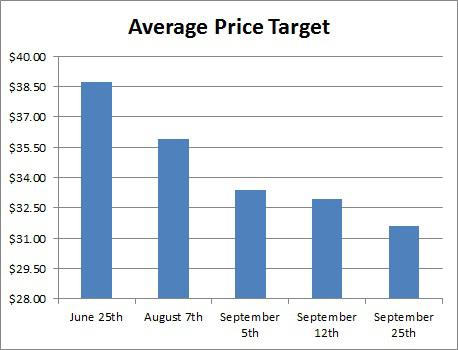 On June 25, the average price target was $38.73, with an average 2013 EPS figure of $0.67. That meant that the average analyst valuation was about 58 times expected 2013 earnings. Currently, the average price target is $31.61, and $0.63 of earnings are expected. That means the current average analyst valuation is about 50 times next year's earnings. Is the near eight-point drop in the valuation warranted? It just might be, given the reduction in revenue estimates by $150 million and 4 cents in earnings per share reductions.
The average target range currently on Facebook is $15 to $42, and you can expect that range to definitely shift after Facebook releases its quarterly earnings in October.
When it comes to the social media space Facebook's valuation appears lofty, but let's compare it to LinkedIn (NYSE:LNKD), the only name in the social media space that has rallied since its IPO. The following table shows revenue and earnings growth estimates, along with some valuation metrics (current analyst growth estimates).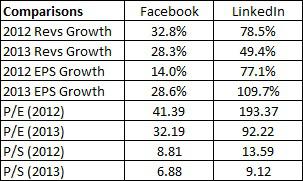 You might initially look at that table and say that Facebook is a giant bargain, but you have to realize what you are getting. LinkedIn does trade for a premium, but that is because you are getting so much more growth. It's not just a few percentage points here and there; LinkedIn is growing several times faster than Facebook, so is that premium justified? Investors so far are saying yes.
In my opinion, the Barron's news got a large reaction because of the recent rally in Facebook shares. Had this news come out when Facebook was near $18, it would have been seen as "piling on," as Facebook shares were dropping by the day. Facebook saw its highest volume since the double down comments by Zuckerberg.
Since analyst estimates have not changed over the past few weeks, I am still maintaining my fair value range (what I think is a fair price to pay for Facebook now) of 25 to 30 times expected 2013 earnings. With estimates currently at $0.63, that gives a range of $15.75 to $18.90 with a midpoint of $17.33.
Disclosure: I have no positions in any stocks mentioned, and no plans to initiate any positions within the next 72 hours. I wrote this article myself, and it expresses my own opinions. I am not receiving compensation for it (other than from Seeking Alpha). I have no business relationship with any company whose stock is mentioned in this article.