Nvidia (NASDAQ:NVDA) crushed earnings in August. Unfortunately its stock has not responded to the earnings beat or the positive guidance the company issued for the current quarter. However, that may be about to change as the positive catalysts are lining up for this cash rich tech stock.
Recent positives for Nvidia:
Texas Instruments (NYSE:TXN) has decided to de-emphasize R&D in its OMAP product line for mobile devices. This concedes the area to Nvidia's Tegra line and effectively eliminates a competitor.
Consensus earnings estimates for FY2012 have gone from 71 cents a share to 90 cents a share over the last month.
Roth Capital just initiated the shares as a "Buy" Tuesday.
TheStreet also reiterated its "Buy" rating on Monday.
Call option activity is much higher than usual recently. Someone is betting on a move up to commence soon.
The company's Tegra chip will be in Microsoft's (NASDAQ:MSFT) Windows RT-based "Surface" tablet and should get a nice bump if that product is a success.
The stock is behaving better technically since bottoming at $12 recently. It is making higher highs and lower lows and the stock is solidly above its 100 day moving average (See Chart).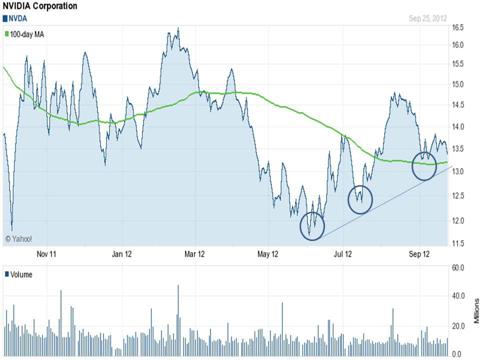 4 additional reasons NVDA is a bargain at just over $13 a share:
The company has more than $3.2B in net cash on the books (roughly 40% of its market capitalization)
The 30 analysts that cover the stock have a mean price target just north of $17 a share.
The stock has a five year projected PEG of just over 1 (1.04). Analysts expect revenues to increase just over 9% for both FY2012 and FY2013.
The stock is selling at near the bottom of its five year valuation range based on P/E, P/S, P/CF and P/B. Subtracting cash, NVDA is trading for a cheap 7 times forward earnings.
Disclosure: I am long MSFT, NVDA. I wrote this article myself, and it expresses my own opinions. I am not receiving compensation for it (other than from Seeking Alpha). I have no business relationship with any company whose stock is mentioned in this article.