Have you ever thought "oh, I wish I got into that great dividend paying stock at a 4% or 5% yield?" Many here on Seeking Alpha have. Check out this article by Mr. Norman Tweed and the comments section to understand how many yearn for the 4% in general, not just from Intel (NASDAQ:INTC), the stock in question.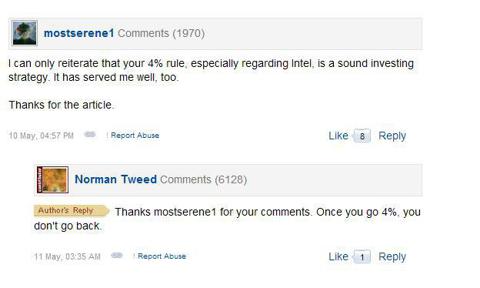 Click to enlarge
As noted in this article, Intel recently increased its dividends to 22.5 cents a share (90 cents a year), which makes the current share price of $22.5 an exact 4% entry point, easily distancing itself from other dividend paying technology companies in terms of high yield.
With looming concerns (and rightly so) about slowing PC sales, Intel along with many "old" giants like Microsoft (NASDAQ:MSFT) and Advanced Micro Devices (NYSE:AMD) has taken a hit to its share price. Look at the chart below. Intel has erased close to 25% of its value, from a high of $29.27. This fall is at a time when the Dow Jones Industrial Average, for example, went up 10% between June 25 and September 25.
That certainly seems like an overreaction. Intel is not going to stop making billions on its chips overnight, irrespective of how "slow" the PC sales are going to be. It seems like the market is completely ignoring any move from the company to make itself better in the mobile space, like the Motorola venture.
(The 25% drop in price: click to enlarge)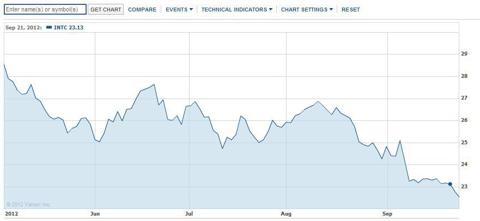 Click to enlarge
(Source: Finance.Yahoo.com)
Again, tracing back to the comments section of Mr. Tweed's article, it tells us that not many investors were actually expecting this kind of a fall for a stock like Intel. Wake up now. It has actually happened.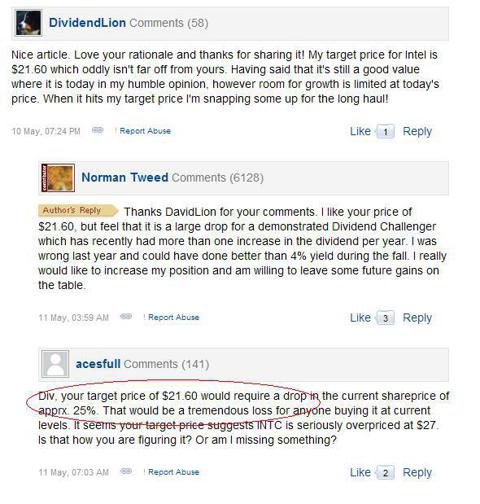 Click to enlarge
Conclusion :With a high 4% current yield, a double digit dividend growth rate, a very low P/E that is priced for depression (lower than the 2008/09 crash times, though it could be attributed to tablets), and a relatively stable cash hoard of $14B - Intel is a steal right here for income seeking investors.
(Intel's ever falling PE: click to enlarge)

Click to enlarge
(Source: Ycharts.com)
(Intel's Cash on hand: click to enlarge)

Click to enlarge
Disclosure: I have no positions in any stocks mentioned, but may initiate a long position in INTC over the next 72 hours. I wrote this article myself, and it expresses my own opinions. I am not receiving compensation for it (other than from Seeking Alpha). I have no business relationship with any company whose stock is mentioned in this article.
Additional disclosure: I am long Intel by selling Jan 2014 puts. (Would like the disclosure to be like "I am already long through puts but am looking at buying the stock as well here."