The SPDR Gold Trust (NYSEARCA:GLD) has been on a roll lately as central bankers around the world have announced new liquidity moves over the last few months. Here's the performance breakdown from the GoldETFs.biz SPDR Gold Trust profile page.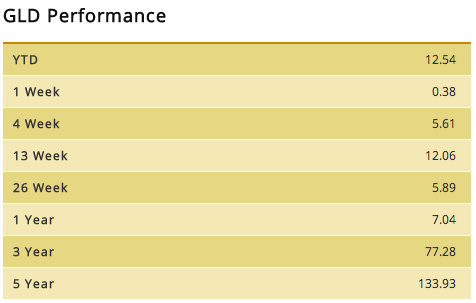 Money Flow
The SPDR Gold Trust has seen a corresponding rise in the money flow targeted toward the fund, which owns bars of gold stored in a vault in London. Flows are now at one-year highs even though GLD is still below its one-year high from a price perspective.
Here's the one-year money flow chart for the SPDR Gold Trust from the Nasdaq interactive chart center:
Click to enlarge images.

Moving Average
A review of the trust's 150-day simple moving average year to date shows the fund significantly above this technical indicator. However, this spike isn't unusual for the SPDR Gold Trust as it has seen this dynamic twice over the last year.
Here's the one-year Nasdaq interactive GLD chart displaying the performance of the fund, as well as the 150-day simple moving average trendline: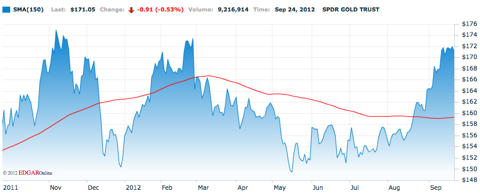 Magnitude
The two-year chart shows that the fund has spent more time above its 150-day moving average than below. On top of that, the magnitude of its current level above the average is actually well below spikes in the past, including GLD's all-time high in August 2011.
Here's the two-year GLD chart with the 150-day moving average: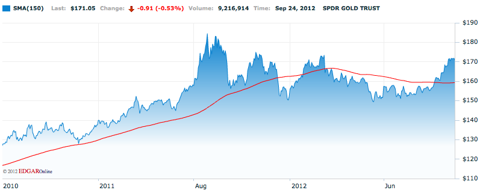 Overall, it appears the SPDR Gold Trust has solid momentum from a money flow stand point, is still within healthy ranges of its historic 150-day simple moving average, and off its all-time highs from a price perspective. These are three data points that technically bode well for the largest gold ETF to continue its liquidity-inspired rally.
Disclosure: I have no positions in any stocks mentioned, and no plans to initiate any positions within the next 72 hours. I wrote this article myself, and it expresses my own opinions. I am not receiving compensation for it. I have no business relationship with any company whose stock is mentioned in this article.
Additional disclosure: Christian Magoon is Publisher of gold ETF focused site GoldETFs.biz.