Qualcomm (NASDAQ:QCOM) has delivered a solid year in which share price has increased nearly 14%. This increase in price represents an additional $15 billion in shareholder value. Through this article, I will present the case that Qualcomm is a solid investment and investors who purchase shares will be buying into fundamental strength and momentum.
A History of Returns
In this analysis, I have relied heavily on two metrics: return on assets and return on equity. Return on assets is the profit of the firm divided by average total assets and it tells the analyst how well the firm uses its organizational assets to generate income. Return on equity is the net income of the firm divided by directly invested shareholder equity and this ratio informs the investor about the ability of management to prudently use investments to bring income into the firm. In the chart below, I have included five years of return on assets and return on equity for Qualcomm.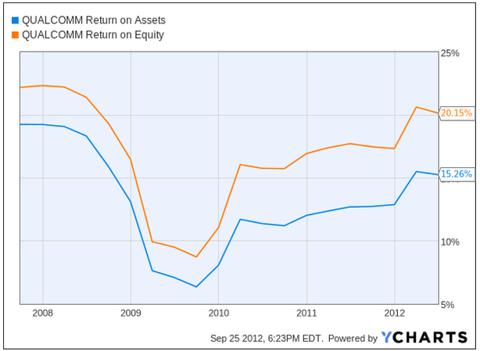 Click to enlarge
Beginning in 2008, Qualcomm entered a period of fundamental decline as measured by return on assets and return on equity. This decline was very noteworthy in that during this time period, share price did not decline in relation to the degradation of firm performance. In fact, during the years of 2008 and the middle of 2009, share price increased by around 25%. This crucial event in which firm performance decreased while stock price increased denotes the investor behavior surrounding Qualcomm. Many investors in this security seem to believe that the immediate fundamentals are less important than where the company as whole could potentially travel in the future. In the middle of 2009, Qualcomm began a period of strong performance, which has continued to this date. Between the middle of 2009 and the second quarter of 2012, return on assets and return on equity have steadily increased. The market has responded to this progressive development of fundamental strength by adding over 32% to the share price, or around $25 billion in shareholder value.
The recent increase in firm performance and share price confirms the fundamental thesis that investors acted on during the years of 2008 and 2009. Investors in the security during these years ignored the immediate fundamental condition of Qualcomm and focused instead on firm potential. While I personally believe in focusing exclusively on financial statements to generate my fundamental view, these contrarian investors have been handsomely rewarded for their foresight. As the firm has developed its ability to perform and has strengthened its fundamental condition, share price has continued increasing. This increase in share price and firm performance allows investors a momentum-investing opportunity. For the past three years, the firm has progressively strengthened its fundamental performance and share price has responded accordingly. I believe that this fundamental performance will continue its upward trend and investors who purchase the security stand to gain as price continues its appreciation.
Technically Speaking
Since I believe that the firm will continue its upward growth, it makes sense that we should only invest when prices have once again overcome recent highs. My fundamental belief is that price will continue to rise, but I am unwilling to blindly purchase the security. I believe the most appropriate course of action is to wait until prices have made new highs prior to initiating any new trade. If price makes a new high then by definition, momentum will resume and traders seeking to profit from the momentum of Qualcomm should be long the stock. In the below chart and technical synopsis, I have included my belief as to the best participation levels of Qualcomm.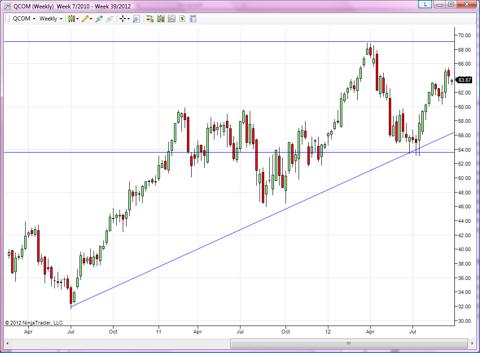 Click to enlarge
As the above chart clearly shows, Qualcomm is in a strong uptrend. This trend has been briefly interrupted on occasion, but price has seemingly always been able to reach new highs and propel market value to new levels. Since my fundamental thesis is that the firm will reach new fundamental highs, I do not advocate purchasing shares until the price reaches new highs. In April of this year, QCOM set a new high of $69 per share and has been unable to overcome this threshold. If the shares are able to end a week above $69 per share, then I believe that a purchase is warranted due to the fact that momentum will have once again resumed. It is interesting to note that price has consistently rallied since mid-July and if this rally continues, then a long trade may soon be appropriate.
Disclosure: I have no positions in any stocks mentioned, and no plans to initiate any positions within the next 72 hours. I wrote this article myself, and it expresses my own opinions. I am not receiving compensation for it (other than from Seeking Alpha). I have no business relationship with any company whose stock is mentioned in this article.