In the event of a broad market pullback, it is always good to have a shopping list of high quality stocks to buy as they become cheaper. In this article, I describe 3 high quality stocks that long-term investors should consider accumulating on general market weakness. My focus here is on solid yields, pristine balance sheets, low earnings multiples, and leaders in their fields.
1. Microsoft (NASDAQ:MSFT)
Microsoft, despite being tied to the floundering PC industry, is an exceptionally solid company with attractive growth prospects. Here are a number of reasons to pick up shares of Microsoft at the $30 level:
Financial Health: With $63B in cash and short term investments and only $12B in debt, the company's balance sheet is one of the best in the world.
Return Of Cash To Shareholders: The company very recently announced an increase in dividend payout to $0.92. On an annualized basis, this yields 3.03% at the recent closing price of $30.39. Trailing twelve month earnings (excluding the write-down due to the company's failed aQuantive acquisition) is $2.73/share, so the payout ratio of 33.6% is quite sustainable. Further, a quick glance at the dividend payout shows a near-doubling of the dividend over the last 5 years: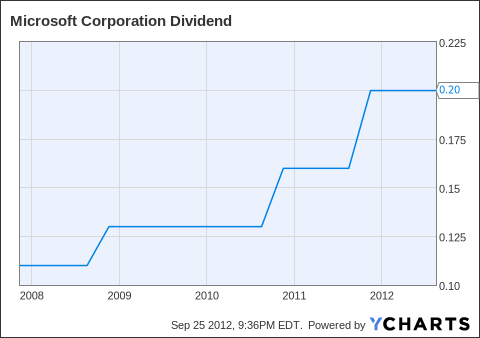 MSFT Dividend data by YCharts
Another way that Microsoft returns cash to shareholders is via share buybacks. Over the last five years, the share count has been significantly reduced: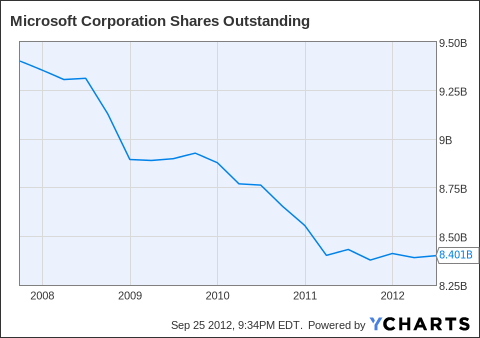 MSFT Shares Outstanding data by YCharts
Attractive Valuation: Despite an "official" P/E of 15.19, this inflated ratio is due to a one-time write down due to the failed aQuantive acquisition. Excluding these charges, Microsoft's trailing twelve month earnings per share came out to $2.73, yielding a P/E of 11.13, significantly below the mean S&P P/E in the 15-16 range.
With the firm's upcoming releases of Windows 8 and Windows RT for the tablet space and Windows Phone 8 for the smartphone space, the opportunity for growth is very real. A strong software ecosystem coupled with strong hardware partners including Intel (NASDAQ:INTC), Nokia (NYSE:NOK), Qualcomm (QCOM, and Nvidia (NASDAQ:NVDA), should set the company's tablet and smartphone platforms up for success. Taking share from the widespread Google (NASDAQ:GOOG) Android and Apple (NASDAQ:AAPL) iOS operating systems will be difficult, but if any company can do it, it's Microsoft.
2. JP Morgan Chase & Co (NYSE:JPM)
JP Mogan is a financial holding company that offers a wide variety of financial services including investment banking, advising on corporate strategy, market making activities, capital-raising in equity and debt markets, and more.
Financial Health: With $870B in cash and $729B in debt, the company has a very strong net cash position of $140B, or just slightly below the current market capitalization of $154B as of last close.
Return of Cash To Shareholders: During the financial crisis, most banks were forced to suspend dividend payments. However, JP Morgan recently raised its dividend significantly, and now pays $1.20/share on an annualized basis or 2.96% yield as of the recent close of $40.55.
A negative here is that over the last ten years, share count has increased fairly significantly: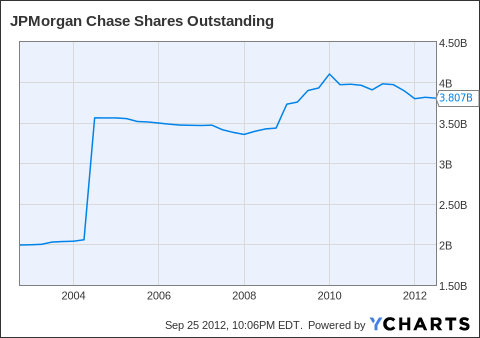 JPM Shares Outstanding data by YCharts
However, the company recently authorized a $15B buyback program, which should allow the company to retire roughly 10% of the float at the current market capitalization.
Attractive Valuation: At a price-to-earnings multiple of 9.38, the company isn't exactly priced for rapid growth. The market isn't being irrational here, especially as the company's revenues have seemed to oscillate within a fairly tight range over the last couple of years: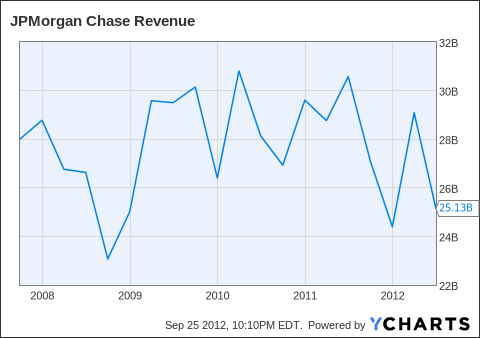 JPM Revenue data by YCharts
However, as the economy improves, and as the Fed continues to provide additional liquidity, the banks should slowly but surely recover and continue on a growth trajectory over time.
But more importantly, I am very attracted to the price/book ratio of the company, which comes in at a modest 0.85. Now, as I mentioned above, the net cash position of the company comes out to about $140B or the majority of the market capitalization. A quick comparison of JP Morgan with other players in the banking segment shows that it is not the cheapest by this metric, but it is the highest yielding. Further, the company is trading near 5 year price/book lows: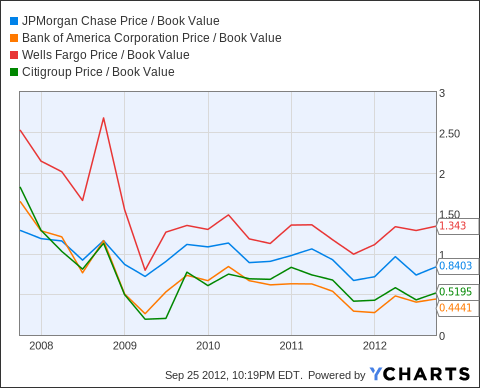 JPM Price / Book Value data by YCharts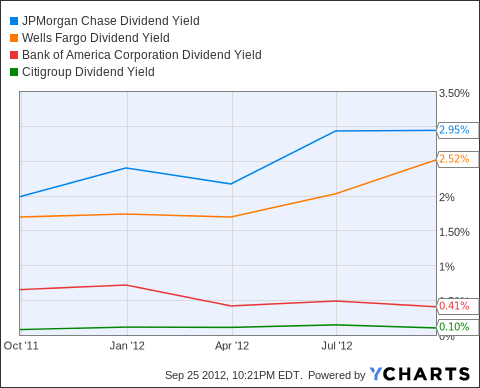 JPM Dividend Yield data by YCharts
3. Qualcomm (NASDAQ:QCOM)
Qualcomm is a semiconductor company that offers products primarily in the mobile and wireless sector, including highly integrated mobile systems-on-chips, baseband products, and wireless chips. This is a much more growth-oriented play than the former two companies on the list.
Financial Health: With $13.4B in cash and only $1.35B in debt, Qualcomm is well positioned to continue making investments to grow the business, even during times that pose a number of macroeconomic challenges.
Return Of Cash To Shareholders: Even on its growth trajectory, the company still pays a modest dividend of $1.00/share on an annualized basis, or roughly 1.6% yield. The dividend has actually been growing, but the share price has also been on quite a nice growth trajectory that today's yield still looks quite low: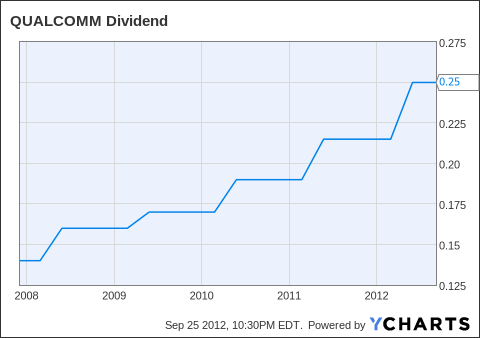 QCOM Dividend data by YCharts
Unfortunately, despite a buyback program in place, the share count has been rising fairly steadily over the last 5 years: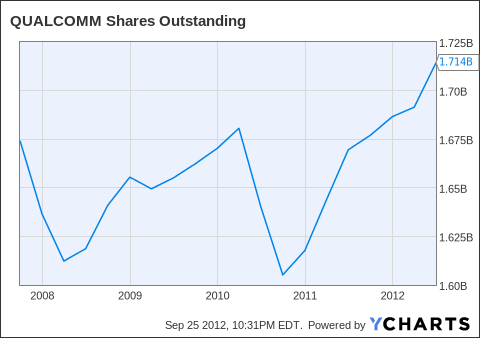 QCOM Shares Outstanding data by YCharts
However, as the company is still in "growth" phase, the modest dividend and the increase in share count do not seem to be too big of a problem. The goal is that eventually Qualcomm will grow into maturity and at that time the payout ratio will increase and shares will be bought back more aggressively.
Valuation Is Still Attractive: While the company trades at roughly 21 times trailing earnings, the earnings have been growing in a high quality fashion, with double digit percent increases in both earnings as well as revenues: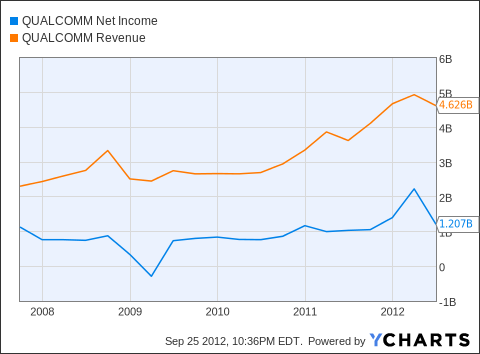 QCOM Net Income data by YCharts
Further, as Qualcomm's chips are incredibly popular in the mobile industry: the system-on-chip of choice for Windows Phone 8 devices, high end phones from LG, the Samsung Galaxy S III, and Research In Motion's (RIM) new BlackBerry 10 based phones, and many others is the latest Qualcomm Snapdragon S4. Further, Qualcomm's wireless baseband chips are very widely used including in Samsung, Apple, LG, RIM, and many other phones.
Qualcomm is a growth stock today that will eventually become a stable, high yielding staple going forward, given its dominance in the highly prominent mobile computing revolution.
Disclosure: I am long MSFT, INTC, QCOM, NVDA, NOK. I wrote this article myself, and it expresses my own opinions. I am not receiving compensation for it (other than from Seeking Alpha). I have no business relationship with any company whose stock is mentioned in this article.