In light of the WCI Chapter 11 Bankruptcy Filing this morning, inquiring minds have been asking "Who's Next?"

While that question cannot be directly answered, we can take a look at how the credit market players perceive the situation.

Homebuilder Credit Default Swaps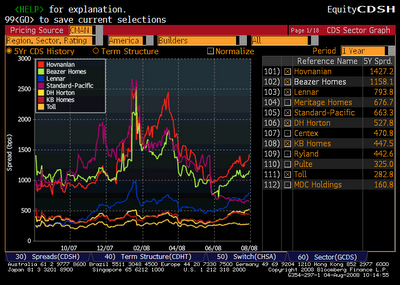 (Click on chart to enlarge.)

The above chart is thanks to Chris Puplava at Financial Sense.

After topping in December of 2007 and again in March of 2008, homebuilders staged a huge rally in creditworthiness terms until June 2008.

Hovnanian (NYSE:HOV), Beazer Homes (NYSE:BZH), and Lennar (NYSE:LEN) are now the three most likely bankruptcy candidates on the above list of homebuilders (at least from a credit player's perspective). In December 2007, Standard Pacific (SPF) was far and away the most likely to go bankrupt.

Ryland (NYSE:RYL), Pulte (NYSE:PHM), Toll Brothers (NYSE:TOL), and especially MDC Holdings (NYSE:MDC) are the least likely homebuilders on the above list to head for bankruptcy.