Although most people don't really know it, Amazon.com's (NASDAQ:AMZN) earnings have been on a long slide for almost 2 years as shown in the chart below.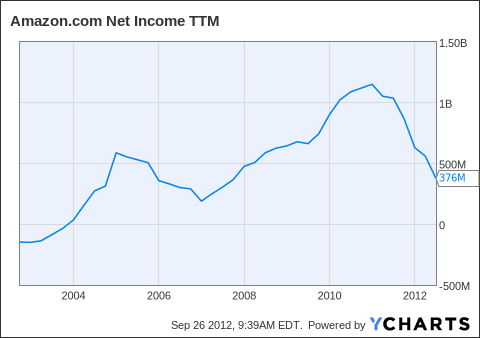 AMZN Net Income TTM data by YCharts
However, earnings are not the only thing that's been going wrong with Amazon.com. In this article I will show how both liquidity and debt have also been going the wrong way.
Liquidity
Since its inception, Amazon.com has enjoyed the fruits of a favorable cash conversion cycle. Amazon.com collects from its customers faster than it pays its suppliers, and that helps its cash generation and working capital position considerably. However, several factors are slowly changing this, namely:
· A lowered profitability is leading to less cash generation;
· The overall business is changing, with Amazon.com carrying its own hardware products such as tablets. The production of the tablets involves a greater capital commitment, from production and inventory to final sales;
· The increased complexity of Amazon.com's distribution system also requires more inventory;
· And obviously, Amazon.com's investment drive is also requiring larger capital outlays.
These changes have had a significant impact in Amazon.com's liquidity. For instance, Amazon.com's current ratio, the ratio between its current assets and current liabilities, has been in a long term downward trend, and now sits perilously close to 1 as can be seen in the chart below.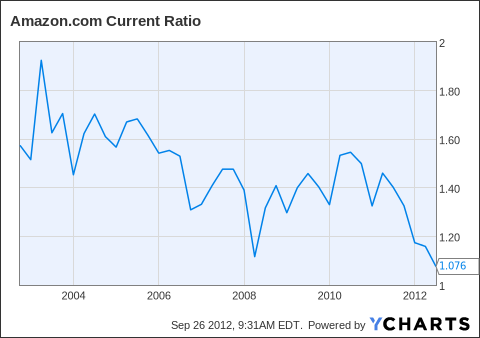 AMZN Current Ratio data by YCharts
This is no longer the current ratio you expect to see in a thriving, healthy business.
But this is not the only sign of a liquidity problem. Cash and short term investments, which had been in a powerful upward trend fed by the cash conversion cycle, has now broken that trend as well, as can be seen below.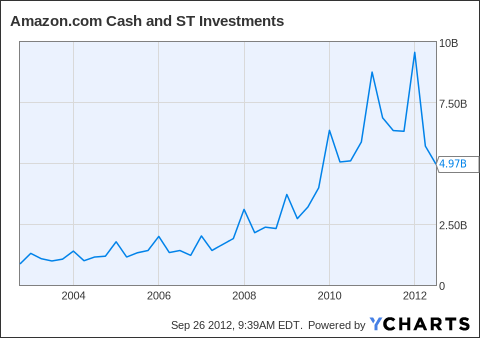 AMZN Cash and ST Investments data by YCharts
Debt
Not only has Amazon.com's liquidity been strained, but unbeknownst to most, Amazon.com has been taking on substantial amounts of debt. Most of this debt is in the form of operating leases, so it doesn't show up in the balance sheet. But these operating leases make it possible for Amazon.com not to undertake direct capex, and as such Amazon.com significantly overstates the free cash flow it reports. The chart below, compiled by me, shows what's been happening to Amazon.com's operating leases in the last 5 years.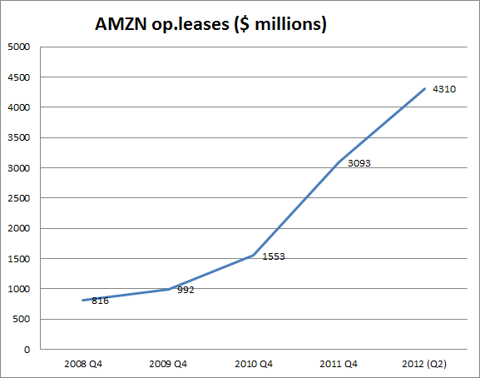 Click to enlarge
In just the last 6 months, Amazon.com took on a further $1.2 billion in operating leases.
Conclusion
Not only has Amazon.com profitability been falling off a cliff, but its liquidity is also doing the same. Indeed, at this point some of Amazon.com's liquidity measures aren't those one would expect from a successful and well-run business. If the present trend continues, I'd expect Amazon.com to start taking on either bank debt, or issuing debt market securities.
Either way, this is far from being the kind of picture you expect in a company whose shares trade at 360 times estimated 2012 earnings, which is 20 times what the S&P sells for (and the S&P has growing, or at least stagnated, earnings - whereas AMZN's keep falling).
On a side note, this past week the earnings consensus for Amazon.com fell a bit more. Now the expectation for 2012 is just $0.71 down from $0.77, and 2012 is now seen at $2.33 down from $2.41. I expect 2013 to continue being cut. Also, it's quite incredible that earnings for 2013 and later continue being cut while the "investing in the future" mantra is given credibility.
Disclosure: I am short AMZN. I wrote this article myself, and it expresses my own opinions. I am not receiving compensation for it (other than from Seeking Alpha). I have no business relationship with any company whose stock is mentioned in this article.